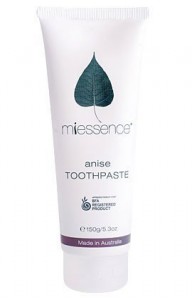 Freshen up your breath early in the morning with this unique toothpaste. It will not only clean but brighten your teeth with bicarbonate soda. This toothpaste works mildly on your teeth as it do not contain fluoride or aluminium. Neither does it have any artificial sweeteners or detergents.
This eco-friendly and healthy-friendly toothpaste is composed of organic aloe vera (Aloe barbadensis) leaf juice, sodium bicarbonate and non-gmo xanthan gum. The water used in it purified, and have uncompromisingly used sea salt and organic fennel (Foeniculum vulgare) essential oil. It also contains stevia rebaudiana extract.
The toothpaste is a 100% natural product, with 57% of organic elements.
Where can you buy it? Try amazon.