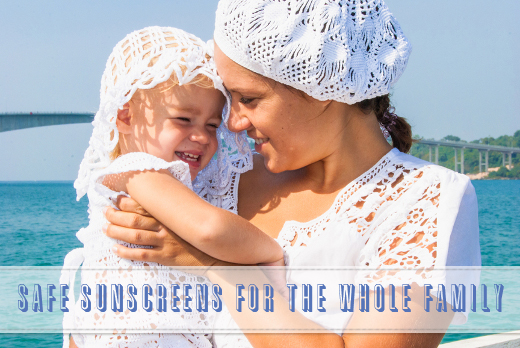 Over the years we have had drilled into our consciousness that too much sun exposure is bad for our health and the way to avoid damaging our skin is to lather ourselves in sunscreen. A study by The American Cancer Society has stated that 80% of our total lifetime sun exposure occurs within the first 18 years of life so children in particular are at risk. Children are probably the most likely to be to be smothered in sunscreens by well meaning parents too. But is the sunscreen helpful or harmful?
Protection from the sun is important but the chemicals we put on our skin can be harmful, especially to our children and typical sunscreens have LOTS of chemicals.
Over the years the skin care industry has had to increase the level of chemical compounds in sunscreen in order to raise the Sun Protection Factor (SPF) level. Researchers from the University of Southern California have, however, recently found that sunscreen can actually cause more harm than good once it is soaked into the skin.
Upon absorption into the skin, sunscreen can actually form the very dangerous compounds it was meant to block. Researchers found that some commonly used ultraviolet (UV) filters actually soak into the skin's layers and from there can generate harmful components called reactive oxygen species (ROS) which are substances that can cause skin cancer.
Other research has shown that the greatest increases in the cancer melanoma has been experienced in countries where chemical sunscreens are promoted and used widely. Mike Adams of Naturalnews.com often claims that sunscreen is a scam and that we have zero need for it.
In addition to the cancer risk is the effect of sunscreen on children's development. Many sunscreen chemicals also have estrogen-like effects. Estrogen is a hormone that affects many aspects of the female body development and functions. Too much exposure to toxic estrogenic chemical sunscreens can increase cancers and cause birth defects in children.
Researchers have found estrogenic sunscreens in the breast milk of mothers at about the same levels as other known environmental contaminants such as PCBs. They further believe that exposure could be significantly increased in childhood by the large amount of sunscreen used by bathers, especially children. Children's organs are more sensitive to estrogen exposure and can develop abnormalities at their early stages (including embryo, fetus and toddler stages) if exposed.
Limiting exposure to sun and seeking out more healthy skin products that do not contain dangerous ingredients (chemical free choices are available) are possible solutions for you to consider for your children. And we can't forget that sun exposure is a GOOD thing. We need sunlight exposure for good health so I will rarely apply sunblock to my own kids unless we are going to be in the sun for a prolonged length of time. Otherwise I just let them get some sun and/or use protective clothing to diminish risk. So for a few hours at the zoo…not likely to use it but I will have hats and sunglasses for them and we will be mindful to seek out some shade when we need it. But for an all day trip to the beach…yes I will bring some safe sunscreen.
So what exactly do you need to avoid when choosing a sunscreen? Here are some nasty ingredients you will want to stay away from if you can:
PABA: This is not widely used anymore, but just in case. Many people are very sensitive to this ingredient and can end up with red, itchy skin.
Benzophenone (benzophenone-3), homosalate, and octy-methoxycinnamate (octinoxate): These chemicals are bad news because they have shown estrogenic activity in lab tests. Oxybenzone is aderivative of benzophenone and it is linked to allergies, hormone disruption, and cell damage. According to the CDC 97% of Americans are contaminated with this widely-used sunscreen ingredient.
Parabens (butyl-, ethyl-, methyl-, and propyl-): Parabens are common in sunscreens so avoiding them may prove difficult. They are preservatives that have estrogenic qualities. They have produced abnormal hormonal effects following on laboratory rodents, particularly male, resulting in decreased testosterone levels and other abnormalities. They have also been found to accumulate in the breast tissue of women with breast cancer.
Padimate-O and Parsol 1789 (Avobenzone): While on the surface of the skin these chemicals appear to prevent UV damage but when absorbed into the skin they can actually damage DNA. There is evidence that the sun's light may cause these chemicals to become reactive and cause free-radical damage when they're absorbed. I find it alarming that pediatricians often recommend these very ingredients.
In general if you want to know which sunscreens are usually loaded with the bad stuff….oh just the easy to find ones like Coppertone, Banana Boat, Avon, Nivea, Neutrogena, The Body Shop, etc. Also even some of the ones that appear to be more natural like Kiss My Face or Aveeno have some pretty nasty sunscreens.
In general, zinc oxide and titanium dioxide are good choices as they scatter or reflect the sun's rays rather than absorbing them. And since traditional formulations are not absorbed into the skin (thus the white streaks on the skin), there is less risk of the substance building up in your body. Formulations with nano particles may be absorbed into the skin, although since these are natural minerals there is debate about this being an issue but I will point out the ones I know have them.
Here is a list of some of the safer sunscreens I have found:
TruKid's SunnyDays sunscreen – Safe and affordable. Phthalate, SLS, Paraben Free and the packaging is BPA free.
California Baby SPF 30 + Sunblock Stick – No Fragrance – My top pick for kids! This is a non chemical sunscreen. It uses non-penetrating titanium dioxide (no nano particles) to protect against the sun. It is also made with organic & sustainably grown ingredients.
DO Naturals SPF50 Mineral Sunscreen by Dolphin Organics – 100% natural mineral sunscreen! No parabens, oxybenzone or nanoparticles.
Badger Face & Body Sunblock SPF 30 – There was huge run on this sunscreen not long ago and you could hardly get it. It is known to be one of the safest sunscreens out there.
Elemental Herbs Sunscreen Kids SPF30, SPF30 3 oz – Non-nano zinc oxide, non GMO, gluten free & vegan. PABA free and 75% organic.
Soleo Organics – grapeseed oil, macadamia oil, green tea extract, roman chamomile extract, sunflower oil, beeswax, theobroma butter, candelilla wax, lecithin, vegetable oils, cucumber extract, good stuff…
ThinkBaby Sunscreen – From the makers of the popular BPA free baby bottles and sippy cups. Free of Endocrine Disrupting Chemicals, No Nano particles, Paraben Free and PABA Free.
Lavera Baby and Children Sun Screen Lotion, SPF 30 – Contains organic peach seed, apricot seed oil and calendula and protects against UV A, B and C rays with waterproof protection.
Dermalogica Ultra Sensitive Faceblock SPF 25 – Another chemical free sunblock using non-penetrating titanium dioxide. This has a hint of color…most likely to hide the streaky whiteness of the natural titanium dioxide.
Also don't forget your protective gear…so you won't need sunscreen as much:
Legionnaire Hats – These hats for kids have flaps on either side that protect the face, head, and neck areas from getting burned. They are also made with UV protective fabric.
Baby Banz Sunglasses – 100% UV/UVA & UVB ray protection.