My weekend read was very inspiring, Young at Art by Susan Striker. Susan is the creator of the widely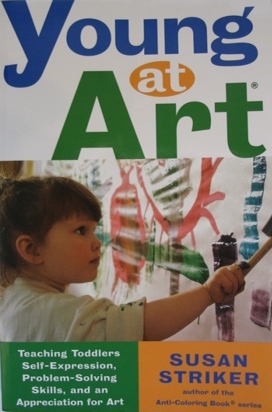 popular anticoloring books for kids I like so much. As an art teacher of many years and a mom herself she has some great ideas about how art should evolve in a child's life and how much of what we might be doing may actually stifle their creativity and love of art.
With the exception of baby's first steps, there is no more significant milestone in your child's development than the first mark he or she makes on paper. These squiggles herald the start of a lifetime of writing and drawing. – Susan Striker
I love the information this book has about activities and practices to instill a love of art and how it isn't just "frill" but really a very important foundation for educational skills. This foundation also effects their emotional and intellectual development. I know many parents that don't let their children pursue art because a clean and tidy home is more important to them but this book clearly shows why that is a BIG mistake.
Interestingly this book also outlines some surprising things we should NOT give to children…coloring books, dot-to-dots, magic paints and markers, or similar projects where the artwork has been done and they just have to use a limited amount of brain power to just fill in the missing parts. These things limit their self expression. Striker's arguments against these items was very convincing. Really I think parents end up being a creative blocker for their kids as far as art is concerned many times. Throughout the book there is also a strong message to parents that art is serious business for kids and seeing things like scribbling as just "scribbling" or "a mess" can be seen by children as a form of rejection. It is very important not to devalue their work. It is also important not to deny small children things like crayons because we are afraid they will write on things they aren't supposed to. Its hard to do but very important and yes there may be messes unplanned expression.
Striker also has words of caution for parents who "coach" their kids and try to tell them how to draw, what colors to use, or show the "proper" way to do something. It is like expecting a six month old to walk…kids have stages of development where artwork is concerned and coaching rushes them. It also limits self expression. Some of the greatest artists (Picasso) broke all the rules….just keep that in mind.
I really appreciated all the charts, lists, and pictures this book has that explain the creative process of a child. So much research has been done on this and yet this is the first book I have seen to address this. It is fabulous.
The first chapter is the most informational one. It provides the basis for why we should try to encourage art. Subsequent chapters discuss different art activities and how to incorporate them, drawing, painting, paper, sculpture, exploring colors and shapes, etc. The end of the book has lists of art books and wholesale art suppliers.
I found the book to be immensely useful and inspiring. I also found myself using some of the practices that limit self expression but found just as many areas where I am already doing what I need to be doing. Off to plan some activities outlined in this book…
Buy Young at Art!