With Christmas galloping at us like a stampeding herd of Mustangs, I was thinking about the kinds of gifts that I value the most. For me, books are a present that parents and children can enjoy together many times over, and they don't carry with them extra packaging or break in a few weeks. Giving a gift of a book to a friend's child, nieces or nephews, grandchildren or contributing to your own family bookcase is a great way to be generous during the holiday.
I was looking at our book collection and pulled out the stories that I think provide wonderful animal interpreters, gorgeous pictures and fabulous writing. These are the stories I never tire of reading to my kids; and they, not so surprisingly, like to hear them perennially. The following books feature wild animals and the environment, each highlighting our natural world and our relationship to it in some special way.
Some of these books have already been recognized for their achievements and some are not as well known, but maybe these suggestions will help with your holiday shopping this year. Most of these books are appropriate for ages 3 to 7. Or if you have younger children who will sit still long enough, they will like them too. I even think some older kids maybe up to 10 would enjoy reading them alone as well.
These are my favorites in no particular order.
Stranger in the Woods, by Sams II and Stoick, tells the tale of a mysterious snowman who appears in the forest. All the animals of the neighborhood come to visit the stranger who has special treats to eat. I like to make up voices for each of the animals, a deep voice for the stag deer, a high voice for the chickadee, and a unsure voice for the fawn. The children who maintain the snowman appear in the end revealing the answer to the mystery.
This book is also published in Canada which promotes the economy of North America.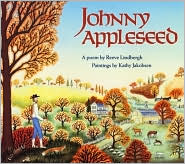 Johny Appleseed, a poem by Lindbergh and illustrated by Jakobsen, is a version of John Chapman's life told with rhyming verse and through unusually stylized drawings. When I read this story I play a game with my kids after reciting the stanza. I ask them to find something new on each page, kind of like Where's Waldo. The exacting details in the drawings always gives us something new to do an "I spy" with. This story gives an American history lesson without being to overwhelming for youngsters.
Zella, Zack and Zodiac by renound author Bill Peet tells a "tail" of an odd partnership between bird and fowl with a great "kicker" in the end. I could not help the puns here. This is a beautiful example of pay it forward where kids can learn though the eyes of animals. The dialogue between the zebra and the baby ostrich is fabulous and told in Peet's characteristic rhyming stanza's. Since I have horses and admire birds, I can't help but love this book!
This story is also printed in America, so buying it helps our country's economy. In fact all of Peet's books are manufactured in the USA!
Way out in the Desert, by Marsh and Ward, illustrated by Spengler, is a counting book featuring hidden numbers within spectacularly colored drawings of desert animals and their habitat. The verse is in rhyme and can be sung to "Over in the Meadow," and the musical accompaniment is provided in the back of the story. I kind of chant this one to the kids and at the end of each page they look for the numbers hidden in the picture. Featuring plant and animal species which are native to the southwestern desert habitat, this book shows kids new animals they may not have seen before. 
And Egg is Quiet

,
written by Aston and illustrated by Long, provides textbook-like natural history information in a story format which kids can understand. With brilliant drawings that accurately depict wildlife, kids are pulled into the "data." Dozens of eggs are drawn showing the multitude of colors, sizes and shapes that can occur in the avian, reptile, insect and even the shark world. How eggs camouflage, grow, and finally produce their surprise is shown though the delicate drawings and text. The front page displays eggs with the name of each species which laid it, while the back page shows all the adult forms corresponding with the eggs. I flip back and forth between these two pages so the kids can see before and after… Sometimes I think I like this book slightly more than my children.
Story Time for Little Porcupine written by Slate and illustrated by Rogers, is a collection of "Why" stories as told by Little Porcupine and Papa Porcupine. How the rays of the sun were made, how the sunset came to be, and why there are stars in the night sky are described though the dialog between father and son. The drawings are quaint and charming and the "Why" stories craftily conceived. This story is also one of my personal favorites because of its creativity and it's encouragement to think outside the box.
Little Tom Turkey written by Bloxam and illustrated by Sollers, is another rhyming tale explaining the growth of a wild turkey from egg to maturity showing feeding, flying, escaping predators, wintering, and finally adulthood. The repeating attempt of little tom to strut is cute to observe. We have read this book about every other day for the past month since it was Thanksgiving. The illustrations in this story are stand outs since Solliers uses a combination of smooth art and detailed turkey drawings.
The Two Little Gardeners written by Brown and Hurd, illustrated by Elliot is a Special Mention book. While this book does not focus on animals in the wild it provides a beautiful step by step tour to growing garden vegetables. The words are simple but elegant in choice and I have read it so many times I know much of the verse by heart. The story describes the gardening activities of a boy and a girl as they transform a dirt plot into a vegetable heaven. The artwork is awesome and detailed. Each step of the gardening process is shown. We read this one a lot in the spring time before we plant our garden.
Since it is a classic Golden Book it is not so expensive, but the value in the story makes it a superior addition to a library and the version I have is printed in the USA.
I think these books give my kids appreciation for animals and nature. Maybe though learning to love these things the next generation of children will strive even harder to save them. Maybe you can give another kid a chance to love them at Christmas time too!!!
It's not just about chickens, ground squirrels, nutty kids and meditating hippies at our house; we read a lot! Have you a favorite animal and environment story to share? Add your story in the comments and we can make this list a little longer. I am always looking for new books that I have not found yet. Thanks!!!
This is a cross post wrtitten by Julia over at Our Simple Life. Thanks Julia!!