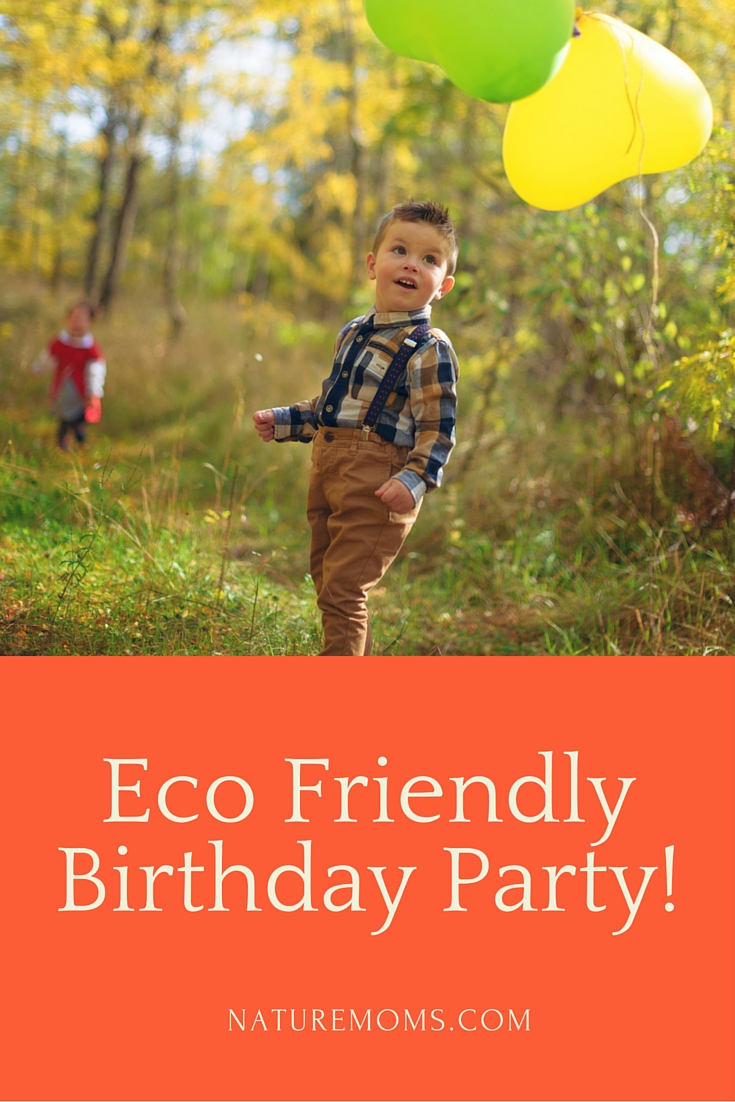 If you want to hold a green birthday party and skip the plastics, cellophane and, all those snacks full of preservatives, you've come to the right place! There are many exciting ways to hold a green birthday party that your child and their friends will enjoy. They have fun and you have peace of mind knowing that your child's birthday isn't leaving an everlasting footprint on our planet.
Many parents realize to late the drawbacks of the conventional party system… spending too much money for a few hours of fun, kids hopped up on sugar, low quality toys that are forgotten in a week, huge amounts of garbage generated, competition between kids for the "bestest, biggest" party, etc. And of course who can forget the biggie in my book… the sense of entitlement that can come with it. When too much time and energy is placed on birthdays it is easy for kids to get more grandiose and excessive in their requests each year. Parents can even end up competing against other parents in this regard.
My own personal birthday motto is SIMPLICITY and I think this is in large part due to the fact that I came from a family that did not celebrate birthdays…at all. For years after I had my own kids I managed to keep things very minimal. Just last month I finally broke down and hosted an actual party with guests for my daughter. I held out until the last minute and then caved in to pressure from my extended family who insisted I was being mean by denying her a party. I realized my mistake as soon as the venue was booked and the invites went out. She would have been happier with MY idea of taking the family to a nearby resort with an indoor water park. We could have stayed the whole weekend for the price we paid for her birthday. Lesson learned I guess.
What I prefer for birthdays and what my kids usually prefer is an event with family and maybe one friend. We get to spend time together and make the celebration more about family and less about doting on one person. And with a few special touches here and there the birthday boy or girl still gets to feel special. We love museums, zoos, planetariums, state parks, camping trips and the like for birthday "events" instead of parties.
BUT, if done right a party can be low cost, low impact, and meaningful.
Location is everything – Think about a good location for your green birthday party and pick a place the shouts "environment!"  A neighborhood park is a great place to hold a birthday party and your city or town probably won't charge you like some popular pizza places or other venues. Not only will the children love the outdoors, they can run and explore the world around them—and, they won't be around arcade games!  If it's too cold to be outside, ask your local community center or church what their fees are to hold a birthday party.  Find out if they will let you hang up homemade trees and flowers on the walls to give it an outdoor feel.
Greener Gifts – You can also green up the gift giving. Indicate in the invitation that you are having a green birthday party. If your friends don't know much about green gifting, tell them stuffed animals filled with natural cotton and wooden toys that come in everything from trains to puzzles are good ideas.  Say no to plastic or anything that is wrapped in heavy plastic that may harm especially smaller children. Ask them not to wrap the gifts at all or use recycled paper instead of new. A simple "no gift wrapping required" will get your point across.
You can also request used toys and books. This may make it easier on parents too if they can "shop" in their home or at second hand stores. My kids have already attended half a dozen birthday parties this year and it can get expensive!
My favorite idea for a spring or early summer birthday is to have a garden party theme and request plants and seeds instead of gifts. The kids can even do the planting at the party. Not only does this take care of the entertainment this ensures that your child is not bombarded with toys they don't need.
I also like the idea I highlighted in my first green birthdays article.
Perhaps you could have guests bring a gift to donate to a worthy cause. For instance, I read about a woman that orchestrated a puppy-themed party for her child to benefit a local animal shelter. She made dog-bone shaped oatmeal cookies for snacks and In lieu of birthday gifts, guests brought donations, dog food, leashes, water bowls and toys for the abandoned animals. All the kids and especially the birthday boy LOVED it and the animal shelter brought puppies for the kids to play with. I also read about an Africa-themed party, where kids built a grass hut and collected donations for African children. These parties were fun and they taught the guests a valuable lesson about helping others instead of the usual birthday message of "help yourself."
Gifts from mom and dad don't have to be elaborate either. An organic t-shirt, some natural lip balms, non-toxic nail polish, etc.
Invitations– When you send out invitations, make them yourself from recycled cards, magazines, and paper.  Each one will be different and something children can use as a keepsake. You can also send evites via email or buy recycled invitations. Tiny Prints has a large selection of birthday invites and they offer a recycled paper option. Love this Jungle Fun invite.
But my FAVE idea is to make your own seeded invitations using junk mail. After the party is over guests can plant their invitation and grow flowers! Check out this DIY video.
Menu Planning – When planning your menu think healthy and simple. Lots of my raw treats would be perfect like my fudge cookies or brownie balls. I also posted a healthy carrot cake recipe. Instead of store bought icing, try making your own with natural ingredients so your cake is preservative free. You can dye frosting with natural food dyes too and that is VERY important because most foods dyes are made with chemicals derived from petroleum…yuck! Check out these natural sprinkles too. You can also do something simple like a fruit salad in a hollowed out watermelon bowl. Offer healthy snacks and real juice at your birthday party including nuts, fruits, and veggies.
Entertainment– For games at your party, use your natural outside space if you can and have a nature scavenger hunt looking for trees, nuts, insects, flowers, and birds. Parents can help with this for smaller children.  Your kids will be learning at the same time they are playing.  If you are stuck inside because of cold or bad weather, play the old A-Z game of clapping and shouting animal names and whoever gets the most wins. There are also many eco friendly and cooperative board games that can be played. A new favorite in our family is a completely awesome game called Wildcraft. Not only is it FUN, it teaches everyone (parents and adults) about herbs and their various uses.
Another idea is to have the kids make their own natural play dough, dye it their favorite color with natural dyes, and then take it home as souvenir.
If you want to give out door prizes and gifts, make sure these are green as well. Recycled paper party bags or cloth bags full of small wooden toys such as spinning tops and healthy snacks will be a smash at your green birthday event.
Having a green birthday party can be fun and innovative if you take some time to plan it.  Not only will your child be happy, but also their friends will have a good time, and parents will be impressed with your green efforts and maybe a parental competition for who can have the GREENEST party will break out!