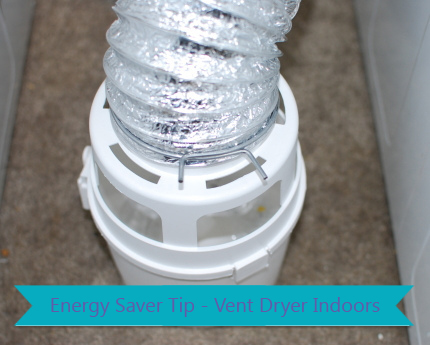 It got down right COLD this week in our neck of the woods. In the back of mind I have been remembering a time this summer when the dryer vent got pulled out of the wall and it started venting into the house, unbeknownst to me. I kept wondering why it so freakin unbearable in that part of the house and then I figured it out.
When temps started to dip down here I wondered if we should get one of those indoor dryer vent attachments. Well we did and I am so happy with it. It REALLY keeps one whole half of the house toasty warm… the coldest half… where we hang out during the daylight hours. It also adds humidity to the air, which is a plus in cold weather.
Basically it is a plastic bucket that attaches to the vent hose. It has a small bit of water in it so that lint gets wet when it comes out and won't fly out of the bucket. It can be mounted on the wall with screws but we took the lazy way out and just sat it between the washer and dryer. When it fills up and/or lint starts flying out we dump it out in the compost, add more water, and reattach.
You can buy one for $8-20 and I imagine the savings will be significant. We have to run the dryer anyway to dry our clothes in the winter… since we don't like frozen, line dried clothes. So why let the hot air vent outside when you can keep it inside to heat the house.. double whammy!
Drawbacks inlcude the fact that it is plastic and I don't like buying new plastic, it fogs up all the windows, and it does make the whole house smell like drying clothes but we can trade that for energy savings. I may make some dried lavender sachets to see if I can make the house smell like flowers.
It also may not be the best idea if you live in a really humid climate since it will add to the humidity and moisture in the house. In Ohio it is typical for people to run de-humidifiers all summer and humidiferiers all winter… our winters get pretty dry. You also never want to vent a gas powered dryer indoors… this is for electric only.
They have several on Amazon if you want to try!