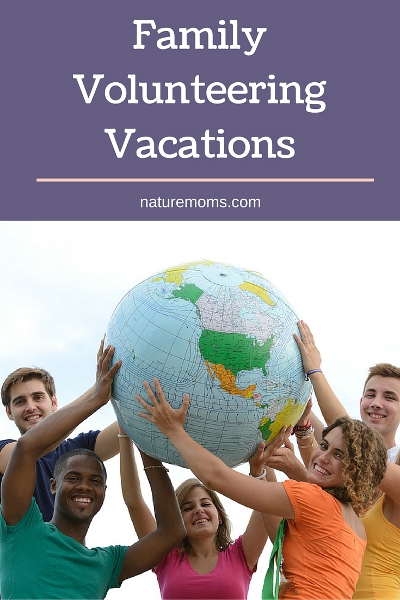 Family Volunteering Vacations – What are They?
The typical family vacations are normally all about having fun or visiting with family you don't see often. And of course there is nothing wrong with that! But another option to consider is a family volunteering vacation. Rather than spending your time lounging on the beach or standing in line at a high-priced amusement park, you can travel to a different area of the country or the world and help those less fortunate. Imagine what you and your kids could learn and from such an experience. I would wager it would be something they would remember much longer than they would riding Splash Mountain.
You'd be amazed at the number of organizations around the country and the world needing volunteers. While volunteering you may be able to help build an orphanage, help at centers for the disabled, or help build a home. With the number of natural disasters happening around the world and the large group of people who have been adversely affected by them, there is no shortage of things a family could do to help.
If you are interested in finding an opportunity for your family to volunteer during your next vacation, you can try to find something on your own. However, for the best volunteer opportunity abroad, you may want to contact an organization which specializes in setting up this type of vacation.
Global Citizens' Network is one such organization. They welcome families with family members as young as eight and are looking for families which are open to new experiences. This may mean traveling to a foreign country, working long and hard hours, and being flexible. This type of program can cost as much as $2,000. Travel expenses are not included. Check with the organization to ensure they have staff that can accommodate the ages of your children if they are under the age of twelve.
Cross-Cultural Solutions is another organization which families can use to find volunteer opportunities, either in the United States or one of any number of countries. Those volunteering their time may plan a trip at any time during the year and may remain on the volunteer site for up to twelve weeks.
Heritage Conservation Network specializes in setting up volunteering workshops for families at historic sites in the United States and the world. While the goal is to supply volunteer labor for preservation projects, those assisting can also learn a great deal about the local culture. Prices range from $300 to $2000 per week and are dependent upon the location where you're volunteering.
You can find other family volunteering vacation ideas by searching on the internet. You can find an opportunity you like and perhaps look at home swaps or renting a private condo for a couple of weeks. Some children may balk at the idea of going on vacation and working the entire time. After the vacation is over, however, you may hear your children make comments about how much they've enjoyed themselves. They will certainly have some amazing stories to share in school. Don't be surprised if they even ask you if they can do something similar the next year.