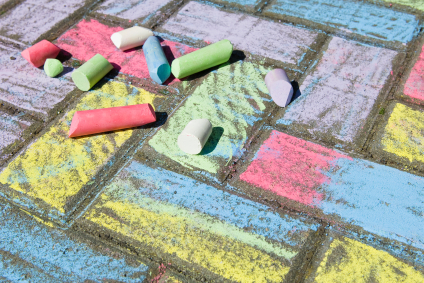 A reader recently emailed me and asked about a concern that came up among her local moms group. Some moms insisted that sidewalk chalk has lead in it and others insisted it doesn't. So which is it?
Well the connection between sidewalk chalk and lead became headline news in 2003 when several stores recalled chalk for lead. The good news that there haven't been major recalls since, indicating that reformulation has occurred. BUT the chalk that was recalled was not major brand chalk like Crayola it was off brand or generic chalk made in China and used by stores as their own "brand". I believe Target was one of the offenders in the 2003 recall.
These days the Art & Creative Materials Institute, Inc. (ACMI) certifies 3 brands of chalk as lead free and safe for children.. Crayola, Prang , and Rose Art. These are well respected brands and you can feel at ease using them. Personally I would avoid off-brands you may find at discount stores like Big Lots, or those found in cheap gift baskets (like Easter baskets) or cheap art sets. If it doesn't have a recognizable and respected brand… I wouldn't buy it. Chances are they won't contain lead but I err on the side of safety just in case. I also prefer Prang to most of the other brands. They are more expensive but they also have more sustainable products (such as their soybean crayons) and their web site has tons of safety data  on each product they sell. You can also make your own sidewalk chalk and take charge of the ingredients yourself or buy homemade chalk made by artisans on Etsy, who I am sure would be happy to disclose their ingredients.
All in all I think parents can feel at ease letting their kids play with sidewalk chalk but as with ANY product we have to stay informed and be vigilant. In the meantime encourage your kids to get outside and "create".