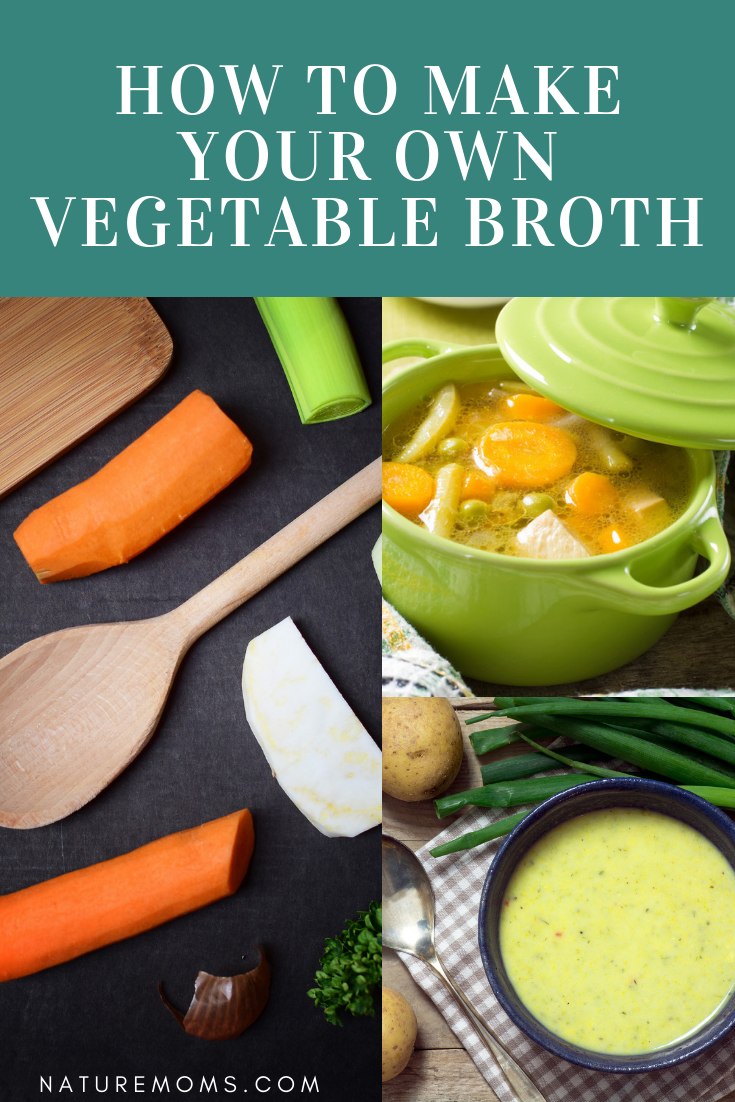 The vegetable broths they have in the store are often delicious for sure but not the best option for green and healthy families. First they come in plastic based, non-recyclable boxes usually. The cans will have BPA. Second they often have some unhealthy ingredients… really high sodium content, MSG, sometimes high fructose corn syrup, etc. Making your own vegetable broth is actually pretty easy though and you can store it for future use. Unlike many recipes it doesn't have to be precise… you can make it with a bunch of various ingredients and you can use up the parts of veggies you normally wouldn't eat… tops of carrots, the tops of root vegetables, onions skins, and so on. If you get some "scary" looking veggies in your CSA box and don't want to eat them, throw them in your stock pot with some other veggies and make vegetable broth. Seriously, it is THAT easy.
First, start with the basics… your aromatic vegetables… celery, carrots, and onion. Chop up some fresh ones and throw in the carrot tops and celery tops too. You can keep leftover veggie scraps in the frig or even the freezer until you have enough to make broth. Parsnips and leeks can also take the place of or even partner with the carrots and onions. I always add garlic too because I LOVE garlic and it helps keep us healthy during soup season. Many people call vegetable broth a "kitchen sink soup" because really almost anything goes.
NatureMoms Super Simple Vegetable Broth Recipe
2 Tablespoons Olive Oil
2 Onions (chopped)
2 Leeks Chopped (green and white parts)
3-5 cloves garlic
1 heirloom Tomato
1 pound celery (chopped)
1 pound carrots (chopped, skin left in tact)
1 Zucchini
1 Cup Mushrooms (optional – for a meaty flavor)
1 Bay Leaf
2 Tablespoons Coriander Seeds
1 Cup Parsley (chopped)
1/4 Cup Tamari
Pepper or Peppercorns
1 Tablespoon Dulce Flakes
12 Cups Water
Optional Items: Leftover veggie scraps, other greens or veggies you have on hand, squash, herbs, a 1/2 inch piece peeled ginger (good for Asian soups).
Directions: Pour the oil in the stock pot and turn on heat, add veggies as you chop. Add all ingredients (except Tamari) and cook for 1 hour, bringing to a boil first and then to a simmer. Add Tamari and cook for another 30 minutes. Strain the broth and throw the veggies away (or put in compost). Take the remaining broth and divide among freezer safe pyrex bowls. This broth will keep in the frig for a week and in the freezer for about two months. To thaw freezer broth just take out of the freezer and put in the frig the day before you will be making soup.
This super easy broth can be used as a base for numerous yummy soups including the Potato Leek soup I made tonight. Enjoy!
Added to: Vegetarian Foodie Fridays