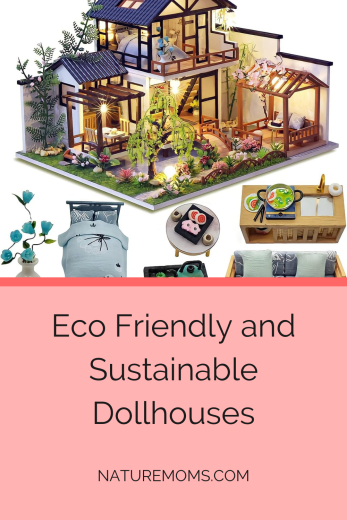 One of the latest trends in greener, more planet friendly toys is the surge of sustainable dollhouses on the market. One reason for this, I think, is because wood dollhouses already have a HUGE advantage over cheapy plastic ones… they are more attractive and more like a real home. It is rare that I see a plastic dollhouse that actually catches my eye these days and I can't say that for all plastic toys in general. But when it comes to doll houses and play kitchens… wood is far more attractive and far more eco friendly as a bonus. The modern day versions of eco friendly dollhouses are so darn cute it makes me want to play with them. Either that or hand one over to an architect and tell them to duplicate in a life size version.
Here are some my favorites that I have highlighted. One or two of these might still be in the future of my little girl (almost 7 now) but if not I doubt I will quit bookmarking them because they are so darn cute!
My FAVE has got to be the Bamboo Dollhouse which makes those bamboo race cars I love so much. It is made of sustainable bamboo obviously, which is a grass that grows in 3 years, much faster than trees. It has a polished look that I love and this cute house is just adorable. It is rather pricey and all the furnishings come separately but this is more of an investment piece, something you will take care of. It can last for several generations if taken care of and it will be just as timeless tomorrow as it is today. I love the sleek design and lines, the WORKING solar panel, the real LED lights, the partitions, the winding staircase, and all the rooms. You can pack a lot of fun in this little house. And I would be remiss if I didn't mention the gorgeous sets that can be bought for this including this greenhouse. Love, love, love this dollhouse.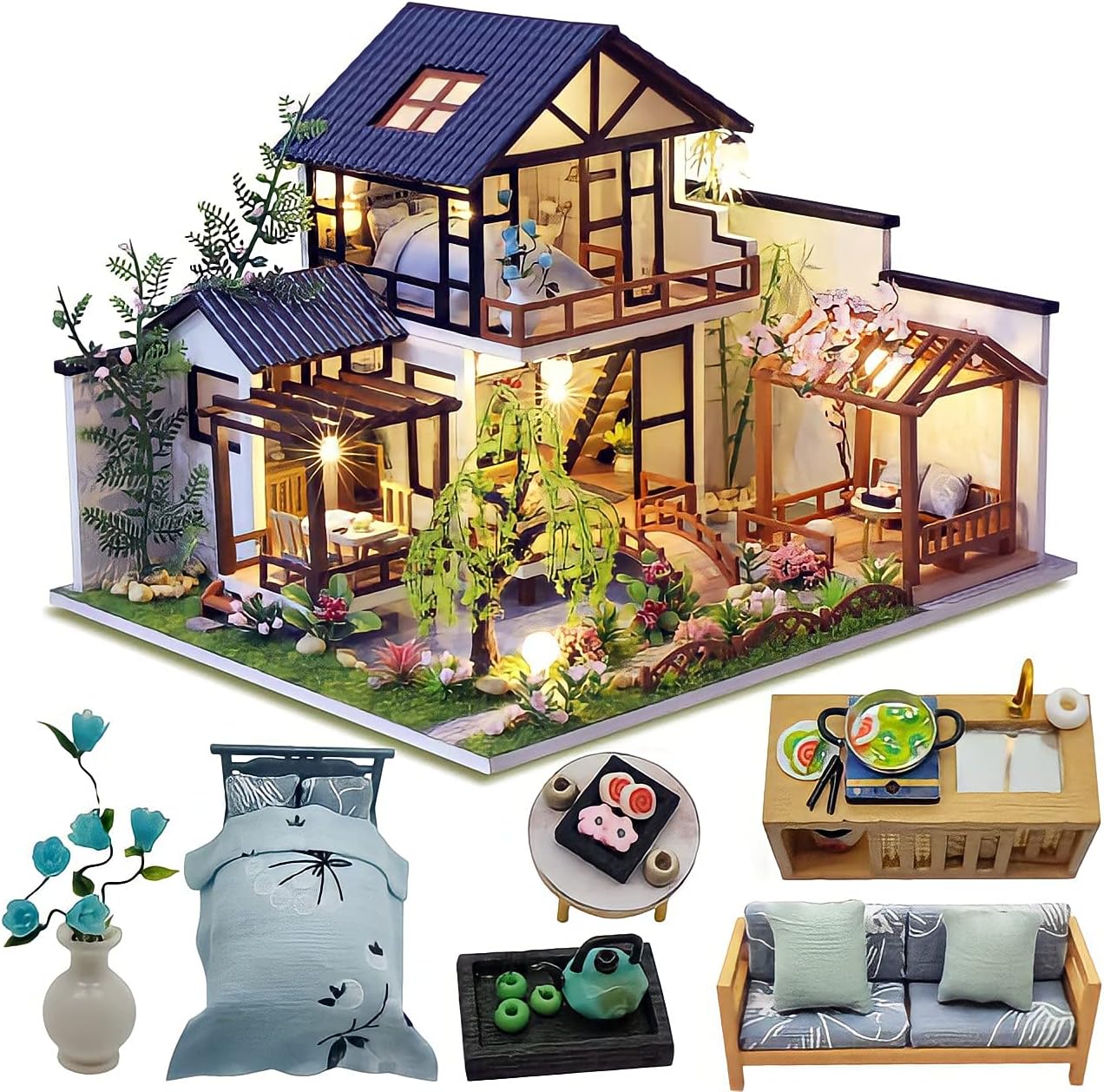 Another cute one is this modern dollhouse design. You do need to assemble it yourself but that is half the fun. The small details make it something your kids will treasure for life.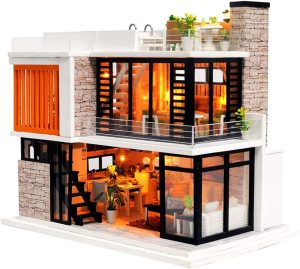 It is a two story wooden playhouse that includes kitchen set, bedroom set, and bathroom set as long as all the adorable features I mentioned above. The Eco range is part of Wonderworld's new collection of products to educate children to the importance of recycling, saving energy and being friendly to our environment. The Eco House Wooden doll house comes complete with room settings and family. Themes include recycling, planting trees, solar panels, scooter and collecting rain water. I give it an A+.
Another too cute dollhouse is this sushi themed one that looks like a posh restaurant. I love this little diy miniature house! All the little food is absolutely adorable! It DOES NOT COME WITH GLUE OR BATTERIES but that's ok. I got this for something to do with my sister (we're 16 years apart lol) at 18 she loves it. I bought super glue at first then switched to a craft glue that's easier. If your looking for something other then diamond painting or the same ole craft projects these houses are it!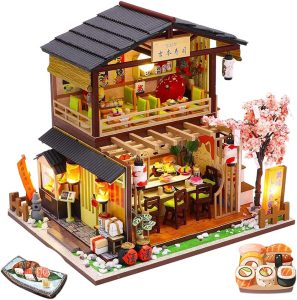 Another amazing find is this eco book nook dollhouse. It is small and meant to be tucked inside a book shelf along with books. How perfect for small spaces!
Decorate the interior: Once the structure of the house is complete, it's time to add the furniture and accessories. Use the included materials to decorate each room and make it your own. Once the structure is complete, you can start decorating it with plants, furniture, and other accessories. Use your imagination and creativity to make it your own! 🏡 Building a DIY miniature dollhouse kit is a fun and rewarding project that can be enjoyed by hobbyists of all ages. Just be sure to follow the instructions carefully and take your time to create a beautiful and unique miniature masterpiece.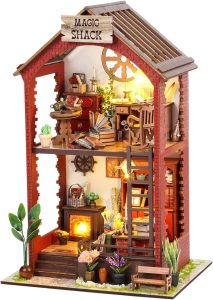 Very strong and sturdy. – Environmental friendly. Free from hazardous substances. Corrugated board withstands top and side pressure, is crush resistant and has a high burst strength. It is impact, drop and vibration-resistant, yet light in weight. This would be an excellent dollhouse for a younger kiddo who might not take care of one of the nicer ones and it is an attractive budget option too.
Plan Toys is another fave brand of mine for kidlet toys and I like their Green Dollhouse with Furniture. Wonderful for older kids…  say 6 and up. Like the other above it is green on two counts. It is made from nontoxic natural materials such as organic rubberwood AND it has an energy efficient design that includes a wind turbine, a solar cell panel, and an electric inverter for generating electricity, a rain barrel for collecting rain. There is also a biofacade, which uses the natural cycle of plant growth to provide shading, and a blind that can adjust to the amount of sunlight and air circulation. Recycling bins are also included with the house. This dollhouse also comes with furniture for five rooms: Living room, kitchen, bathroom, children's bedroom and master bedroom. This beautiful dollhouse and furniture are crafted from recycled, natural rubber wood, dyed with vegetable and soy dyes, and assembled in an earth-friendly process. The Plan Toys green dollhouse for younger kiddos (2-5) is here.
A rather atypical dollhouse would be this exclusive from Magic Cabin. It is a mushroom house for dolls or gnomes. The mushroom-shaped abode is perchance the most charming home for gnomes ever seen. The sturdy wooden two-story dollhouse comes with lots of perfectly sized accessories: table, two chairs, two beds, red-checked bedding and pillows, two evergreen trees and eleven animals. The posable dolls are handmade in Brazil with soft wool hair and stuffing and cotton clothes. I just love all the little forest animals!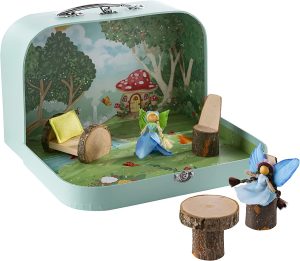 Do your little ones have an new eco friendly dollhouse or do you prefer second hand ones?