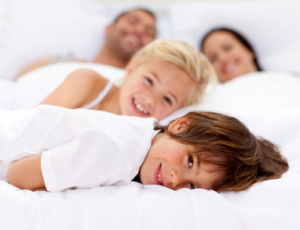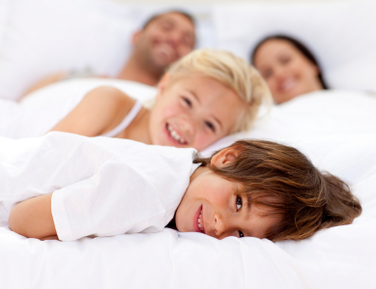 From Sheila Sundberg of StylishHome.com
Nothing feels better on a cold winter night than curling up under a down comforter, and resting your head on a down-filled pillow. It's luxurious, lightweight and oh-so warm. Down is the soft layer under the feathers from the chests of ducks and geese. It's natural, sustainable and renewable, and using it means you can turn down the thermostat at night, thus consuming less energy. However, because it's derived from animals, it's not without controversy.
There's a lot of debate over the use of down for bedding material, and many animal rights groups feel it should be banned. However, there are ways to ensure that the choice you make is right for you and your family. If you love down and wouldn't dream of sleeping under anything else, learn what to look for. Understanding the process can help you make an informed decision.
How It's Harvested Matters
True, bird feathers are natural. It's how they're harvested that can be a problem. It's important to only buy items made with down that was harvested after the bird was slaughtered in the production of food. This ensures that the bird was not killed simply for its down. Some manufacturers will use the term "hand-harvesting," or "live plucking," to imply that their process is more humane because the bird wasn't killed. Ripping the feathers from a live bird is not a humane alternative. There's no conceivable way of doing this painlessly, so don't be fooled.
How Can You Tell?
Unfortunately, manufacturers of down products don't routinely slap on tags saying, "We didn't pluck these birds while they were still alive," so it's tricky finding out what products you can feel good about buying. Here are a few guidelines to follow:
The American Down & Feather Council is the voice of the down and feather bedding industry in the United States and has taken a strong position on the humane harvesting of feathers. Look for their seal on comforters and pillows, or check out their web site for a list of member retailers.
Do you research. If you see a pillow or comforter you like, check out the manufacturer's web site to see if they have an environmental policy. If they're going out of their way to use humanely-harvested down, they'll want you to know about it!
Know the country of origin. Live plucking is rumored to still occur in China, Poland and Hungary.
Although it can be difficult to identify the true origin of down, do your best to find out where it came from. The United States and Canada have strict guidelines for humane harvesting. Other countries probably do as well.
Keep It Eco-Friendly
Be sure the down used in the products you're buying hasn't been chemically treated or washed using chemical agents. Pacific Coast Feather Company, for example, advertises that they Hyperclean® their down, using only biodegradable cleaning agents. Also, buy only top-quality goose down if you can afford it—it's cleaned according to strict standards and is less likely to harbor dust particles or debris. Duck down is less expensive, but not as soft.
Organic Covers
Look for pillows and comforters encased in 100% organic cotton, and be sure to use pillowcases and duvet covers made of eco-friendly materials too.
Once you've chosen your new down pillow and comforter, wrap yourself up and turn down the heat. Nothing could be cozier.