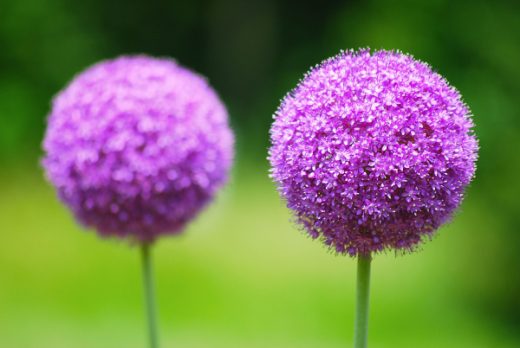 The fall is is well known for many things…the falling leaves, the cool crisp air, harvesting the last crops of the season, warm comfort food…need I go on? Well, yes actually I do. One of the best things about fall for me is that it is the perfect time to plant bulbs before the ground gets to cold and hard. Dig a little in the fall and you are rewarded with pure bliss in the spring when your bulbs bloom. Who doesn't want more tulips, daffodils, irises, hyacinth, and allium (above) in their life. Getting them off to a good start means that they will come back beautifully for years. For me there is rarely anything as satisfying as seeing bright yellow daffodils and smelling sweet hyacinth in the springtime.
Another awesome thing about bulbs is that they are a relatively easy project for kids. It gets them outside and involved in gardening and they reap the rewards of their hard work later. It is important to use these opportunities to raise the next generation green.
Gardening with kids helps to do this and Scholastic in partnership with Dig.Drop.Done wants to help out by providing educational materials. You get a free gardening themed Scholastic book for your child (or classroom) when you purchase any Dig.Drop.Done package of bulbs (look for the logo). Just order between now and November 30, 2012 (10/30 in Canada), fill out the redemption form, and claim your book. The program ends: when 1,000 books have been awarded or by 11/30 (US) or 10/30 (Canada). See official rules here.
The web site above also has some free educational materials and links. They have a pdf for parents to help gets kids excited about growing allium of all things. Woot! My fave! What kids wouldn't want to grow plants with soccer ball size blooms?? There is also a lesson plan for teachers or home educators about amaryllis. The links include information on how to start a garden at your child's school or take on garden themed projects like a dandelion salad.
If you are going to buy bulbs this season make sure to look for these specifically and get your free book while your at it. Enjoy!