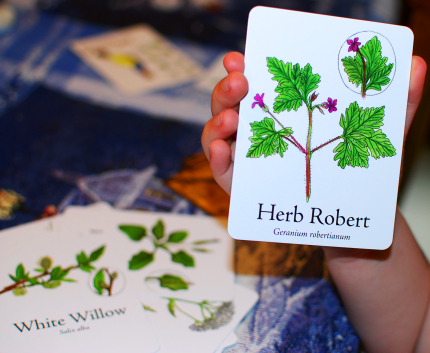 I have mentioned dozens of times how crazy I am about the game Wildcraft. It is a game for the whole family that teaches about herbs and natural healing. Read my complete review here. It is just a perfect way to integrate fun with learning and my whole family just loves it. Plus we have lots of time to play (and learn) during the cold winter months here in Ohio! It just gets us excited for spring…
One obstacle for many though, is price. It is something I have had to come to grips with myself since the cheapo games from big toy companies can be had for $10 or even less around the holidays. I recently saw one popular mass produced game selling for $1 this season. Quality games though can cost 5 to 10 times the price of a mass production game, though Wildcraft does not actually. It was created by a Dad who just wanted his kids to play something more valuable than Candyland and it is sold direct from his family to others. There is no big toy manufacturer behind it. So much love and creativity went into this game and it really shows…
The regular price ($39) is actually very reasonable but I still keep my eye out for the annual sale that comes around the holidays and I just received word of it this morning. From now until Friday November 16 you can get Wildcraft for only $19.99 AND you get a host of cool bonuses including:
*  Winterize Your Kids: Optimizing Health with Herbs, Diet & Common Sense" This is an 80 minute audio class with Aviva Romm M.D., author of many herbal books about natural child care.
*  2013 Herbal Wall Calendar PDF
*  Herb Fairies Book One! They are also including the recipe cards and journal pages! If you've been waiting since May for Herb Fairies to reopen, here's your chance to get a head start.
*  A FULL issue of Herbal Roots zine.
*  The revised "Herbal Gifts" eBook by Rosalee de la Forêt.
*  A class with What the Robin Knows author Jon Young on how to mentor your child in nature!
This game is the perfect Christmas gift and a good way to get lots of extra goodies for yourself or for others. Enjoy!