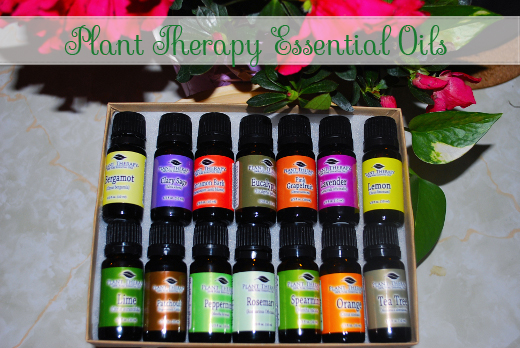 I have been using essential oils for almost 20 years now, ever since I was a teenager. Back then I wouldn't have pegged myself as an environmentalist, naturalist, or anything resembling a proponent of green and natural living but essential oils kind of resonated with me. It was a first step maybe?
I lived near a large strip mall and I was able to walk to all the stores and shop whenever I wanted, which was often. Back then I LOVED to shop (as most teens do). One of my favorite places was the bookstore, which was literally only a 2-3 minute walk from my house. It was there that I picked up a copy of The Complete Book of Essential Oils and Aromatherapy. I am not sure what motivated me to buy it, but it looked interesting and perhaps a bit new-agey, which appealed to me. I took it home and fell in love with it. Soon after I was hitting up health food stores so I could buy essential oils and make all the marvelous concoctions found in the book. It had everything… a treatment for acne, a remedy for my menstrual cramps, even recipes for lifting a bad mood. I felt like I was delving into witchcraft and brewing up magic elixirs. Perhaps it was because I had never ever heard about essential oils before I picked up that book. It opened up a whole new world. 20ish years later I am still using them, daily.
I have over the years tried many different brands too, some better than others. Lately I have been psyched with the oils from Plant Therapy. They sent me a boxed set of 14 different oils to try a few weeks back and I have been putting them to good use. Here are a few of the ways I have used them…
Bergamot – Made a carpet freshener with baking soda and sprinkled it in the bedroom to help with mood. My bedroom is my relaxation zone and frequently where I spend my evenings, along with a good book.
Clary Sage – Used a few drops on a warm washcloth that I then lay across my forehead before bed, to help with sleep, which does not come easily for me some nights.
Cinnamon Bark – Used it in homemade toothpaste.
Eucalyptus – Used it to clean the bathroom after stomach flu went through the household.
Pink Grapefruit – Used it in the shower for a mood boost.
Lime – Used it to clean and de-stink the refrigerator. Yuck! Smells good now though. :)
Peppermint & Spearmint – Gave everyone a spring lift by making a carpet freshener with these two oils. Winter is dragging on but you cannot help but feel good when the house smells like mint!
Lemon – I keep a spray bottle with lemon and pink grapefruit oils in it for quick spraying around the oven and backsplash after I have used my cast iron skillet and sprayed coconut oil everywhere. It cuts the grease.
Tea Tree – I use this oil in the laundry almost daily for towels and sweaty gym clothes.
As far as quality goes, these oils are up there with the best. I also love the brand name because EOs really do allow you to harness the power of plants for therapy and personal use. I would not hesitate to buy more of these and I really want to try some of their blends in the future, which are basically just combinations of different complimentary oils to be used for all sorts of things from germ fighting, to cleaning, to therapeutic uses. The oils are 100% pure, undiluted and therapeutic grade. They are also very reasonable in price and this may be in small part because they are not sold via an MLM pyramid scheme (as many EOs are) meant to make the sellers a hefty profit. You get to pocket the savings.
If you have never used essential oils I highly suggest picking up a how-to book (like the one I mentioned above) and trying a few recipes. It seems like it is intimidating but really it's not. Once you start, you may just fall down the rabbit hole.
Thursday, March 28th, 2013