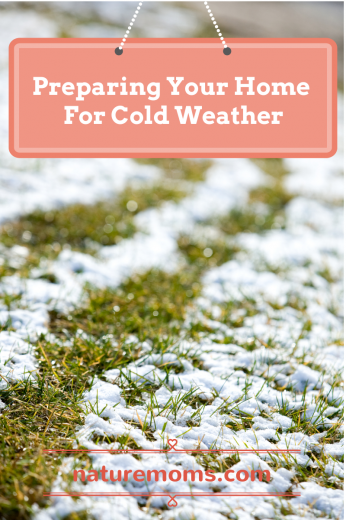 When cold weather shows up and decides to stay that is when my cold weather to-do list starts being made. I have quite a bit I need to get done each year and making sure it all gets done is extremely important for a variety of reasons. Everything on my cold weather home preparation list ensures that our home is a safe, warm, affordable, reliable, energy efficient, and healthy place to be for the winter months. Some of it is just checking for problems before they happen. Other aspects mean doing some cleanup unique to fall and cold weather. Others address making sure we are not wasting energy or money during a season when bills can easily get away from you.
Here are some of the things I do to prepare my home for cold weather. Do you have any to add?
Clean and maintain gutters – Fall leaves, dirt, and debris can clog up gutters so it is good to do check them once or twice a year and clean them out. Doing it before winter is important because you don't want ice dams or heavy snow accumulating up there. Also check to make sure they are fastened to the house securely and that none are loose.
Put away garden hoses – Drain and store garden hoses for the winter months to keep them in good condition. Sure they are cheap but why not take care of our things and save money and the planet??
Check for drafts – Go through the house and check windows, switchplates, vents, cupboards, doors, and any areas where cold air could be finding a way into the house. You can use foam insulation gaskets for switchplates and you can fill gaps with an insulating foam sealant. Small gaps can be effectively sealed with caulk.
Put the trampoline away – This is a high dollar item we don't want to see damaged by winter's foul weather and kids generally don't want to jump on it in winter anyway. Away she goes until warm weather returns.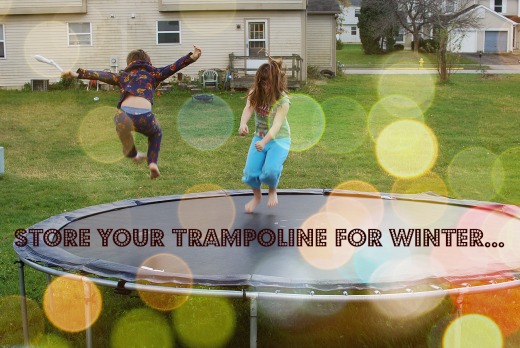 Insulate – A hot water heater blanket can help conserve energy on your hot water heater and also gas or electric bills. You can also use blankets or foam for pipes to keep them from freezing if that is an issue in your home.
Clean and maintain your furnace – You want your furnace to work as efficiently as possible so clean up the area surrounding your furnace and make sure it has room to breathe. Now would also be a good time to have your vents cleaned out by a professional and get a furnace checkup.
Wash the windows inside and out –  Use water and vinegar and get to cleaning. Winter days are dreary enough as it is. Let's not give the winter blues an even stronger foothold by making rare sunlight shine through dull, dirty windows. While you are washing you can also check for gaps/drafts.
Change your air filter – We should be changing our air filters with every season to maintain our A/C and furnace units properly but also to make sure our indoor air is as clean as possible. This is especially important in cold weather months when illness is more likely to be going around. Filtrete Filters last up to three months. Change your filter at the start of every season! You can get the Filtrete Healthy Living Filter, MPR 1900 at Lowe's, Target, Walmart, Costco and your local hardware store or by visiting FindMyFiltreteFilter.com. It is ideal for allergens and small particles like bacteria and virus. It captures up to 93 percent of large airborne particles, such as household dust, pollen, mold spores and dust mite debris, from the air passing through the filter. It captures 4X times more microscopic particles, such as smoke, smog, pet dander and particles that can carry bacteria and viruses, than ordinary pleated filters.
Check smoke detectors and carbon monoxide detectors – You should be doing this regularly and during your cold weather prep/clean-up is no exception. Make sure everything is in working order and change batteries if need be.
Clean and store rain barrels – We use a rain barrel throughout the year to collect rain runoff from our gutters. We use it to water our garden and houseplants. When the temperature drops to freezing though our barrel can be damaged and cracked by the elements. To keep it nice we drain it, clean, and store it in our garage or basement until the spring. Goodbye old friend!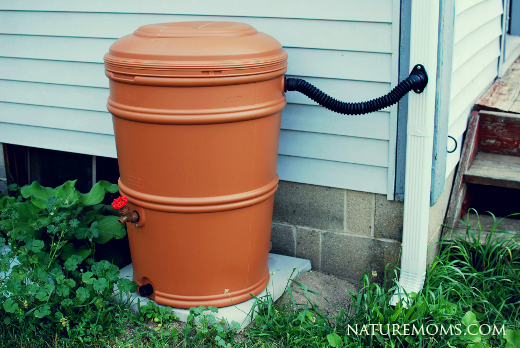 Use the reverse switch on ceiling fans – The reverse switch is available on some ceiling fans and it is very handy. It will reverse the direction of blade movement to turn clockwise instead of counter-clockwise. The air is forced downwards and heat rises so the heat will be pushed downwards.
Check insulation in the attic and roof area – Experts recommend a depth of about 12 inches so do a check and make sure your insulation is still effective against cold winters and remedy it if you find that your insulation is no longer cutting it.
Caulk windows and hang thermal curtains – Seal cracks and gaps with caulk to prevent drafts. Thermal curtains can also be used for the same thing. They are super heavy and will stop drafts in their tracks. Just make sure to open them on clear sunny days and let the sunshine in.
What do you do for cold weather prep??