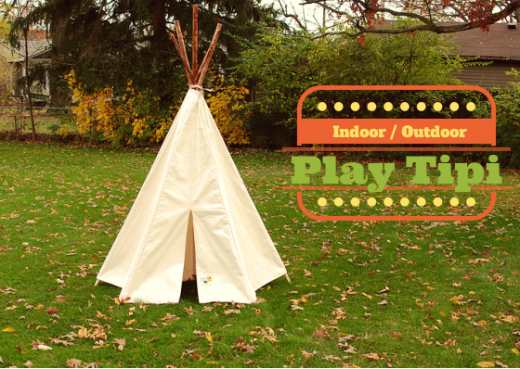 For a very long time now I have looked at play tepees and thought about how much fun it would be to have one for the kids. I am not sure why but I have yet to get over my childhood fascination with tepees. I have even been checking out a camp resort that has large family size tepees to camp out in. I think it would great fun.
In the meantime though I have been living vicariously through my kids, especially my littlest guy, and his new play tepee…the Little Turtle's Tepee. It is a great toy made from natural materials (cotton canvas and wood) and made here in the USA. Bozeman, Montana to be exact. It sets up in minutes and basically provides an instant play house for 1-3 kids that can be used indoors or out. And it's no boring, ordinary playhouse. It a tepee!
Natural toys made from quality materials are always better than anything made with plastics and other materials that will end chilling in a landfill for hundreds of years, long past their useful stage. The material is untreated, un-dyed natural cotton canvas and the poles are FSC Certified Solid Wood. Toys made in the USA are also going to have less impact than those made in foreign countries and then shipped here. You are also supporting local economies and usually small family business, which is important. This is a toy made with high quality, natural materials that are planet friendly AND meant to last. It taken care of this tepee will last for years and be a play object for many different kids over the years. It is a keepsake that can be passed around throughout the generations.
I also like that it is an open ended toy that encourages creativity and unplugged fun. My kids are not immune to the lure of the xBox and the iPad but it is important to me that they also know how to entertain themselves without the bells and whistles. Play houses are perfect for that and this tepee fits the bill.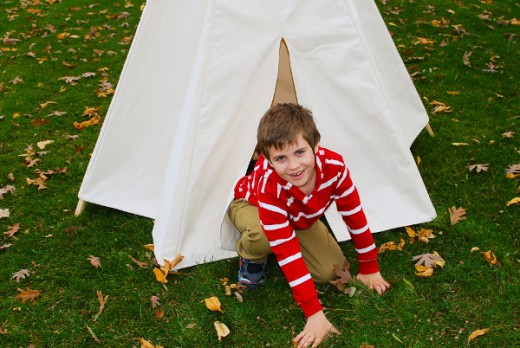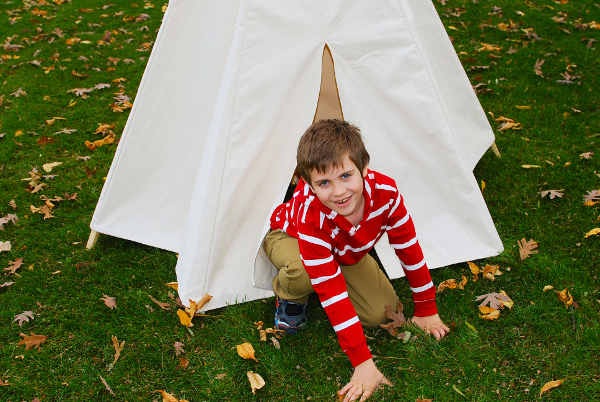 Another bonus is that this toy is educational and can open doors to learning opportunities about other cultures and living history. A tipi is a Lakota name for a conical tent made from animal skins and wooden poles and used by the nomadic tribes. This toy could open the door to all sorts of historical learning, which I love.
I also like that it is fun to use inside the house and out. When the weather takes a turn for the worse (it already has here in Ohio) then the tepee can be transferred indoors and used there. It is super easy to take up and down (it takes seconds literally) and it has a nice canvas tote for storage so it can be easily tucked away in the garage or basement when not being played with. The ease with which you can get it out and set it up and also take it back down and store it are super important to me because we don't have a lot of room in our house (about 1100 square feet). Anything hard to put up and take down would quickly be a pain in the you-know-what.  If you have a decent size car this would also be no problem to take with you to the park, camping, grandmas's house, etc.
Below you can see it indoors, in the Florida room …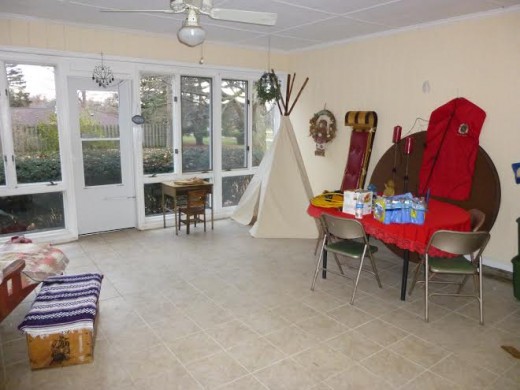 The tepee also came with stencils so you can jazz it up if you want. We may do that later on. Also it came with a traditional game that uses sticks and rocks. Yet another great intro into living history. All around this would make a great gift for the kiddos if you are looking for open ended natural toys that will encourage creativity and that will provide maximum benefit for your dollars, since this is one that will last.