I love a good subscription box and I have heard of Babbleboxx for awhile now. The difference between this box and others is that it is specifically for bloggers to try out new products. The issue remains the same for me though, most subscription boxes though…I am pretty choosy about the brands I buy and allow into my home. Unless the service is tightly niched I usually take a pass. That said though I will usually take a chance with boxes that claim to have healthier options. I love to find new-to-me brands that are a good fit.
The Revamp Your Routine BabbleBoxx is themed around a new year, new routines, and a healthier start to 2016. This is what is included: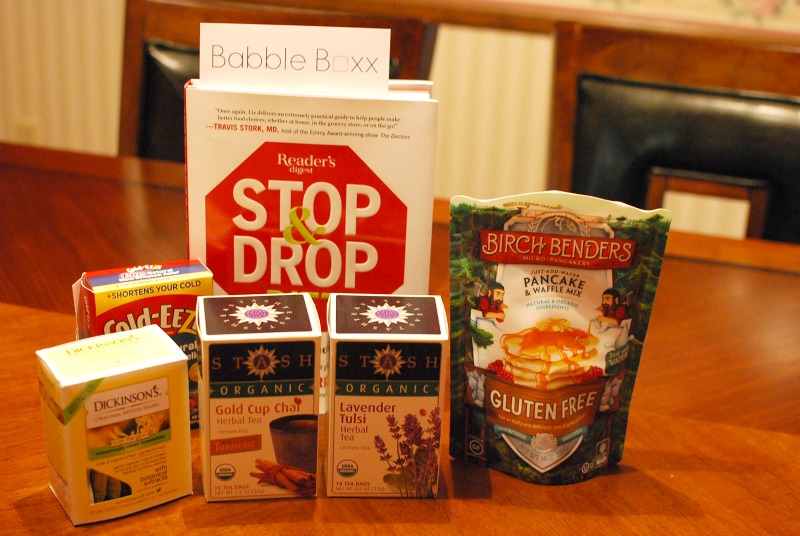 I am very pleased with all the products I got to try and enjoy!
The Stop Drop and Diet Book – This book was confiscated by my husband almost immediately upon opening the box. When when I wrangled it away from him, I found I really liked the concept and that says a lot with all the diet books on the market. It is all about finding healthier substitutes for the unhealthy foods you love and following a 21 day plan. I like that it has options for so many different lifestyles…those that cook at home, those that like convenience and shop the frozen isles, restaurant lovers, and fast food lovers.
Stash Tea – I am a tea lover and I love that these teas are organic. The Golden Cup Chai with Turmeric is a hit with us because I love anything that adds Turmeric to the routine. Adding this warm, Indian spice to a mild chai is a winning combo. Yummy with organic milk and cream of course. The Lavender Tulsi is also fabulous. I love lavender teas and Tulsi is one of the healthiest out there in my opinion.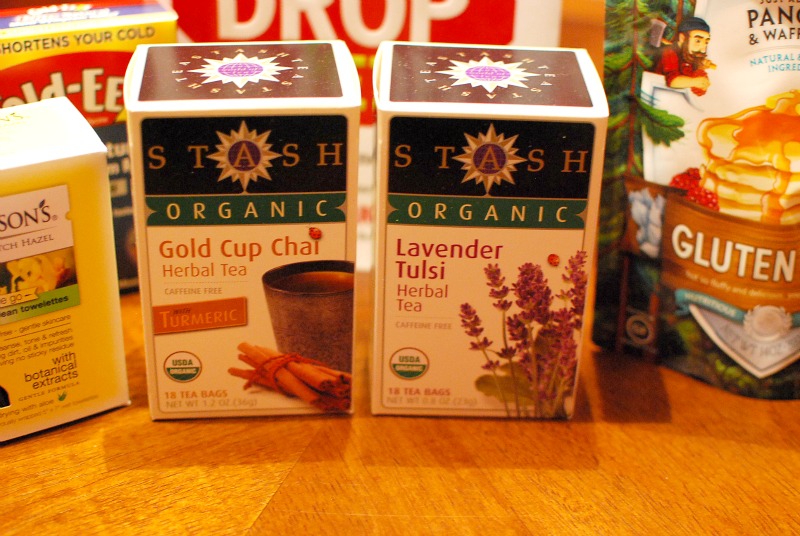 Birch Bender Gluten Free Flour – In general we don't eat pancakes too much because we aren't huge on flour and gluten. That said, I do like to try the gluten free varieties floating around out there to make pancakes for the kiddos a couple times a month and this is a good one. It is an organic, just add water mix made from wheat free flours and their signature hazelnut meal. Yum!
Dickinson's Original Witch Hazel – If you use towelettes for facial cleaning you need to be aware that many brands can have horrid ingredients. This product is essentially natural witch hazel and aloe vera. Simple and effective. It is a much better alternative.
Cold-EEZE Plus Natural Multi Relief Cold & Flu lozenges – Ingredients include zinc gluconate, sambucus nigra (elderberry), and licorice root. I like the minimal ingredients and that is does try to live up to the "natural" in the name, as many brands use this word and dilute the meaning. I have no doubt that we will use these when cold symptoms are a nuisance, such as at work.
Enjoy a healthier new year!
This post is sponsored by BabbleBoxx.com on behalf of Single Edition Media