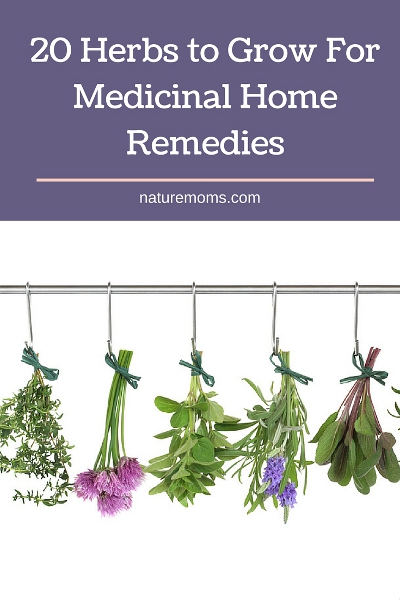 As you make your garden plan for spring and you order seeds from catalogs take a moment to think about plants you can grow for their medicinal properties. There are plenty of safe and effective herbs you can grow and use in homemade remedies for everything from first aid uses to illness.
Learning about herbs and all their uses is actually quite fun. It is a perfect way to pass time during the dreary, cold winter months. Make a plan now to come to know the following herbs and plant a few. Then when spring and summer comes try your hand at making herbal remedies. You can create your very own homestead apothecary! Enjoy!
20 Safe Herbs to Grow and Use
Aloe – A succulent prized for its thick gel that is perfect for soothing burns and skin irritations.
Burdock – This tenacious weed is great for skin problems like acne, eczema, and psoriasis.
Calendula – Beautiful flowers that promote cell repair and growth in rashes, sores, and burns.
Chamomile – Gentle but effective in treating colic, indigestion, infection, and more.
Chickweed – Soothes skin irritations and calms itchy eyes. Great eating too!
Dandelion – A great liver tonic and blood purifier. Good for digestion.
Echinacea – Stimulates the immune system and fights off cold and flu in the beginning stages.
Elder – Helpful with fevers, viral infections, and frequent bladder infections.
Goldenseal – Can be used to fight off illness and conjunctivitis. Makes a great mouthwash.
Hawthorn – Can help with cholesterol levels and blood flow.
Jewelweed – Excellent for dealing with poison ivy and poison oak.
Lemon Balm – Helps with depression, memory, focus, and digestive issues like colic.
Licorice – Soothes inflamed tissues such as sore throats and ulcers. Also good for adrenal fatigue.
Marsh Mallow – Lubricates dry coughs and moisturizes the lungs. Also soothes skin.
Nettle – Helps with joint pain, allergies, and hay fever.
Plantain – Often used for wounds, bites, stings, and blood poisoning.
Red Clover – One of the very best vitamin and mineral supplements you could ever take.
St. John's Wart – Helps with stress, depression, nerve damage, and seasonal affective disorder (SAD).
Valerian – Helps with insomnia and nervous system disorders.
Yarrow – Helps with swelling after injuries, soothes menstrual cramps, and reduces heavy bleeding.