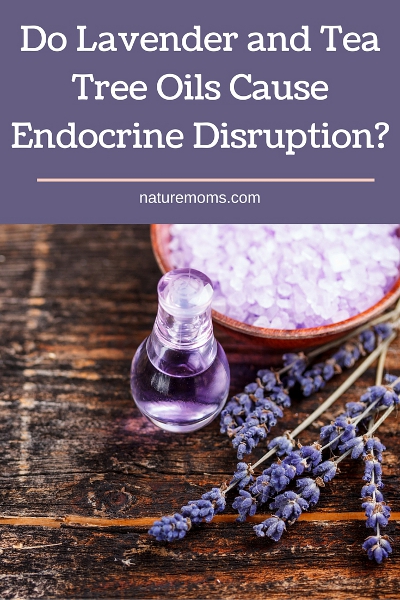 I thought this issue had been put to rest long ago but alas it seems the hysteria and misinformation lives on. In 2007 a very poorly conducted study "found" that lavender and tea tree oils caused endocrine disruption among young boys. It was said that these two compounds had estrogenic effects and could cause young boys to grow breasts (prepubertal gynecomastia).
The study was faulty for a variety of reasons but the main being that the study was made up of only three young boys. This is a woefully inadequate study pool. Secondly, the scientists used products that contained lavender and tea tree oils on the boys and measured the estrogenic effects but the product's other ingredients were not evaluated for estrogenic effects. This alone discredits the study because it is very likely that other ingredients, such as parabens or phthalates, which are PROVEN endocrine disruptors, could be the culprit and not the essential oils. Another flaw in this study was that it used polystyrene rather than glass. It is generally accepted that storing essential oils in plastic can cause the endocrine disrupting chemicals in the plastic to leach out into it the contents. So it is not the oils that have these estrogenic properties, it is the plastic, and oils can cause the plastic to degrade and release them into the product.
The oils used were also not tested for purity. This is a huge problem in a market where oils are often adulterated to make them cheaper and easier to produce. How can they be sure of the integrity of this study when they weren't even sure of the integrity of the oils they used?
After the tests on the boys showed negligible estrogenic activity they tested human cells in a petri dish, mixed with the essential oils in question. This study also found estrogenic activity but it is important to note they used dimethyl sulfoxide as a solvent to dilute the oils and it is actually a potent endocrine disruptor itself. This study is clearly full of huge holes.
A study in 2013 has since been conducted on rats and found no increase in uterine weight and no estrogenic action. This study used concentrations that were many thousand times greater than those you would run across in a beauty product or personal care product that contains essential oils. Other experts and scientists have also weighed in to debunk the original study and to share their own which lays to rest this idea that lavender oils and tea tree oils will give your little boy man boobs or cause you to miscarry if you are pregnant (another common myth).
There is no reason why you cannot use lavender oils safely on yourself, your pregnant tummy, or your children. Tea tree is safe as well but should always be diluted since it is pretty potent. Enjoy!