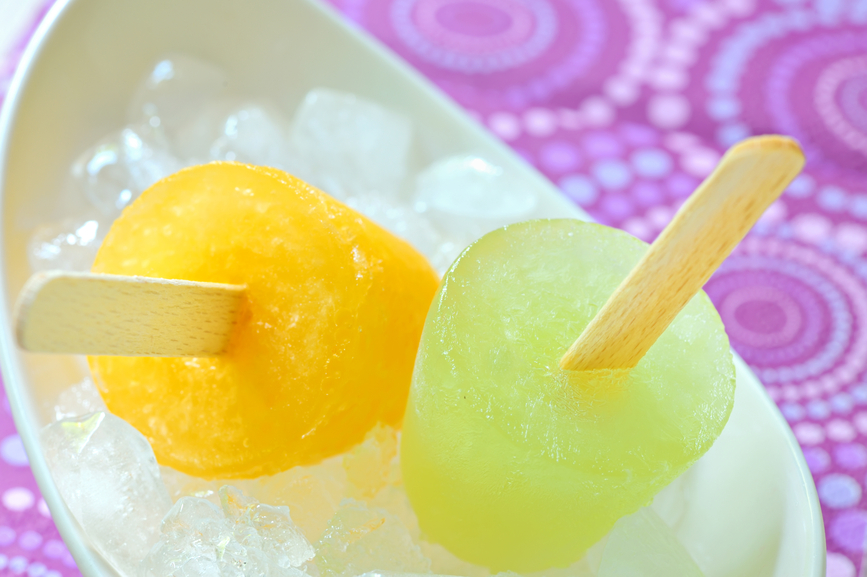 Why Popsicle Molds?
Do I even have to tell you how fast kids can go through popsicles in warm weather months? I doubt it! Heck, they like popsicles all year long. If you are relying on store bought popsicles then you are wasting money on something that you could easily make yourself. You are also putting the health of your kids in questionable hands because conventional popsicles have loads of refined sugar and synthetic dyes.
Opt to make popsicles yourself with DIY popsicle molds and you can keep your kids in frosty treats all summer with minimal expense. For pennies you can make "healthier-for-you treats that kids and adults will love. You won't even have to worry about finding your yard littered with wrappers or discovering a gooey popsicle stick stuck to your carpet… homemade popsicles are waste free!
Home popsicle molds also allow for some unique frosty creations. Get creative and make striped lollies or blend up some spinach and fruit for a healthy and tasty "green" treat. The possibilities are endless, you just need to invest in an affordable popsicle mold or two and enjoy!
Top Reasons to Make Your Own Popsicles:
Making them is fun
Control over ingredients
Healthier summer snacking
Cheaper than store bought
Waste free popsicles
Kids love them
** BPA or Bisphenol A is a hormone mimicking chemical found in many types of plastic. Make sure to look for molds that have no BPA in it!
Tovolo Rocket Ice Popsicle Molds
Blast off!!! These popsicle molds are out of this world! The set comes with six popsicle molds that create frozen rockets and a base for easy setting in the freezer.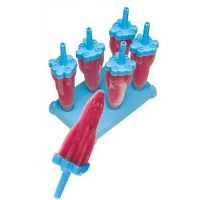 These will put some wind in your sails come spring and summer! Unique snap system not only saves space in the freezer but enables you to remove one mold at a time. Create delicious recipes made with fruit juice, yogurt or ice cream. The reusable molds are easy to release and can make up to 6-frozen pops at a time.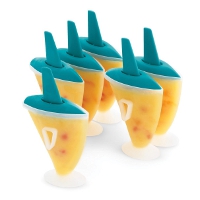 Want to make pops that look like the classic version? These molds are awesome!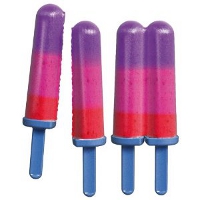 Encourage children to aim for the stars while serving them healthy popsicles made with Tovolo's green shooting star molds. Simply fill the six stars with favorite beverages, attach the handles, and set them upright on their custom tray in the freezer. Built-in drip guards also keep kiddie clothing and hands clean. Crafted of durable plastic with a cheerful lime hue, the molds offer a fresh, summertime look.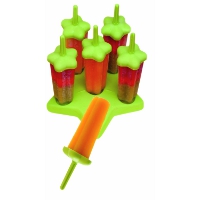 They also come in pink!
Mastrad Popsicle Molds
Set of four silicone molds
Tabs for easy removal
Attached cup for catching drips
Dishwasher safe
5 year warranty
Colorful!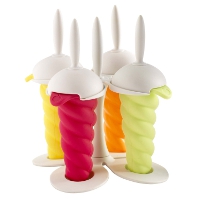 Also available with a brown base.
Zoku Quick Pop Maker
This amazing popsicle maker can help you turn homemade popsicles into edible works of art! Plus it makes them fast! Make your favorite pops right at home or park in as little as seven minutes without electricity. you simply store the compact base in your freezer and then you could make your Pop at a moment's notice and enjoy in in 7 minutes This unit can make up to 9 pops before refreezing the unit again. BPA and phthalate free.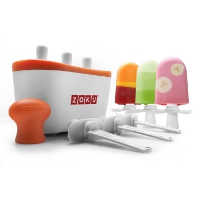 If you want fancy pops check out the companion book for this pop maker: Zoku Quick Pops Recipe Book.
Lolly Makers With Stand Kitchen Craft set of six umbrella shaped lolly moulds for making delicious 3D shaped juice or smoothie ice pops. Easy to use and clean, each mould sits on the stable stand in the freezer to set. Dishwasher safe.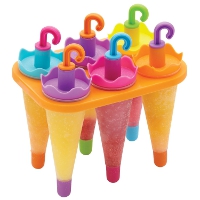 How cute and clever are these?!?! You can avoid having to take your kids to get ice cream cones on a hit summer day with these soft-serve style cones that catch sticky spills. The base features a hard "cone" that looks just like of a real cone, except of course that it can be reused over and over again. Fill the top sleeve with your favorite ice cream, juice, smoothie, yogurt, or other beverage, twist the cone on, set into the base and freeze. Voila!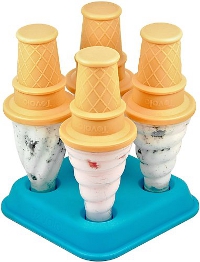 NorPro Squeezable Silicone Popsicle Molds
Create frozen popsicle treats similar to otter pops or push pops at home with Norpro's set of 4 Ice Pop Makers. Easily create frozen treats using juices, purees, yogurt, soda, ice cream, pudding, applesauce, gelatin, fruit, berries, candies, chocolate, caramel, whipped cream, and more. Ice Pop Makers are easy to use: simply fill, seal, freeze and enjoy. Flexible silicone makes it easy to squeeze and push up frozen treats. A handy lid holds in ingredients before they freeze and keeps pops secure in an ice chest for picnics and BBQs.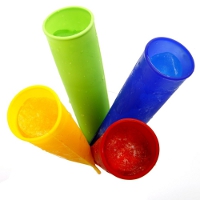 Monster Design
Cute colors
Fun for kids
Can stand on their own to help with spilling.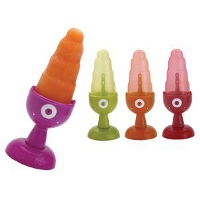 There are also monster push up pops too…