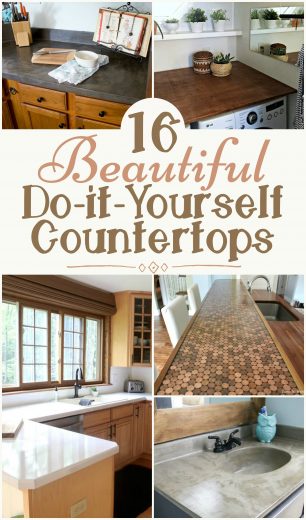 Countertops can be one of the most expensive parts of a kitchen, laundry, or bathroom remodel. Just price out that sparkly quartz or veiny granite and see how much it sets you back. Lots! I may have champagne taste but I have a two buck chuck budget. Luckily there are many DIY countertop projects that fit within even the meagerest of budgets. This article highlights some stunning diy countertop makeovers that you may want to consider before you drop a bunch of money on custom countertops. Enjoy!
16 Beautiful Do It Yourself Countertops
1. DIY Plywood Countertop – Ugly Duckling House
This upscale, straight out of Fixer Upper wood countertop is lovely!It is the perfect way to protect your washer and dryer and add all important storage to the laundry area.
2. Creating a DIY Marble Countertop – Refresh Living
With some clever painting tricks you  can makeover an outdated countertop and make it look like marble.
3. Contact Paper Countertop – Anika's DIY Life
I love this counter makeover because I did something similar with amazing results as well. I didn't do a countertop but I did do a series of shelves. The finished product is stunning and it was so cheap! I love how the contact paper completely brightens this bathroom.
4. How to Make Laminate Countertops Look like Stone for Only $15 – Rain on a Tin Roof
Only $15 dollars? Where can I sign up?! Old and boring laminate gets a cheap makeover and the results really do look like stone. I am impressed!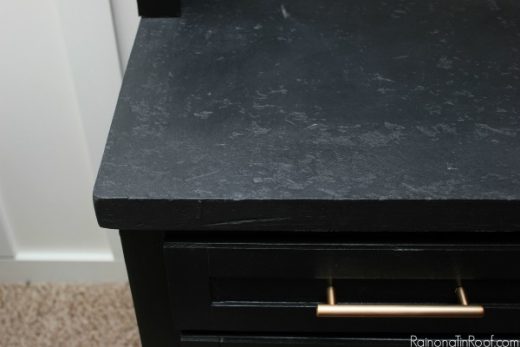 5. $25 DIY Bathroom Countertops – The Bewitchin Kitchen
This DIYer took a pink/rose countertop straight from the early 90s and made it look like granite for $25. You can't beat that!
6. Penny Countertop – Domestic Imperfection
I absolutely love this DIY. This family took pennies (lots of pennies) and laid them out on the bar area of their kitchen, to offset the new butcher block counters. The combo is amazing and unique, plus it got the whole family involved. The cost? Pennies and epoxy. The results are amazing.
7. Kitchen Countertop Makeover – The DIY Village
I really, really wanted concrete countertops in my kitchen. Alas my husband thought it would be too hard but this family accomplished a stunning concrete counter with a DIY kit. We will definitely be trying it!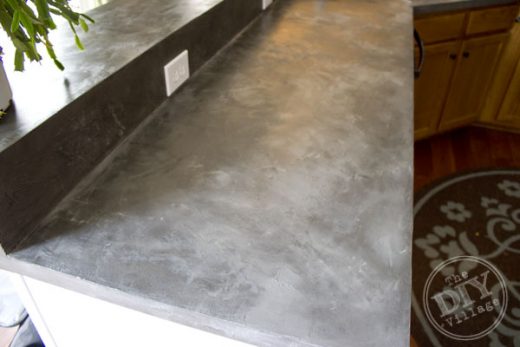 8. DIY Vanity Makeover: Concrete Overlay – Designer Trapper in a Lawyer's Body
This is another diy concrete countertop but it is a bathroom vanity this time. The total time was about 2 1/2 hours and the cost was $20. Wow! the results are stunning. I see this project in my own future very soon, so stay tuned. :)
9. Wood Working DIY Mahogany Countertops out of Plywood – Grandma's House DIY
Love this project for a more country style house…another Fixer Upper type project for sure.
10. DIY Kitchen Countertops – Hawthorne and Main
This project almost has me wanting to rip out my current kitchen countertops and they are less than a year old. I LOVE this white concrete countertop. It is a bit more labor intensive then the other diy makeovers and requires more concrete and molds but the look is stunning. So clean and minimalist!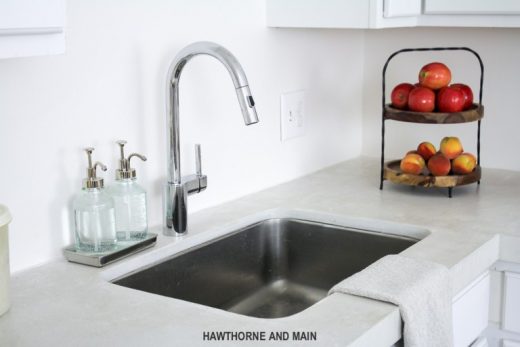 11. How to Finish and Install Butcher Block Countertop – Cherished Bliss
If you love butcher block (and who doesn't?) then you need to see this DIY.
12. DIY Refinish Countertops – Nourish and Nestle
This DIY using a refinishing kit and the results are beautiful.
13. Build a Counter out of Wood Flooring – Domestic Imperfection
I love this! The DIYer here used a dresser as her master bath vanity and topped it with hardwood flooring with stunning results. Absolutely gorgeous!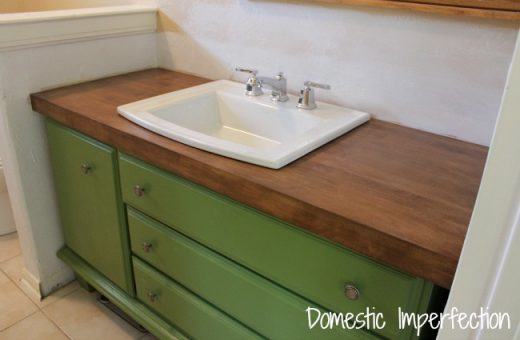 14. DIY Faux Marble Countertops – Bright Green Door
Another faux marble kitchen countertop using marble paper. The results are lovely and bright.
15. Painting Kitchen Countertops with Giani Granite – The Bewitchin Kitchen
This kitchen got a countertop upgrade with a faux granite kit.
16. DIY Wood Plank Laundry Room Countertop – Blue i Style
Check out this wood plank countertop for the laundry room. Simple enough and yet still lovely and upscale.