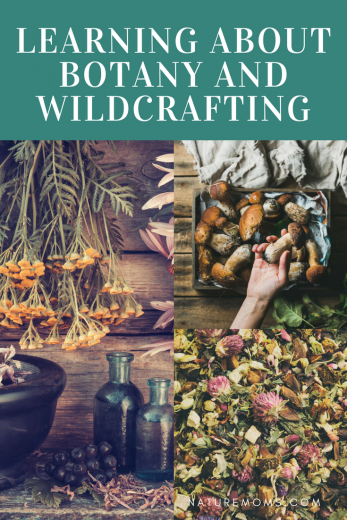 This journey we call life is a truly, truly amazing thing. Years ago, as I entered adulthood, I never would have imagined the person I would become and the interests and hobbies I would have. My younger self would probably look at me and think I was "hippy dippy". Even my California surfer dude husband is now a converted hippy dippy. We live quiet lives on an urban homestead, and we go gaga to learn about our land and become more and more self sufficient.
Two hobbies that have consumed us for awhile now are botany and wildcrafting.
Wildcrafting: to gather herbs, plants, and fungi from the wild
Botany: the plant life of a particular region, habitat, or geological period
We still love to grow/raise our own food but we have become really interested in learning to forage for food in the wild and to really KNOW our land. We want to be able to take a long hike and identify the plants, trees, flowers, and fungi that grow in our area. We want to know which ones are medicinal, which ones are edible, and of course, which ones are toxic. This empowering knowledge was passed on to new generations as vital information once upon a time but now, we have all but forgotten. I aim to change that for myself and for my children.
I want to know how to use licorice root for a sore throat
I want to make herbal and flower infused vinegars
I want to make jewelweed infusions to help soothe poison ivy
I want to make dandelion wine and dandelion jelly
I want to make raspberry leaf infusions for menstrual cramps
I want to know which herbs and flowers will be most useful to grow on our homestead
I have actually made some goals along these lines for myself to learn and grow. There really are numerous sources of support out there for a journey in herbalism, wildcrafting, and botany.
To that end I am…
Hiking a lot more…as in 10-15 miles a week
Taking guided tours with local experts
Enrolled in a Botany & Wildcrafting Course online
Taking foraging/cooking classes at a local college
Watching experts on Youtube
Joining foraging and wildcrafting facebook groups
This spring will be very exciting for me. I will be out in nature more, foraging for free food, cooking with wild edibles, and learning from experts. The Botany & Wildcrafting Course, for example is curated by the amazing Herbal Academy team of herbalists and botanists. To give you an idea of what is included in class, lessons cover topics like using the dichotomous key for plant identification, identifying botanical families and patterns in nature, drawing herbs, making a pressed herbarium, wildcrafting for wild edibles and herbs, drying herbs, and much, much more.
It is now open for registration at an introductory price of $149 ($50 off right now)!! I reserved my seat in class last night, and cannot wait to begin this journey.  If you too are interested in learning more about botany and foraging, check out the course page here.