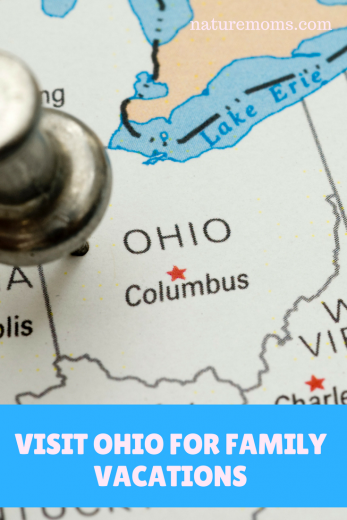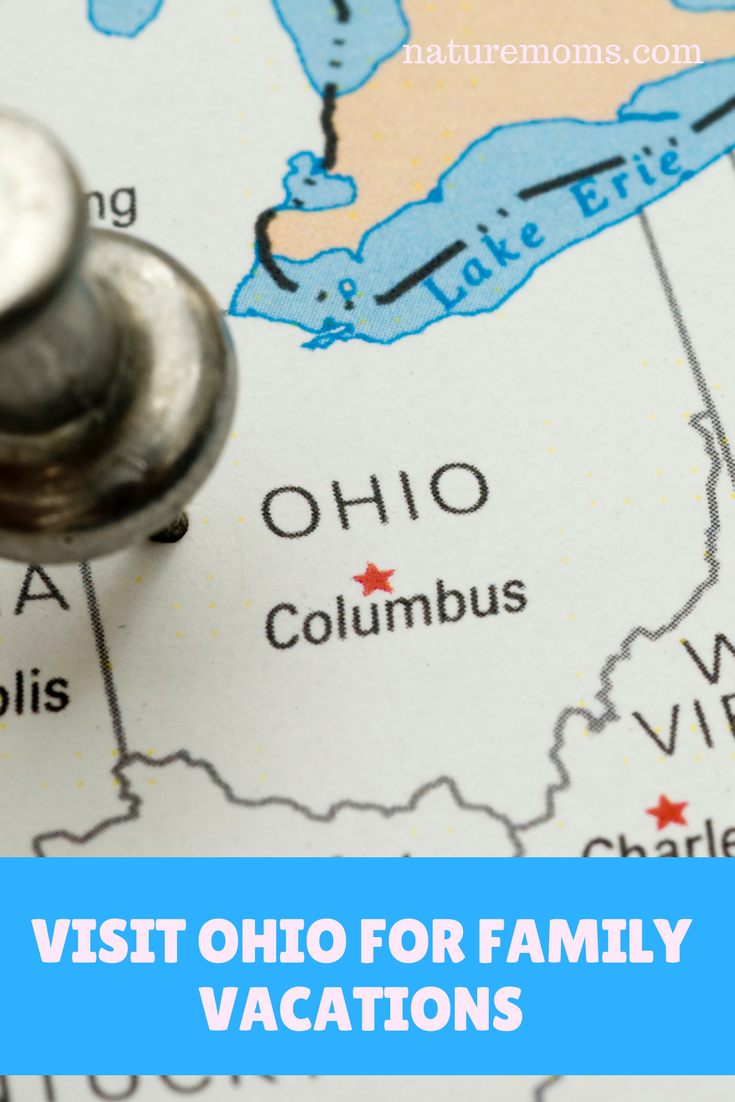 Why Visit Ohio?
When you decide to take a family vacation you may dream of exotic locations like tropical beaches or foreign countries with a lot of history and culture. Choosing a stateside destination may not be the most exotic option but it can be a lot of fun for the whole family. It is also a very affordable option and your money can go towards all the food and fun you will find in a place that is closer to home.
One great location for a family vacation is the Buckeye State of Ohio! If you have never been to Ohio let me assure you that is has more to offer than corn fields and Ohio State football. There are hundreds of exciting places to visit in Ohio and they are perfect for families. In Ohio you will many treasures… hidden castles, caves, beautiful lakes and waterfalls, unique museums, theme parks, amazing waterparks, and seasonal festivals galore. Even a house made of garbage!
My family calls Ohio home but every summer we find that we don't need to go far from home to have the perfect family vacation. Instead we have have many low cost ways to enjoy ourselves very close to home.
Best Travel Ohio Book for Families – KIDS LOVE OHIO. The newest and boldest edition yet! Hundreds of ideas for inexpensive, easy day trips or mini-vacations. More user-friendly. Save Time. More extensive reviews and insights. You will not find this kid-tested information all together in any other resource!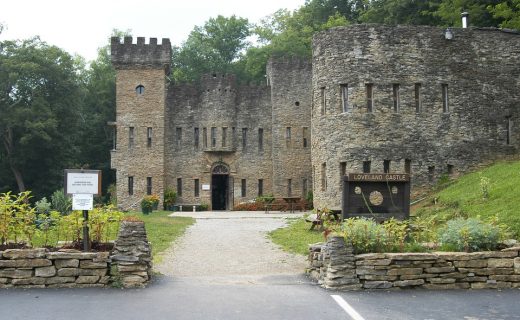 Castles in Ohio???
And here you thought you had to go all the way to Europe to see some castles didn't you? Not so. Ohio has at least 6 castles that you can tour. A couple of them even offer lodging and events, like weddings. What makes these castles so special is the story behind them and since it is US history that makes it all the more interesting.
The GreatStone Castle Bed and Breakfast in Sidney, Ohio is constructed of Bedford Indiana limestone, 18 inches thick, and features a wrap around porch supported by intricate stone columns. Three turrets give this massive structure its castle-like appearance. The bed and breakfast suites offer private baths, Victorian furniture, and fireplaces. There is also a spa on the lower floor. If you ever wanted to know what it would be like to live in a castle… here's your chance.
Ravenwood Castle is a fantasy world hidden in the beautiful Hocking Hills of Ohio. Fifty acres of forest and large rock formations surround the castle. Ravenwood Castle and Medieval Village offers enchanting castle rooms, delightful fairytale cottages or even a Gypsy wagon. It is an enchanting setting in one of Ohio's most beautiful areas.
Chateau Laroche in Loveland Ohio (pictured above) is the work of one man, Sire Harry Andrews, who started building the castle in 1929. When Mr. Andrews died at age 90 in 1981, the castle was willed to the Knights of the Golden Trail who now take care of it. You can tour the castle, host a wedding or event there, and visit it on Halloween when it is transformed into a haunted castle.
The Piatt Castles in West Liberty, Ohio were built by two wealthy brothers. They were named after the Mac-A-Cheek valley where they reside, Mac-A-Cheek and Mac-O-Chee. The names of the castles, the valley, and the stream that runs through it are all derived from the word, Macachack, the name of a Shawnee village that was located there in the late 1700s. One of them even has a secret underground passage found only 2 years ago. It led from the house to the conservatory. Both castles have their own chapels too, which was incredible to see.
Squire's Castle is a castle located in the North Chagrin Reservation of the Cleveland Metroparks in Willoughby Hills, Ohio. It was built in the 1890s by Feargus B. Squire for use as the gatekeeper's house for his future country estate, which was never built. Willoughby Hills Public Library annually holds a history seminar there. The surrounding park offers a footpath, riding trails, cooking grills, and a large grassy field.
Mac-O-Chee and Mac-A-Cheek castles were built by brothers on former Shawnee land only 3/4 of a mile apart. They were begun in 1864 and both were completed by 1879. These unique structures have become a private, family-owned museum that interprets over 200 years of history of the Ohio land and Ohio people.
Ohio Museums and Art Galleries
Ohio has so many museums to visit I dare you to declare boredom!
In Central Ohio be sure not to miss COSI, the Center of Science and Industry. It is one of the country's finest science museums and they just added an American Museum of Natural History Dinosaur Gallery. It's not quite as awesome as the one in New York but it is VERY nice. They also have a submerged submarine kids can get inside, remote control hot air balloons and robots you can play with, and numerous other hands on experiences. There is an IMAX theatre and planetarium as well.
Also stop by the Columbus Museum of Art, the Motorcycle Hall of Fame Museum, the Central Ohio Fire Museum, the Harding House, the Popcorn Museum, and the Kelton House Museum & Garden.
In Northwest Ohio hit up the National Museum of the Great Lakes, the Toledo Museum of Art, the Toledo Zoo, and Imagination Station.
In Northeast Ohio hit up the Akron Art Museum, Akron Zoological Park, Cleveland Museum of Natural History, Great Lakes Science Center, the Pro Football Hall of Fame, the Rock & Roll Hall of Fame and Museum, and the William McKinley Presidential Library & Museum.
In Southern Ohio make sure to stop by the Cincinnati Art Museum, Boonshoft Museum of Discovery, and Southern Ohio Museum & Cultural Center.
The Ultimate in Entertainment!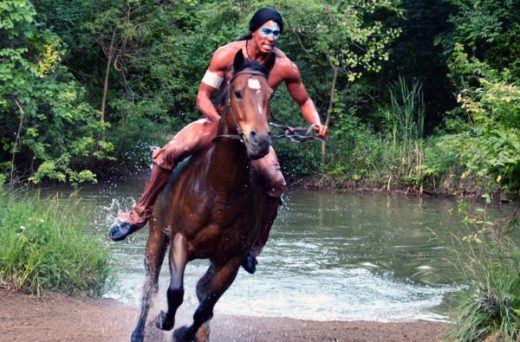 Tecumseh is the name of the show and it is spectacular! It is an outdoor reenactment of the life story of the legendary Shawnee leader Tecumseh, as he struggles to defend his sacred homelands in the Ohio country during the late 1700's. It plays at the Sugarloaf Mountain Amphitheatre and where else but outdoors could the audience be right there where the action is? Horses gallop around you, a live cannon is shot onstage, and you get an up close look at dazzling battle sequences. The script has been acclaimed as the best of its kind within the outdoor drama industry and continues to fascinate thousands each summer near Chillicothe, Ohio. Chillicothe is an hour south of Columbus and the show plays during the summer season only.
Seasonal Festivals & Events
One of the best things about summer and fall in Ohio are all the seasonal festivals and events! Here are just some of the festivals and events you can enjoy:
Asian Festival… Popcorn Festival… Bratwurst Festival… Strawberry Festival… Pumpkin Festival… Ice Cream Fest… Banana Split Festival… Columbus Arts Festival… Gene Autry Days… Hot Air Balloon Fest… Dublin Irish Festival… LillyFest… Red, White, And Boom… Corn Festival… Festival Latino… Zucchini Festival… AppleFest… Grape Jamboree… and more.
The festivals draw people from many surrounding counties and the food is amazing. At the Circleville Pumpkin Festival for instance you can try pumpkin pancakes, pumpkin fudge, and pumpkin soup. Most of these events are held in small towns and several blocks are overtaken with festivities. Not only do you get to have fun at a festival you also get to see these historic towns close-up. Ohio families will often travel to several of these amazing and unique festivals each summer and fall.
And for the men in your life there are plenty of sports events and cars shows to attend all year long.
Why-Oh-Why-Oh Would You Ever Leave OHIO?
Natural Parks and Wonders In Ohio…
Ohio has so many beautiful parks you will be hard pressed to pick just one or two to visit. After Arizona, where I lived for many years, it is my favorite state for excellent camping, hiking, and park adventuring. Not only are the parks lovely, there are also many activities too. You can kayak, canoe, climb, bike, swim, wildcraft, take nature classes, go on guided tours, and even learn archery.
Hocking Hills can only described as one of those places where you can find a doorway to heaven. It is just otherworldly how beautiful this area is. It is FULL of must see locations… Ash Cave, Old Man's Cave, Cedar Falls, Conkles Hollow, the Rock House, the Rock Bridge, and many more.
Though a short distance from the urban environments of Cleveland and Akron, Cuyahoga Valley National Park seems worlds away. The winding Cuyahoga-the "crooked river" as named by American Indians-gives way to deep forests, rolling hills, and open farmlands. The park is a refuge for flora and fauna, gives a sense of times past, and provides recreation and solitude for Ohio's residents and visitors.
The Columbus Metro Parks are a network of 15 large parks near the capital city. Activities and nature abound at all of them. More than 23,500 acres of land and water in seven Central Ohio counties are ready to explore and Metro Parks offers free educational and recreational opportunities every day of the year.
Zoos, Aquariums, and Waterparks
Ohio has some awesome zoos and waterparks. The two best zoos would have to be The Columbus Zoo and Aquarium and the Cincinnati Zoo and Botanical Garden. Be sure to hit up Newport Aquarium in Cincinnati too. All kids love the zoo and Ohio has some good ones.
The Columbus Zoo has an attached waterpark called Zoombezi Bay. Experience the thrill of speeding down 15 water slides, the adrenaline rush of riding the wave pool, and the calm of the lazy river. It even has a big funnel slide that feels like you are getting flushed down a big toilet!
Ohio also sports several indoor water parks so no worries if you visit outside the normal swimming season. Just visit Kalahari Resorts in Sandusky and Coco Key Water Resort in Cincinnati. The picture to the side is of Kalahari Resorts. They provide for great weekend getaways during cold weather.
A House Made of Garbage?
Visit the Earth Ship!
No, its not some alien spacecraft. An Earthship is a type of passive solar home made of natural and recycled materials. They are generally made of earth-filled tires, utilising thermal mass construction to naturally regulate indoor temperature. They also usually have their own special natural ventilation system and grey water systems. Earthships are generally Off-the-grid homes, minimizing their reliance on public utilities and fossil fuels. They are probably the most eco friendly home you can find and since many use reclaimed materials they can also be lovely referred to as houses made of garbage.
There are many Earthships around the world and most of them are found in the Southwest United States but Ohio has one of these gems called Blue Rock Station. It is a 2,200 sq. ft. home made of tires, cans, bottles, salvaged lumber, mud, sand, sweat and tears. They also have a Straw Bale "Chicken Chalet" and a Pop Bottle Green House.
They offer tours of the homestead on a seasonal basis.