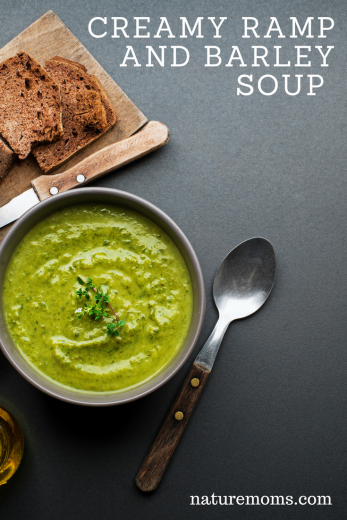 Want a creamy soup that celebrates the sweet arrival of spring? Then try this ramp barley soup. Ramps are one of the season's first greens and I use them in as many dishes as I can before their short season is over. You can get them at the farmer's market or even in your weekly CSA box, like I did this week. But my favorite way to get ramps is to take a long leisurely walk in the woods and forage for them. Fresh air, sunshine, exercise, AND food for the win!
The secret to this soup is to puree half of it up to make it creamy rather than chunky. The light and creamy texture is a wonderful way to welcome spring and its delicious flavors. Enjoy!
Ingredients:
7 cups chicken or veggie stock
1/2 Cup hulled barley, rinsed
A generous bunch of ramps (maybe a 1/2 lb), rinsed and chopped. Separate the whites and stems from the leaves.
1-2 stalks celery, chopped thinly
Sea salt and black pepper
Directions:
In a dutch oven or medium saucepan bring the stock, barley, whites/stems of the ramps, and celery to a boil. Reduce heat and simmer for 45 minutes. Stir in the  chopped ramp leaves and stir. Take half of the soup and transfer to a blender or food processor and puree until smooth. Return the pureed soup to the pot and stir to combine. Add salt and pepper to taste.
This soup is vegan as is but I like to add crumbled bacon on top. Yum!
Serves 4