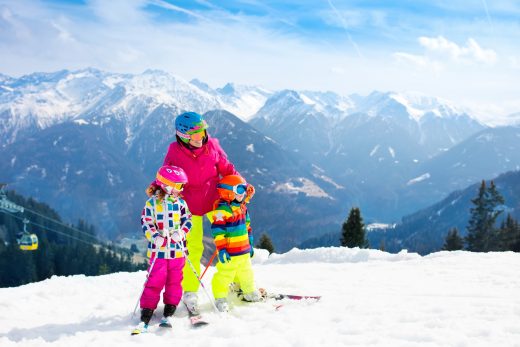 Don't let the prospect of going on a ski trip with the family, kids and all, intimidate you. Ski resorts nowadays have tons of amenities and activities to keep your kids busy and entertained. Some of them even offer getaway time for the adults. By offering babysitting and after-hour activities, you can get away for some fun adult time.
During the day, you can leave the kids in a camp-like environment or get them skiing at a young age. Most resorts offer professional lessons for kids as young as three. This will give you time to hit the slopes without kids in tow. You can enjoy yourself without worrying about the safety of your less experienced kiddos.

If you've never been skiing, you may not be sure what planning a ski trip entails. Perhaps the idea of planning everything down to the last detail feels overwhelming. Not only do you have to think about making sure everyone is entertained and safe; you also have to consider what ski gear you will need to rent or buy and packing everything your family will need.
Then transportation like arranging flights and transfers from the airport to your resort, reserving a hotel room that will suit your family's needs, and orienting yourself to the ski town.
Luckily, ski packages are simple to access. Many travel vendors offer ski packages with everything included. Not only is this a great service that minimizes the risk of things going awry, packages can offer a significant discount on your entire trip. Planning each element of a ski trip on your own is likely to cost more in the end.  
There are many family-friendly ski resorts in the US. Most locations have a variety of lodging options- from simple hotel rooms to luxury condos. Here are some recommendations I'd make based on the accomodations, convenience, and most importantly, the fun factor!
Colorado
Situated about 2 ½ hours west of Denver, Colorado, Keystone Resort offers comfortable accomodations with a ton of different recreational activities for kids. Their exclusive "Kidtopia" program offers free events and daily activities. In addition to the Kidtopia program, Keystone Resort has a play park and snow fort.
Apart from the activities that will captivate the kids, there are plenty of things for the family to do together like riding atop a snow cat, snowshoeing, snow tubing, wagon rides, and ice skating.
Vermont
Okemo Mountain Resort is located in Ludlow, Vermont and sits about 2.5 hours from Burlington. It's another great option for kids and families.There are plenty of activities apart from skiing, though they do offer ski lessons for kids as young as 3.
Their exclusive Timber Ripper Mountain Coaster, which operates during both the summer and winter months, is a thriller and sure to please both kids and parents alike. Okemo has an exhilarating snow tubing park the whole family can enjoy. Snowcat rides offer a unique vantage point where you can view the snow-laden landscape atop a specially-designed cabin; and kids can even enjoy an activity usually reserved for adults- snowmobiling.  
For kids who want a break from parents (or vice versa), Okemo offers a Kids' Night Out. This parent-free night includes pizza and lots of activities that will keep the little ones entertained.   
Pennsylvania
Camelback Mountain Resort, located in the Pennsylvania Poconos, is one of the top ski resorts for a family getaway. Awash with family-friendly activities, Camelback offers arts and crafts, scavenger hunts, and a variety of games. There is snow tubing and ski lessons for all ages and levels of experience.
On top of these entertaining options, Camelback has climate-controlled indoor activities like putt-putt golf, rope climbing, an arcade, and laser tag.
Aquatopia is Camelback's exclusive indoor water park which has a whopping 13 water slides. The adults can enjoy some laid back time in a rental cabana or while hanging out on an underwater bar stool.
While a ski trip may not be the first thing that comes to mind when imaging your ideal family vacation, a getaway to one of the kid-friendly ski resorts can be a nice break from the typical vacation to a popular theme park.
Not only will the kids have a blast, parents can escape for some adult time. Many ski resorts offer a nice balance of both, and offer a space for family time that will create memories to last a lifetime.