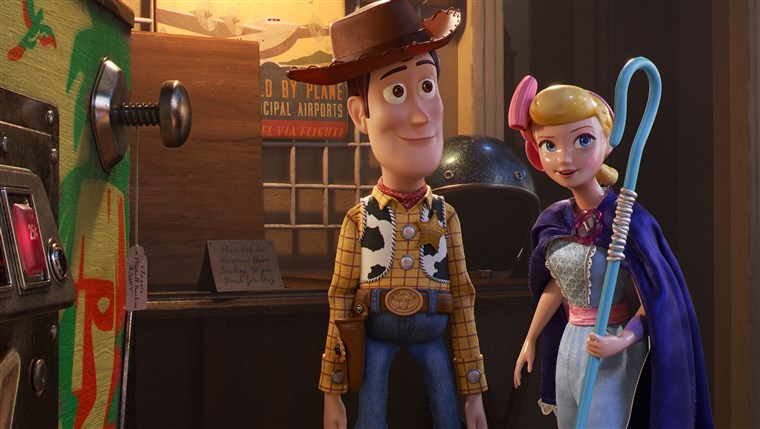 Last week I had the pleasure of taking my family to see Toy Story 4. It was not ALL of us, my 19 year old son was working and could not be there, but my husband and I took our 13 year old son and 15 year old daughter to see it. It had been a long while since we had seen a movie together. We all have such different tastes in movies that finding one we all agree to see is hard these days but Toy Story 4 was a unanimous "yes" from all.
What Toy Story Means to Us
I recall clearly that my oldest grew up watching Toy Story, even though it was five years old when he was born. He had a Buzz Lightyear and a Woody doll. Those were passed down to my youngest, who was just the right age when Toy Story 3 came out. My kids grew up with this franchise and all of those movies felt very much like kids movies even though they were certainly appealing to parents.
Toy Story 4 was entertaining and is sure to appeal to children but more so than the other movie it felt very much to me like salute to parents, especially parents who raised children who watched Toy Story.
If you haven't yet seen it, the story picks up shortly after Toy Story 3, when Woody and the gang and are given by Andy to a little girl in the neighborhood. He hands off his old favorites to a new generation to enjoy as he goes off the college. This latest movie sets up the new dynamic…Woody is no longer the favorite toy. He is no longer in charge of the room and he is sadly, seldom played with. Instead he is relegated to a closet while his new child Bonnie plays with Jessie, Buzz, and her pre-existing dolls.
He does however make the cut when Bonnie and her parents go on a road trip in an RV. During this trip her new favorite toy "Forky" is lost and Woody literally throws himself off the RV into the unknown to find him and return him to Bonnie. This kicks off the main adventure in the movie.
Why Toy Story 4 is Meaningful to Parents
No what does this have to do with us parents? Well, Woody is accidentally reunited with his long lost love Bo Peep, who is no longer an owned toy but a renegade of sorts who wanders on her own, travels, and generally has a fulfilling life outside of children's enjoyment. After reconnecting with her he starts to wonder if he is meant to always be a child's toy, making his way from owner to owner, or if he too might find his own happiness and a purpose that does not involve an owner.
It really resonated with me as a mom of older kids. My kids who grew up watching the Toy Story franchise are grown or nearly grown. I have two kids in college, one is ready to leave the nest at any moment. When you have kids this age you start to wonder about what your life will look like without them. You start to wonder what comes next. Do you struggle to hold on to your kids and your current life/home/friends who have become very much your entire life in many ways or do you embrace a new adventure.
You can watch the movie yourself to see what Woody ultimately decides but I know I was teary eyed at the end and yet also excited because the closing of one door can very much be the opening of another and that can be a scary yet exciting prospect. This movie was cathartic for this mom of rapidly growing kids. I highly recommend it!