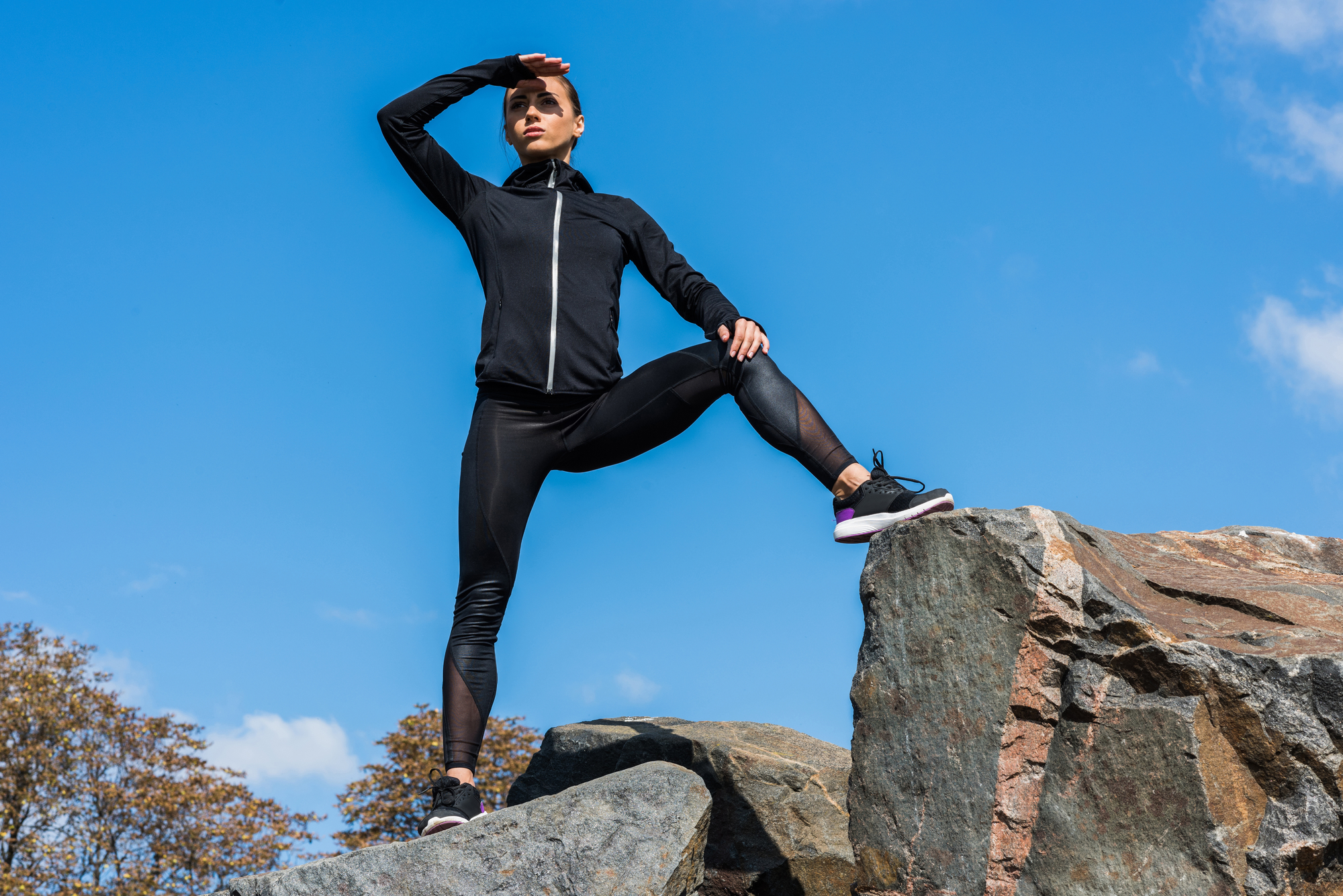 If you're looking to work on your fitness and you love the outdoors, why not combine them? Some of the best ways to promote fitness are outdoors. Practice any of the fitness activities discussed here, and you're likely to build strength, confidence, and enjoy the peace of mind that comes when you take the time to connect with Mother Nature.
1). Stand Up Paddle Boarding
There are a lot of really wonderful things to say about stand up paddle boarding (SUP), an activity which combines features of surfing and rowing. You stand on a long board and paddle, and in so doing you get to experience nature while having one of the best workouts imaginable.
Let's start with the fact that paddle boarding is extremely fitness-promoting: because you're standing on a board, you have to develop balance and stability, and because you're paddling, you have to work out your upper body—and both features are excellent core-building exercise.
As you can probably imagine, this combination is amazing for the core muscles, not to mention your arms, your back, and then the abs, glutes, hamstrings, calves and feet. It's everything to love about rowing, with some aspects of surfing as well.
The other really amazing thing about this sport is the connection it fosters with nature. Stand up paddle boarding is better when done on calmer bodies of water, rather than the wave-tossed seas favored by surfing. This gives you more opportunities to really connect with the beauty of nature and recharge (for more information, check out https://www.paddleboarddirect.com/collections/closeouts).
2). Rafting
Rafting is an excellent water-based sport, one which builds fitness and can also foster teamwork. You will need access to a body of water, but it doesn't have to be enormous or faraway: a nearby river or lake will do.
The great thing about rafting is that it's a workout for the upper body and the core. Your arms get to row the raft, and your core gets to build strength and contribute to stability. It's an excellent way to burn calories and build strength at the same time.
Of course, rafting is also a wonderful way to experience nature. Depending on where you are and what time of year, you may see waterfowl, fish, and other things.
3). Outdoor Yoga
Outdoor yoga is simply yoga practiced outdoors. If you love yoga and you love nature, why not try some of your favorite poses in a park? If you get to feeling adventurous, try them after hiking up a hill!
4). Hiking
Hiking is an excellent way to promote fitness, connect with nature, and experience peace of mind. Best of all, it's one of those things that doesn't require a lot of equipment or a particularly exotic destination.
If you're starting out or you're hiking with small children, you'll probably want to think about easy trails on level ground. Think of bike paths, local parks, things like that.
Over time, as you and your family gain proficiency, you can tackle longer hikes and more challenging terrain, such as hilly and mountainous country.
5). CrossFit Activities
We've talked before about CrossFit workouts outdoors, and with good reason. There are numerous CrossFit workouts which you can do outdoors, from pull-ups to pushups, sit-ups, squats, and more.
Even if you live in the suburbs or an urbanized area, a local park may offer all the fitness opportunities you need. If there's a jungle gym, use it for pull-ups and chin-ups. If there's a park bench free, try triceps dips, step-ups, and push-ups.
A suburban park may not sound like the great outdoors, but in truth, if it gets you breathing fresh air and gets your heart rate up, it's a good thing.
Of course, you can also do these exercises inside, but that would defeat the whole purpose of connecting with nature (and being a complete badass at the same time).
6). Backpacking
Backpacking is one of the best ways to get out into nature, and with a little careful preparation, it can be a great deal of fun for the whole family. Even quite young children can take well to backpacking, provided they're old enough to hike.
You'll want to make sure you bring a tent, sleeping bags, appropriate clothing (think warm clothing for cold nights), camp stove and utensils, food that travels well – dehydrated food, in particular – and water filtration system with water purification tablets.
Backpacking does require some preparation, but once you're all packed, you can go on to have the adventure of a lifetime in the wilderness. It's also very fitness-promoting: you may be able to burn up 600 to 700 calories an hour hiking and carrying all that gear.
Conclusion
From stand up paddle boarding to CrossFit, some of the best fitness activities out there also provide amazing opportunities to connect with nature. Try them, and see if your workout doesn't improve many times over!