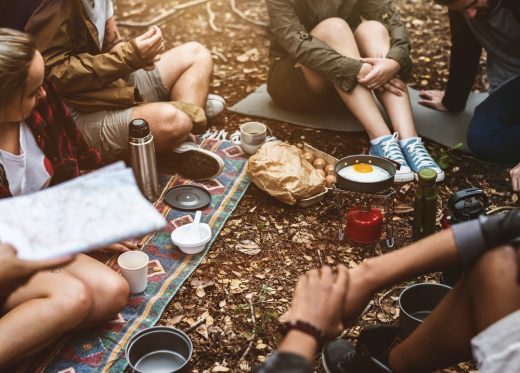 Kids love camping with their parents. For every child, tepee tents have made a special place in their life. The new and innovative tepee tents will make your child feel excited, wanting them to enjoy camping indoors. Kids between the age of three to seven love their indoor tepee tents, which you can set in their room or your backyard. We understand the concern of parents when their kids want to play outside late in the evening. But to everyone's rescue, the new tepee tents are perfect for kids to play indoors comfortably.  So grab your camping gear and read on to find out more.
Tips and Tricks to Make a Tepee Tents Exciting for Kids
Make Sure Your Child Has Sufficient Space to Play
The first thing you must ensure before buying a tepee tent is the size of your room, making sure you buy the right size tepee tent which doesn't occupy the entire room space or is bigger than your kid's room. Most tepee tents come in the dimension of 47" (120 cm) x 47" (120 cm), and the space required to set the tepee tent is 47" x 47". You must leave a minimum of 10" x 10" for your kids to move and play freely. For the best tepee tents of all sizes, you can visit theCampingGear.com.
Mat Will Make Your Child Comfortable
For your kids to sleep comfortably in their tepee tents during cold winter nights, you must add a mat below the tent. Add mat makes the tent comfortable and warmer for your kids while playing inside the tent. Putting a mat also provides your kids with a soft surface. It gives your child the experience and feels like enjoying outdoor camping. These tent mats are a definite necessity during winter and are highly durable and long-lasting, offering you a single time investment. 
Add some Extra Pillow and Blankets
Adding some blankets and pillows to your kid's tepee tent will keep your kids feel warm and cozy inside the tent. The best use of blankets and pillows is during the fall and winter seasons. Kids love to build a fort using pillows and blankets inside their tepee tents. Giving extra pillows and blankets will keep your kids engaged indoors, helping them not to step outside. You can add colorful blankets and pillows to match the color of your kid's tent, making them feel happy.
Use some Lights Inside the Tent
For an excellent indoor camping experience for your kids, you can put some colorful lighting that will make your kid feel special in their tepee tent. If you put some lights, it will add visibility while your child is playing inside the tent at night. It changes the atmosphere and brings warmth during the fall and winter nights. Adding lights enhances the beauty of the tent, comforting your child to play indoors. For the safest choice, try picking the economical LED lights available in different colors.
We know how much you love making cookies for your kids. But making some cookies during the indoor camping hours is a complete joy for both parents and kids. Kids love eating cookies and tend to feel hungry after playing in their tent. Cookies are not only a great treat but are a healthy diet for kids. They would love to eat their favorite cookies while playing inside their tepee tents.
We all want to keep our kids safe and indoors during the freezing winter nights, and the best way to do that is to get a tepee tent for them to enjoy indoor camping.