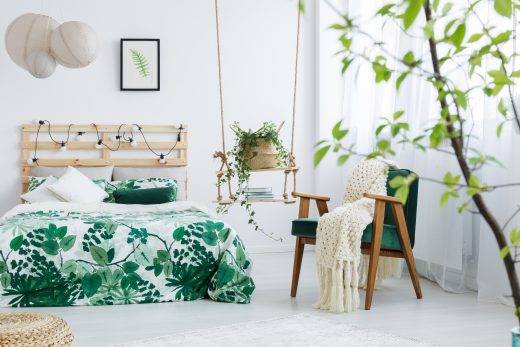 For small brands, sustainability is more than a fancy word used in annual reports to 'greenwash' corporate reputations. Many family-run companies live and breathe green values and base their products around the principles of responsible production and distribution. While standing by your principles is a rare trait in the modern business world, survival in the turbulent environment of the 2020s can be extremely challenging for small players. Buying textiles or decorative candles from brands supporting sustainability is a great contribution to global wellbeing. In this article, we have summarised 6 great small sustainable businesses to purchase home interior items from.
MAiK
This UK-based producer of sustainable textiles and homewares is unique in several ways. The brand founders are completely focused on making their manufacturing process as environmentally and socially responsible as possible. This involves finding ethically driven factories supporting local communities, carefully selecting supply chain partners guided by ethical sourcing principles and using 100% biodegradable materials for packaging all products. The main provider of woven fabric for MAiK is an East London social enterprise providing employment and support to poor women, while all wooden elements are sourced from a single Swedish business possessing the highest certifications in responsible tree cultivation. The actual designs of this brand are extremely design-driven and represent a fresh and novel vision. You can purchase a lot of home interior items, from kitchen trays and mats to textiles and prints.
Rose & Fitzgerald
If updating the feel of your kitchen is your primary urge, you may want to look into the offerings from Rose & Fitzgerald. This brand was founded by two designers residing in Uganda, Africa. Their fascination with African and Asian craftsmanship inspired them to develop genuine barware, kitchenware, furniture and lighting ideas. While the product range is fairly limited, every item is unique in its sense. An Ankhole Horn paper stand or a soapstone wall clock can really bring an African vibe to any interior and serve as a powerful visual accent. Brass items, such as brushed kettles, food bowls or serving spoon sets, also remind of colonial interior design. The best thing is that all of these items are ethically produced by hundreds of local workers who are paid fair trade wages and are given a chance to demonstrate their artisanship to the whole world. 
Eskayel 
This brand offers a variety of home decor items, including furnishings, rugs, pillows and eco-friendly wallpapers. They donate a percentage of their revenues to environmental protection organisations and work hard to reduce their carbon footprint. The unique perspective of this business also forms its unusual product concepts. The brand founder, Shanan Campanaro, created a large variety of unique and one-of-a-kind designs and paintings after being inspired by travels and nature. These ideas later transformed into socially responsible production processes outsourced to local communities and family businesses all around the world. Every item is produced per order, which allows the company to reduce the amount of waste, fully control the sourcing of materials and maintain the highest standards of quality. The globally distributed supply chain means that the rugs from the Salentu collection are handwoven in Nepal, while Eskayel wallpaper products are made in North Eastern United States. Unfortunately, this also means that you will have to tolerate a delay of 3-6 weeks before receiving your assembled order.
BC Candles
Is there any better element of sophisticated home décor than a candle? Decorative candles not only create a romantic and relaxing atmosphere, they can also smell like heaven, if you get the right ones. BC Candles closely adheres to the principles of sustainability and ethical business conduct. The company uses locally produced pure beeswax in its handcrafted candles, which are packaged in recyclable boxes with paper wadding. BC Candles supports a range of partners that aim to protect and promote pollinator health and provide newly restored pollinator habitats. If you are looking for ethically manufactured decorative candles, this Canadian brand has got you covered.
Linen & Stripes
This brand's items are handmade using only eco-friendly fabrics. Additionally, the instantly recognisable stripe-based designs that add a unique visual appeal with contrasting elements are frequently made using mustard braids or cotton inserts. The brand story is rooted in a family business started by a pair of designers looking to combine classic visual ideas with a modern flair. The use of organic materials, ethical sourcing and socially responsible production processes was a natural next step for producing unique and one-of-a-kind items. These items fit well with the lifestyle of a 21st-century customer who wants to stand out without harming the environment. 
Konk
No sustainable home interior will be complete without quality and long-lasting furniture. The brand 'Konk' offers handmade items that aim to satisfy all your needs in this aspect. The per-order approach is substantiated by the intentions to closely work with each client. The brand specialists develop detailed CAD drawings and conceptual designs to produce the items that are deeply customised to fit room dimensions and unique customer needs. The result? In their own words, they make 'items that last' and stand against the 'throwaway culture'. As many 19th-century furniture items have withstood the test of time due to their production quality, these furniture units will probably serve their owners through their entire lifetime. The best part is the commitment of this brand to plant one new tree per every order processed by them and to only use approved timber obtained from sustainable forests. 
Building your home decor around ethically produced items may be a challenge at times. There is nothing wrong with combining some one-of-a-kind products from small family brands with an IKEA desk. Purchasing used items can be another great idea for minimising your footprint. As noted earlier, many furniture and textile products can stand decades of use, which grants you a chance to purchase unique 'time capsule' items and contribute to global sustainability.