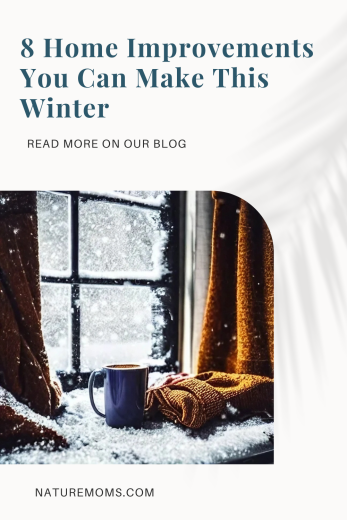 As winter approaches, individuals begin preparing their homes for holiday gatherings. Though snow and ice limit a contractor's ability to conduct exterior projects, they can perform internal improvements. Homeowners can also utilize the winter season to catch up on projects they neglected during the pandemic.
There are eight home improvements individuals can engage in following fall. Winter offers a unique time to prepare your home for visitors and can minimize damage-related limitations.
Making the Most of the Season
Conducting home improvements in the winter can support contractors during their slow season. Construction professionals also have more openings during the colder months, helping homeowners complete their improvements efficiently. You may also save money on your projects because material costs can decrease during the slow season.
Individuals may additionally have more time in the winter to conduct improvements themselves, saving money on minimally invasive projects. There are eight beneficial projects homeowners can plan for this winter.
1. Install a Smart Thermostat
Smart thermostats significantly lower your heating, ventilation and air conditioning (HVAC) system's energy absorption. You can minimize local emissions and utility costs by installing the technology. The thermostat retrieves real-time weather readings through an internet connection, altering the indoor temperatures to enhance efficiency levels.
They also use motion detection sensors, turning a system off in a vacant home. Over time, homeowners can save a significant amount on their energy costs, putting their additional funds towards supporting their families.
2. Add New Lighting
Upgrading your light fixtures can alter a room's aesthetic. You may add different shades or bulbs to increase the amount of artificial illumination in a region of your home. Adding light-emitting diode (LED) bulbs can additionally benefit a homeowner's utility costs, helping them save money down the line.
LED bulbs require nearly 75% less energy compared to conventional incandescent lights. They also last about 25 times longer, generating fewer emissions and less municipal solid waste (MSW) over time. Adding new light fixtures and bulbs can significantly improve a home's interior design and efficiency this winter.  
3. Upgrade Your Windows
Upgrading your existing windows and adding new versions can reduce heat loss and increase one's access to natural lighting indoors. Adding a new sealant around your windows can maximize your home's energy efficiency, reducing stress on your HVAC system. You may additionally install solar windows to increase your access to emission-less energy.
Solar windows help individuals with panel-incompatible roofs receive renewable power. Each window may generate eight to ten watts of clean electricity daily, minimizing a homeowner's residential emissions. Whether you install solar windows or upgrade their sealant, your improvement will help you save on your monthly utility costs.  
4. Replace Old Doors
Individuals may also replace their outdated doors in the winter to enhance their home's energy efficiency. Doors and windows together account for nearly 35% of a house's heat loss. Gaps and damage around a door's exterior border can create a draft, increasing stress on an HVAC system.
Homeowners can also update the sealant around a door frame, further minimizing heat loss. Caulking the frame requires minimal time and effort, increasing an individual's ability to conduct the improvement without a professional.  
5. Clean or Upgrade Your Floors
Cleaning your existing floors or adding new ones is an optimal winter home improvement project. If you have laminated or vinyl tile floors, deeply cleaning them can be challenging. Homeowners may support workers during the slow season by hiring them to professionally cleanse their floors, protecting them and improving their longevity.
Deep cleaning removes a buildup of oil and dirt, which may degrade the material's top coating over the years. Hosting holiday parties can additionally damage your flooring and replacing or adding a new topcoat before the holidays can protect it from degradation. Adding a protective layer can also prevent water damage from individuals trekking snow and ice into the house.  
6. Finish Your Basement
Homeowners may also use the colder months to finish their basements. The improvements can significantly increase your property's value. Adding lighting, flooring, wall paint and furniture can completely transform the space, enhancing its aesthetic appeal.
7. Install Home Safety Features
Individuals can additionally install home safety features this winter. Many families leave for vacation during the cold months, retreating to warmer parts of the country. The residential robbery rate increases during the holidays and homeowners can minimize intrusions by installing cameras and alarm systems.
Smart safety systems connect sensors, cameras and microphones to a resident's smartphone, helping them keep an eye on their property while they are away. You can also sync the system to a smart light, illuminating your home in the evening to create the appearance of an occupied house.
8. Insulate Your Attic
Insulating your attic in the winter can improve your family's comfort and shrink your utility bill. Individuals may lose up to 25% of their homes' heat from poor ceiling insulation. Adding new or replacing outdated insulation in your attic can help homeowners shrink their carbon footprints and energy costs.
When to Hire Professional Help
Many homeowners attempt to complete their home improvement to cut costs. Though individuals can eliminate labor costs by conducting projects themselves, they risk error, creating significant damage. Residents should consult a professional before performing an improvement requiring structural alterations, like knocking down walls or expanding electricity.