Embarking on a camping trip with a toddler can mean having to carry around snacks, drinks, a change of clothes, nappies, wipes, and many other necessities for even a quick trip to the nearest store. We have mastered the art of packing light whilst traveling in a small car with two toddlers. Here are our best tips! 
Limit your beddings 
Investing in good quality sleeping bags for everyone will mean cutting down on the number of bedding you'd have to bring along. Of course, if you rarely camp with your entire family, then it might not make sense to drop hundreds on a sleeping bag. However, if you intend to make more trips in the future, then a good sleeping bag ensures that you can keep your overall load light while keeping cozy and toasty during chilly nights.
A baby sleeping bag with a tog rating of 3.5 will also be essential if your toddler is not able to sleep properly in a sleeping bag. This way, you won't have to lug a toddler duvet around, saving money as well as keeping your load light.
It is also important to pack according to the season you are traveling in. For the summer, ditch the bulkier all-season sleeping bags for lighter sleeping bags. Bring along inflatable pillows as well to save on packing space.
Ditch the icebox and extra food
It is a better idea to buy fresh food each day instead of lugging your cool box and extra food around whilst camping. There will be local camp shops and nearby supermarkets where you can get fresh food for your daily meals, provided you stay near them. 
Another pro tip: try to find farm campsites to stay on. Many farms sell fresh fruits and vegetables at below-retail prices, and you can obtain staples such as eggs, tomatoes, and various greens and proteins for a hearty camping meal. 
If the cravings kick in, you can always venture to the nearest grocery store every other day or so to get food supplies, thus helping cut down on your overall waste as well. 
Heavy towels
Bulky towels are heavy and may cause a significant inconvenience whilst packing. While many campers prefer microfibre towels, we would discourage their use as they are made of plastic and can pollute water systems with microplastics when washed in them. 
Bamboo towels are a better alternative as they can be folded to small paperback-book sizes and are lightweight, water-absorbent, and quick drying. They can also double up as sarongs and come in various vivid colors to save more packing space. 
You can also cut down on space by only carrying one towel for each child. We keep our camping laundry to a bare minimum, so for a few days away, we only need one hand towel (for excursions to the river or cleaning up) and a couple of bigger towels for showers.
Unfoldable items 
Modern camping practices are different from back in the 90s when I used to go camping with my family. We used to be able to pack our kitchen essentials such as the sink and washbowl in the trunk of our small family car. 
Camping gear these days comes in a wide array of foldable versions that take up very little space. This is a great investment that will pay off if you intend to camp regularly. Below are some important items that you can consider bringing on your next trip! 
Table — They are essential for preparing daily meals and eating while camping with your family. Camping tables that fold up to about the length of an adult's forearm are now available, unlike older plastic ones. They are simple to clean, durable, and lightweight.

Cups – Consider bringing foldable or collapsible cups and covered ones for the little ones. They will be a great help in preventing spillages and are highly portable and easy to clean as well. 

Lighting gear – Torches and lanterns can be cumbersome to transport despite the sense of security they provide. Thankfully, you can get a

pocket torch

at an affordable price.

Bowl –  A foldable bowl for daily washing up is cheap and can also function as a washbasin. Although not the most important foldable item because you can store kitchen items in your regular washing-up bowl.

Kettle – A camping trip isn't complete without a warm drink to start the day and end the night with. However, metal ones are heavy and bulky, thereby wasting precious packing space. You can purchase foldable kettles to ensure that you always have a hot drink on hand. They are expensive, costing around $40-$50, but are a great investment due to their space-saving capabilities. 

Water dispenser – It can be used for washing toddlers, cooking, drinking, and transporting fresh water and is highly indispensable to any camping trip. Rigid water carriers take up a lot of space, so it's a good investment to ensure that you never run out of 'running water' whilst camping.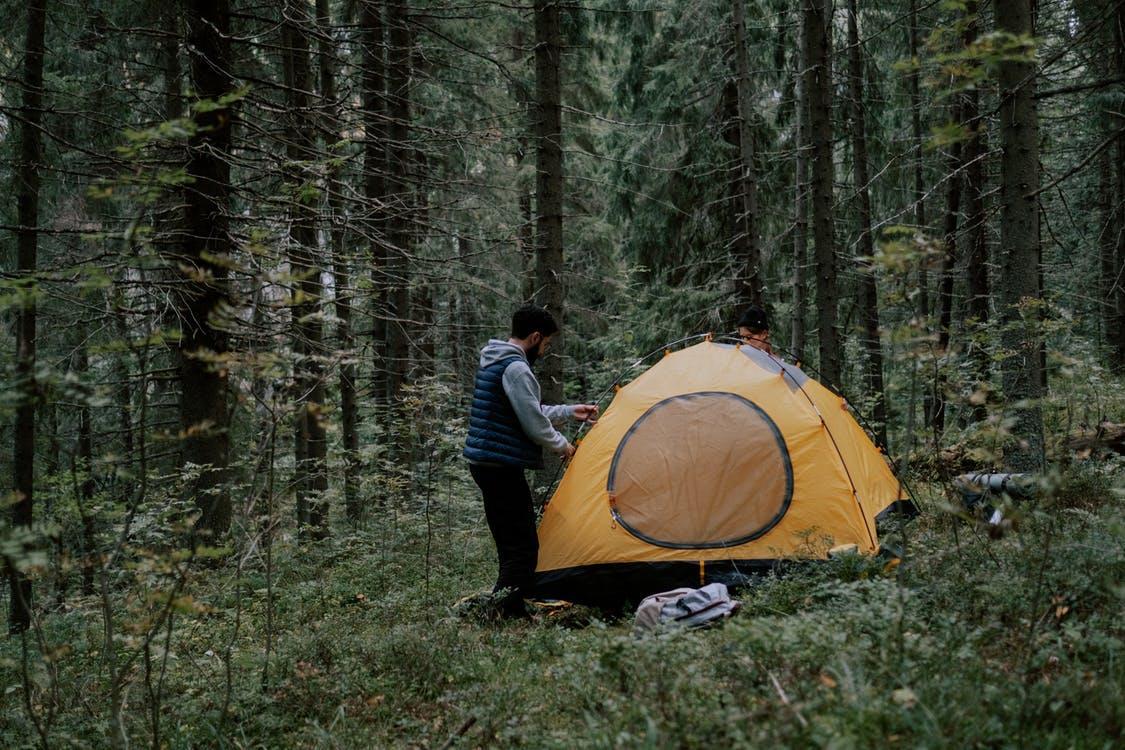 Unnecessary clothes 
When camping, toddlers will be rolling around in the dirt and mud and end up getting their clothes dirty. To avoid unnecessary baggage, bring only the clothes your children require and wash them there and then if possible.
If you know it's going to rain and be muddy, make an exception to the above list. Kids attract mud just at the right moments, but if you're staying at a water-logged campsite, they'll be covered in mud almost instantly. The best way to deal with mud is to outfit your children in waterproof all-in-ones and wellies.
Laptops, Tablets, iPads 
Your tablet is at an increased risk of being toppled into the mud if left alone with fidgety toddlers while you may be busy preparing food. Heading out for camping with expensive electronics on hand may lead to a more stressful trip, and unnecessary as well as the kids will be busy enjoying the great outdoors, leaving them ready for a restful night of sleep in the evening. 
If one of our kids is not able to sleep in the middle of the night, we let them use one of our two phones to distract them for an hour or so. 
Toys, games, books 
We give our kids backpacks before any of our family trips and let them pack only the items that will fit in each backpack. This has the added benefit of preventing them from attempting to bring their entire toy cupboard with them, as well as providing them with plenty of toys to play with.

We allow our kids to bring what they like, however, we do remind them to pack toys that are lightweight and small so that they might not get lost. 
Certain Toiletries
Some kids love baths but hate showers. However, not many campsites have luxurious facilities such as bathtubs, meaning the kids might be willing to go days on end without cleaning themselves properly. As such, we usually bring some baby wash and flannels to give them a quick wash down every evening. 

If the trip is longer than a few days, we make sure to clean their hair as well to ensure proper hygiene. If your kid has allergies to certain toiletries, be sure to pack accordingly as well. 
Conclusion
With these handy lists and pro tips, we hope that you can have a lighter and more comfortable camping trip with your family and the little ones. Remember that foldable options should always be considered for camping trips, and a minimalist trip will make for a stress-free camping trip for everyone!