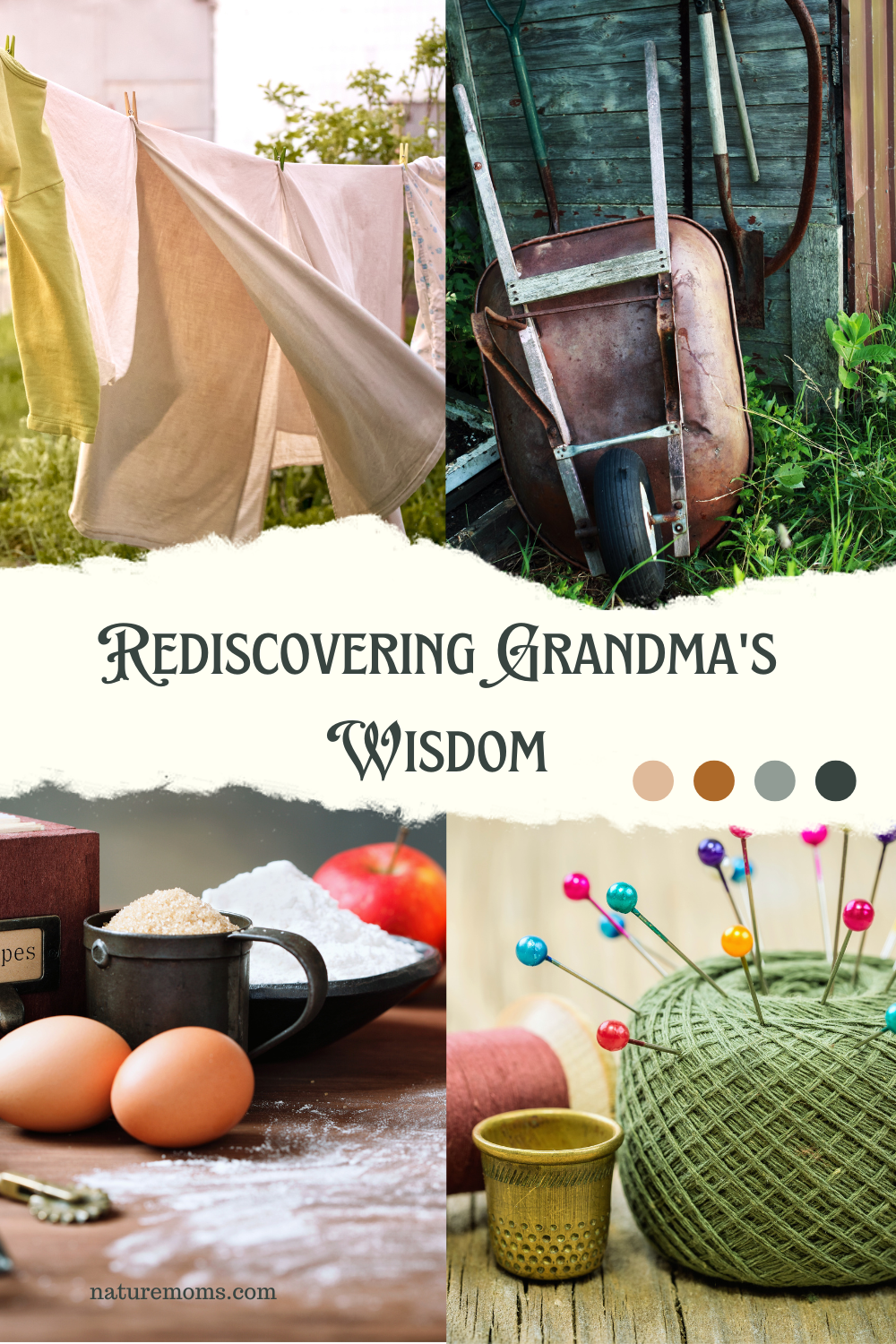 In today's fast-paced and consumer-driven society, it's easy to lose sight of the simple, frugal practices of our grandparents' generation. Their resourcefulness and thrifty habits can teach us valuable lessons on how to live a fulfilling life while being mindful of our finances. In this article, we'll explore the top 10 old-fashioned frugal living tips and ideas that have stood the test of time.
Use it up, wear it out, make it do, or do without…
Embrace Home Cooking –  Home-cooked meals not only save money but also promote healthier eating habits. In days past, eating out was truly a luxury and not something you did just because you were tired and didn't feel like cooking. Channel your inner chef by preparing meals from scratch, using fresh ingredients. Grandma's favorite recipes, handed down through generations, often made the most of affordable and readily available ingredients. In fact, search on YouTube for ideas … ie Grandma's old recipes, depression era cooking, struggle meals, etc, Make a list of "master meals" you can make in rotation and in a pinch. Practice is the only way you can master this skill so get cooking!
Grow Your Own Food – Backyard gardens were a common sight in grandma's era. Cultivating your fruits, vegetables, and herbs not only cuts down grocery bills but also allows you to enjoy the taste of homegrown goodness. Even a small herb garden on a windowsill can bring joy and savings because you know expensive those handfuls of fresh herbs in plastic containers cost. Would you rather spend $5 for a handful of basil at the grocery or just take a quick troll onto your patio to cut some fresh basil, oregano, or dill? The most efficient way to get started is to grow only a few produce items that you typically buy on repeat. Tomatoes, peppers, herbs, sweet potatoes, lettuce greens, and peas come to mind. And don't forget, you can even grow food in the winter.
Preserve and Can Food Lean Times – Preserving surplus produce through canning, pickling, freezing, and drying was a way of life for our grandparents. It was the most efficient way to use all the produce they grew and use it during leaner times such as the holidays and winter season when the budget can be strained by seasonal spending and increased energy costs. These methods extend the shelf life of fresh food, reducing waste and ensuring a stocked pantry throughout the year.
Repair and Mend – In days past, items were repaired and mended rather than replaced. Embrace the lost art of sewing, basic carpentry, and DIY repairs to extend the lifespan of your belongings and save money in the process. Use YouTube to look up repair videos so you can save money on repair services. A broken lamp can be fixed, a hole in your pants can be mended and a button sewn on, and wood scratches and dents in furniture or floors can be repaired.
Embrace Hand-Me-Downs and Second Hand Shopping – Passing down clothes and household items within the family not only fosters a sense of tradition but also reduces the need for new purchases. Seek out thrift stores, consignment shops, and online platforms like Facebook marketplace for affordable second-hand treasures. There is no reason you need to pay full price for clothing or even most household items and thrifting can be a source of so much fun and accomplishment. You can find clothing for the whole family, blankets and sheets, dishes and cookware for the whole house, furniture that you can refurbish, and other household items that just aren't worth retail prices.
Make Do and Repurpose – Grandma had a knack for repurposing items. She used to save bacon grease and bar soap scraps. Look for creative ways to breathe new life into old things. Use milk jugs for winter sowing and as garden cloches. Use glass jars to store a variety of household items. Transform a vintage suitcase into a coffee table or use them in leu of storage tubs. The possibilities are endless!
Conserve Energy – Reducing energy consumption not only benefits the environment but also saves money on utility bills. Plant trees. They save money by providing a wind break in the winter, which keeps you warmer. In summer they save you money by providing shade. Trees are awesome. Unplug electronics when not in use, switch to energy-efficient light bulbs, and hang clothes to dry instead of using a dryer. Don't heat or cool the house excessively when not at home, use a smart thermostat to make good choices.
Barter and Trade – In grandma's era, bartering was a common practice. Connect with your community and trade skills, services, or surplus goods. From swapping homegrown vegetables to exchanging handyman expertise, bartering can help you acquire what you need without spending money.
Plan and Budget – Budgeting was a fundamental aspect of frugal living. Take the time to create a monthly budget, track expenses, and prioritize your spending. By planning ahead, you can avoid impulsive purchases and stay on track with your financial goals.
Appreciate Simple Pleasures – Lastly, take a page from grandma's book and find joy in the simple things. Frugal luxuries exist in abundance! Whether it's a family picnic in the park or an evening spent playing board games, focus on experiences rather than material possessions. Living frugally is about finding contentment in what truly matters.
Grandma's era was characterized by resourcefulness and a frugal mindset that allowed people to live fulfilling lives without excessive spending. By incorporating these 10 old-fashioned frugal living tips and ideas into our modern lives, we can rediscover the value of thriftiness and embrace a more sustainable and financially conscious lifestyle.
Remember, it's not just about saving money; it's about cultivating a mindset of gratitude, resourcefulness, and appreciating the little things in life. So, let's honor our grandmothers' wisdom and embark on a journey toward a more frugal and fulfilling existence.