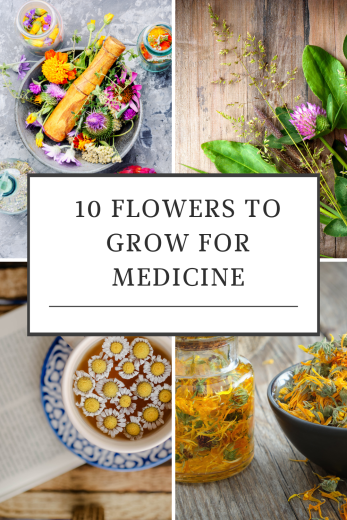 In today's fast-paced world, the need for self-sufficiency and preparedness has become increasingly important. Illness, job losses, inflation, cost of living stripping our income of its value, and a variety of other issues abound. One way to ensure your family's well-being in times of crisis is by establishing a survival garden. A survival garden is not just a source of fresh produce; it also provides an abundance of medicinal plants that can be used for natural remedies and herbal treatments. In this article, we will introduce the concept of a survival garden and highlight ten essential flowers that can be grown for their medicinal properties. It can be as easy as starting to grow some flowers, the rest can come later…
Calendula: Calendula, also known as pot marigold, is a vibrant flower that possesses powerful anti-inflammatory and antiseptic properties. Its petals can be used to create healing salves, soothing creams, and even teas that aid in treating skin irritations, wounds, and digestive disorders.
Chamomile: Chamomile is a dainty flower known for its calming effects. Its flowers can be dried and used to make a soothing tea that aids in relaxation, improves sleep quality, and relieves anxiety. Additionally, chamomile can be used topically to soothe skin conditions such as eczema and minor burns.
Echinacea: Echinacea, also known as coneflower, is a robust and immune-boosting flower. It has been traditionally used to treat common colds, flu, and respiratory infections. Consuming echinacea in the form of teas, tinctures, or capsules can help strengthen the immune system and reduce the severity of symptoms.
Lavender: Lavender is a fragrant flower with a wide array of medicinal benefits. Its calming aroma helps promote relaxation and alleviate stress. Lavender can be used to make essential oils, teas, or sachets that aid in relieving headaches, insomnia, anxiety, and minor skin irritations.
Lemon Balm: Lemon balm, also known as Melissa officinalis, is a lemon-scented flower that belongs to the mint family. It has been traditionally used to reduce stress, anxiety, and promote better sleep. Lemon balm tea can also aid in digestion and relieve symptoms of indigestion.
Marigold: Marigold, with its vibrant orange and yellow blooms, is an excellent addition to any survival garden. Its petals possess antibacterial and antifungal properties, making it an effective remedy for skin infections, cuts, and scrapes. Marigold can also be used to create a healing salve for minor wounds and burns.
Peppermint: Peppermint is a refreshing herb that has been used for centuries to alleviate digestive discomforts such as bloating, gas, and indigestion. Its leaves can be used to make teas, infused oils, or added to homemade balms to provide a cooling effect on sore muscles and joints.
Rosemary: Rosemary is a versatile herb with a wide range of medicinal benefits. It is known to improve memory and concentration, relieve headaches, and boost the immune system. Rosemary-infused oil can be applied topically to stimulate hair growth and improve scalp health.
St. John's Wort: St. John's Wort is a sunny yellow flower often used as a natural antidepressant. It can help alleviate mild to moderate symptoms of depression, anxiety, and seasonal affective disorder (SAD). St. John's Wort can be consumed as a tea or taken in the form of capsules or tinctures.
Yarrow: Yarrow is a hardy perennial flower that has been used for centuries for its medicinal properties. It is known for its ability to stop bleeding and promote wound healing. Yarrow tea can also be used to relieve fevers, colds, and menstrual cramps.
A survival garden is a valuable resource that provides sustenance and vital medicinal plants for natural remedies. By incorporating these ten flowers into your survival garden, you can harness the power of nature to promote health and well-being during challenging times. Remember to properly research and consult with experts before utilizing any herbal remedies for medicinal purposes. Never stop learning and never stop trying to become more self sufficient because you just never know when you may need to call on those resources and skills. Nobody regrets being too prepared and planting a garden that will exist for years if tended properly is never a waste of time or energy.
Recommended Reading: