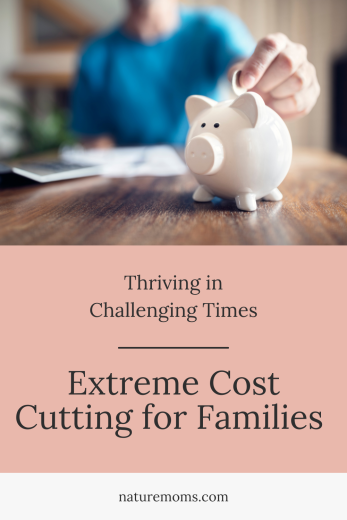 During an economic recession, families face unique challenges in managing their finances. With careful planning and strategic cost-cutting measures, families can navigate these uncertain times and ensure their financial stability. In this blog post, we will explore effective strategies for extreme cost-cutting tailored to families, enabling them to thrive even in the face of economic adversity.
Assess your family's financial situation:
Start by evaluating your current financial standing. Be brutally honest. List every bill or cost associated with running your home and life. If you have debts, list them along with the applicable interest rates. Review your income and savings to gain a comprehensive understanding of your family's financial health. It may help to use budgeting software and a white board.
Prioritize essential expenses:
Distinguish between essential and non-essential expenses. Focus on covering necessities, ie your four walls, such as housing, utilities, groceries, healthcare, and education. Trim down discretionary spending to free up funds for essential needs.
Create a budget:
Develop a detailed budget that aligns with your family's financial goals. Track your income and expenses meticulously to identify areas where you can cut costs.
Reduce utility bills:
Implement energy-saving measures to reduce utility expenses. Switch to energy-efficient light bulbs, unplug electronics when not in use, adjust thermostat settings, and encourage family members to be mindful of water and electricity consumption. Use smart meters and motion senor lighting wherever you can. Look up energy providers in your area to compare rates and lock in the lowest.
Cut down on transportation costs:
Explore alternative transportation options to reduce fuel costs. Carpool, use public transportation, bike, or walk whenever possible. Consolidate errands to minimize trips and save on gas.
Slash grocery expenses:
Plan meals in advance and create a shopping list to avoid impulse purchases. Make a master list of easy and cheap meals and make them in rotation…ie Monday is spaghetti night, Tuesday is egg salad sandwich night, etc. Use digital coupons, shop for sales, and purchase generic or store brands instead of name brands. Take advantage of rewards programs and cashback apps to stretch your grocery budget.
Embrace frugal living:
Adopt a frugal lifestyle by reusing and repurposing items, shopping at thrift stores, and borrowing instead of buying. Teach children the value of money and involve them in cost-cutting activities.
Reduce entertainment costs:
Look for free or low-cost entertainment options for the family. Enjoy picnics in the park, explore local attractions, have movie nights at home, or borrow books and movies from the library instead of buying them. Get rid of streaming entertainment costs or consolidate to just one.
Optimize healthcare expenses:
Review health insurance policies and explore options for more affordable coverage. Take advantage of preventative care services and generic prescriptions. Research discounted medication programs and seek out free or low-cost clinics in your area.
Minimize childcare costs:
Consider cost-effective childcare options such as sharing babysitting responsibilities with trusted friends or family members. Explore community resources, subsidized programs, or cooperative childcare arrangements.
Review and negotiate insurance policies:
Evaluate your insurance coverage and shop around for better rates. Bundle policies with a single provider for potential discounts. Compare quotes from multiple insurance companies to ensure you have the best coverage at the most affordable price.
Cut cable and explore streaming options:
Evaluate your cable TV expenses and consider cutting the cord. Explore affordable streaming services that offer a variety of entertainment options at a fraction of the cost.
Utilize community resources:
Research local community resources and organizations that provide assistance to families in need. These resources may include food banks, clothing drives, utility bill assistance programs, and educational scholarships.
Take advantage of free educational resources:
Explore free online educational platforms and resources for children's learning. Many websites offer educational materials, courses, and interactive activities at no cost. There are also numerous free or low cost courses and certifications for adults to learn new skills or hone existing ones.
Reduce debt and interest payments:
Develop a debt repayment plan and focus on paying off high-interest debt first. Consolidate loans or negotiate lower interest rates with lenders to minimize the burden of debt.
Plan for emergencies:
Create an emergency fund to cover unexpected expenses. Set aside a portion of your income each month and gradually build a reserve that provides a safety net during financial emergencies.
Involve the whole family:
Communicate with your family about the need for cost-cutting and involve them in the process. Encourage open discussions about money and teach children about financial responsibility and smart spending habits.
Seek free or low-cost recreational activities:
Engage in activities that provide entertainment without breaking the bank. Take advantage of community events, local parks, hiking trails, and free cultural exhibits to create memorable experiences for the whole family.
Stay positive and focus on quality time:
Remember that spending quality time with loved ones does not require extravagant expenses. Emphasize the importance of relationships, experiences, and shared moments rather than material possessions.
Stay informed and adapt:
Keep up to date with financial news, budgeting tips, and resources that can help your family navigate the recession. Be adaptable and willing to adjust your cost-cutting strategies as circumstances change.
By implementing these extreme cost-cutting strategies, families can navigate an economic recession with confidence and financial stability. Prioritize essential expenses, create a budget, and explore opportunities to save on utilities, transportation, groceries, and entertainment. Involve the entire family in the cost-cutting process and embrace a frugal lifestyle that focuses on quality time and resourcefulness. By staying informed and adapting to changing circumstances, families can not only survive but also thrive during an economic recession.