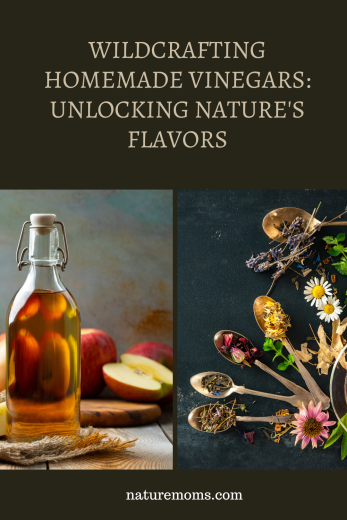 Wildcrafting homemade vinegars is an enchanting culinary journey that allows you to harness the essence of nature's bounty. By gathering and fermenting wild herbs, fruits, and flowers, you can create unique and flavorful vinegars to elevate your dishes. In this blog post, we will explore the art of wildcrafting homemade vinegars, sharing valuable tips and techniques to help you embark on this delightful new adventure. It will get you outside gathering and exploring and it will help you appreciate new flavors, as well as learn to new skills in fermentation and preservation.
The Magic of Wildcrafting Vinegars
Wildcrafting vinegars involves gathering wild plants and infusing them into vinegar, resulting in a delightful infusion of flavors. It offers a fantastic way to connect with nature while enhancing your culinary creations.
Identifying and Harvesting Wild Ingredients
Before embarking on your wildcrafting journey, it's crucial to identify and harvest the right ingredients. Study local plant life and learn to distinguish between edible and non-edible plants. Practice ethical foraging by only harvesting in sustainable amounts, leaving enough for the plants to regenerate.
Choosing the Right Vinegar Base
Selecting the appropriate vinegar base is crucial for successful wildcrafting. Organic, unfiltered apple cider vinegar is an excellent choice as it offers a mild flavor and acts as a natural preservative.
Gathering Wild Herbs, Fruits, and Flowers
Explore your surroundings to find a variety of wild herbs, fruits, and flowers. Popular options include rose petals, elderflowers, dandelion greens, nettle leaves, and wild berries. Choose plants that are in their prime, free from pesticides, and vibrant in color and scent.
Preparing the Infusion
After gathering your chosen wild ingredients, gently wash them to remove any dirt or insects. Place the herbs, fruits, and flowers into a clean glass jar and cover them completely with vinegar. Ensure that the ingredients are fully submerged to prevent spoilage.
Infusing and Fermenting
Seal the jar tightly and store it in a cool, dark place for about four to six weeks. During this time, the vinegar will extract the flavors and nutrients from the wild ingredients, resulting in a rich and aromatic infusion.
Regular Monitoring
Throughout the fermentation process, regularly monitor the jar. Check for any signs of mold or fermentation gone wrong. If necessary, skim off any scum that may form on the surface and discard it.
Taste Testing and Straining
After the desired fermentation period, taste the infusion to ensure it has developed the desired flavor profile. If satisfied, strain the vinegar through a fine-mesh sieve or cheesecloth to remove the plant material, obtaining a clear, flavorful vinegar.
Bottling and Storing
Transfer the strained vinegar into these airtight sterilized glass bottles or jars, love these particular jars. Store in a cool, dark place to preserve the flavors and extend the shelf life.
Conclusion
Wildcrafting homemade vinegars is a delightful way to explore the flavors of nature and add a unique touch to your culinary creations. By venturing into the great outdoors, identifying and harvesting wild ingredients, and infusing them into vinegar, you can create exquisite flavors that embody the essence of your local surroundings. With a little creativity and a sense of adventure, you can unlock a world of wildcrafted goodness.
Recommended: