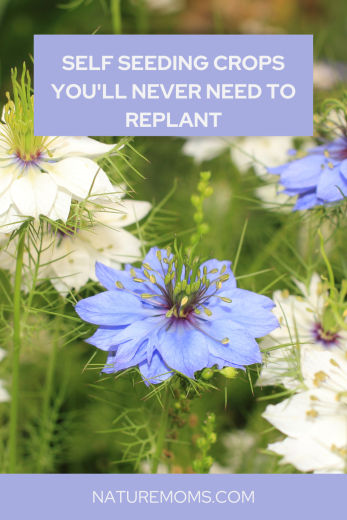 Imagine a garden that requires minimal effort, yet bursts with vibrant colors and flavors year after year. Sounds like a fantast right? Gardening isn't that easy! Enter the world of self-seeding crops and flowers – a magical realm where nature does most of the work, and you reap the rewards season after season. In this post, we'll delve into the wonder of self-seeding plants, exploring what they are, how they work, and the benefits they bring to your garden. They aren't the end all be all, you still need a healthy mix of perennials and maybe even annuals but plants that self seed are definitely worth exploring.
Understanding Self-Seeding Plants
Self-seeding plants, also known as self-sowers or self-perpetuating plants, possess a remarkable ability to reproduce and grow without human intervention. These plants have evolved strategies to disperse their seeds naturally, allowing them to germinate and thrive in the same garden spot where they were initially planted. As the seasons change, the seeds are scattered, lie dormant during the colder months, and then sprout anew when conditions are favorable.
How Self-Seeding Works
Self-seeding plants employ various methods to spread their seeds effectively. Some plants develop seed pods that burst open when touched or when exposed to rain, releasing their seeds in the vicinity. Others rely on wind to carry lightweight seeds to new locations, while some seeds are encased in fruits that animals consume and later deposit in different areas, aiding in their propagation.
Benefits of Self-Seeding Plants
Low Maintenance: Once established, self-seeding plants require minimal care. Their ability to return year after year reduces the need for replanting, saving you time and effort.
Natural Adaptation: Over time, self-seeding plants adapt to your garden's specific conditions, becoming hardier and more resilient to pests and diseases.
Cost-Effective: Investing in self-seeding plants initially might be slightly higher, but the long-term savings on seeds or new plants can be significant.
Biodiversity Boost: Self-seeding encourages the growth of a diverse range of plants, attracting various pollinators and beneficial insects to your garden.
Ever-Changing Beauty: With each new season, your garden will surprise you with an array of blooms and foliage, creating an ever-changing landscape.
Popular Self-Seeding Crops
Lettuce: This leafy green often goes to seed if left unharvested, producing a new generation of greens effortlessly.
Tomatoes: Fallen tomatoes can self-seed, resulting in surprise tomato plants popping up in unexpected places.
Beans: Bean pods that mature on the plant will dry out, releasing seeds that can sprout anew.
Ground cherries: These delicious fruiting plants fall to the ground when they are ripe and you rarely harvest them all.
Borage: This is actually perennial but many baby plants will soon join the parent plants.
Dill: If you let it go to seed you will likely see that dill again.
Self-Seeding Flowers
Nigella (Love-in-a-Mist): Delicate blue flowers with feathery foliage create an enchanting atmosphere.
Calendula: These cheerful yellow and orange blooms are not only pretty but also have medicinal properties.
Cosmos: With their daisy-like flowers, cosmos bring a touch of elegance to any garden space.
Poppies: If you leave the rattles in the garden they will break open in fall or winter and spread their seed. You can also assist with this to spread them more evenly.
Nasturium: Pea like seeds form at the end of the summer ensuring that you will have volunteer nasturiums in future years.
Cultivating a Self-Seeding Garden
Selective Deadheading: Deadhead spent flowers before they go to seed to prevent over-spreading, but leave a few to ensure the next generation.
Observation is Key: Watch where seeds fall and sprout naturally to better understand the ideal growing conditions for each plant.
Minimal Disturbance: Avoid excessive tilling or cultivating, as this can disrupt the natural seeding process.
A Garden that Keeps Giving
Embracing self-seeding plants is like inviting nature's artistry into your garden. With patience and observation, you'll witness the dance of life as seeds transform into vibrant plants, creating a haven for both you and local wildlife. As these plants take care of themselves, you'll find more time to savor the beauty and tranquility of your garden oasis.
So, if you're seeking a garden that thrives with minimal effort and surprises you with its ever-changing beauty, consider introducing self-seeding crops and flowers into your outdoor haven. With these remarkable plants as your companions, you'll never need to worry about replanting again.