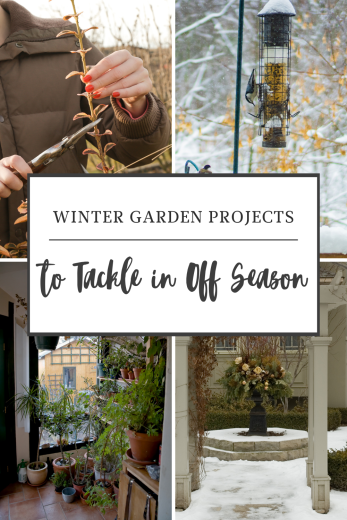 As the vibrant colors of autumn fade away and the chill of winter sets in, many gardeners hang up their gloves and trowels, assuming that gardening activities come to a halt. However, the winter season presents a golden opportunity to engage in various garden projects that can improve your outdoor space and set the stage for a flourishing spring. A beautiful garden actually starts in the off season with planning, dreaming, and getting caught up on all the projects that you don't have time for during the busier seasons. Here are some winter garden projects to tackle during the off-season that will keep your green thumb active and your garden thriving.
1. Garden Cleanup: Start by tidying up your garden beds in LATE winter or very early spring. Give beneficials and pollinators a chance to overwinter. Remove any dead plants, fallen leaves, and debris that have accumulated over the fall. Collect excess leaves (ie take them from your neighbors who put them on the curb) and mulch them for compost and leaf mold.
2. Pruning: Winter is the ideal time to prune deciduous trees and shrubs. With their foliage gone, it's easier to see the structure of the plants and make strategic cuts that promote healthy growth. Remember to research proper pruning techniques for each plant variety.
3. Mulching: Applying a layer of organic mulch over your garden beds during winter helps retain soil moisture, regulate temperature, and prevent weed growth. Mulch also enriches the soil as it breaks down over time.
4. Soil Testing and Amendment: Take advantage of the off-season to conduct a soil test. Based on the results, amend your soil with compost, organic matter, or minerals to ensure your plants have the best possible growing conditions.
5. Building Hardscapes: Consider constructing new hardscape features like pathways, retaining walls, or garden borders. Winter's cooler temperatures make physical labor more enjoyable, and you'll have these elements ready to complement your spring plantings.
6. Greenhouse or Cold Frame Setup: Extend your growing season by setting up a greenhouse or cold frame. These structures create a controlled environment for starting seeds and growing cold-hardy crops even during the coldest months.
7. Tool Maintenance: Clean, sharpen, and oil your gardening tools. Properly maintained tools not only make your work more efficient but also extend the life of your equipment.
8. Garden Design Planning: Use the winter months to plan and design any changes you want to make to your garden layout. Research new plant varieties, colors, and arrangements that will give your garden a fresh look in the coming year.
9. Bird Feeder Installation: Attract and support local bird species by installing bird feeders in your garden. Winter can be tough for birds to find food, and your garden can become a welcome oasis for them.
10. Composting: Continue composting kitchen scraps and yard waste throughout the winter. As decomposition slows down in colder temperatures, having a compost pile ready will provide nutrient-rich material for spring.
11. Garden Structure Maintenance & Purchase: Inspect and repair trellises, arbors, and other garden structures. This ensures they're in top condition for supporting climbing plants and adding visual interest to your garden. Also if you want to buy new structures such as a trellis, arbor, cold frame, or water feature you can usually get deals in the dead of winter.
12. Indoor Plant Care and Starting Seeds: Get your grow room or grow space cleaned up and start seedlings indoors. Some flowers such as Lisianthus can and should be started in December! Snapdragons are another one if you didn't already fall sow them. Start seeds for spring crops such as spinach, brassicas, leeks, onions, cabbage, etc. You can also take care of overwintered plants such as citrus trees, geraniums, and begonias. You can also get a head start on elephant ears and cannas by starting them in pots, indoors.
13. Indoor Plant Focus: Shift your gardening attention indoors by caring for houseplants. Clean their leaves, repot if necessary, and ensure they're getting the right amount of light and water.
14. Garden Education: Take advantage of the extra time indoors to educate yourself about gardening techniques, plant care, and new trends. There are plenty of online resources, books, and courses available. Youtube is amazing for this purpose!
15. Garden Journaling: Start a garden journal to document your observations, plans, and ideas. This can be a valuable resource for tracking your garden's progress over the seasons.
16. DIY Projects: Engage in DIY garden projects such as creating decorative plant markers, building trellises, or crafting garden art to add a personal touch to your outdoor space.
17. Beneficial Insect Houses: Build and install insect houses to provide shelter for beneficial insects like ladybugs and solitary bees. These insects play a vital role in pollination and pest control. You may even want to add some bee boxes!
18. Water Feature Maintenance: If you have a garden pond or water feature, winter is the time to perform maintenance. Clean out debris, check pumps and filters, and ensure the water is free from ice to support aquatic life.
19. Reflect and Reimagine: Use the quiet winter months to reflect on your past gardening successes and challenges. Consider how you can reimagine your garden to align with your changing preferences and goals.
20. Enjoy the Serenity: Lastly, don't forget to take time to simply enjoy your garden in its winter splendor. Frost-covered plants, glistening snow, and the serene atmosphere can be truly magical.
In conclusion, the winter off-season doesn't mean you have to put your gardening ambitions on hold. By undertaking these winter garden projects, you can enhance your garden's health, beauty, and functionality, setting the stage for a vibrant spring and summer. Embrace the opportunities that winter presents and make the most of your gardening endeavors.