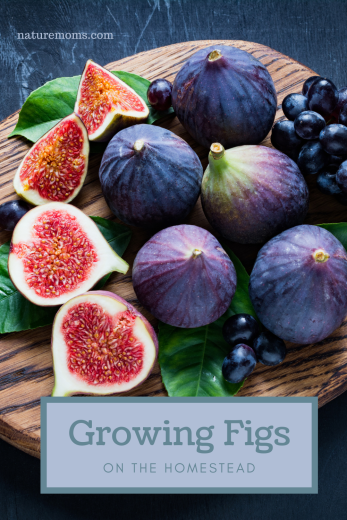 When it comes to homesteading, there's a certain satisfaction in cultivating your own fruits. I love being able to shop my backyard for fresh strawberries, blueberries, blackberries, raspberries, and currants. You can go even further though and plant something a bit more "fancy" and figs are a fantastic addition to any homestead. Their rich flavor, versatility, and nutritional benefits make them a prized choice for those looking to enhance their self-sufficiency. In this article, we'll delve into the art of growing figs and explore creative ways to use these delectable fruits right from your homestead.
Why Choose Figs? Figs (Ficus carica) have been cherished for centuries for their unique taste and numerous health benefits. These fruits are a rich source of dietary fiber, vitamins (A, B6, and K), minerals (potassium, magnesium, calcium), and antioxidants. Their natural sweetness makes them an ideal alternative to processed sugars, contributing to a healthier diet.
Getting Started with Growing Figs:
Selecting the Right Varieties: Choose fig varieties that are well-suited to your climate. You CAN get cold hardy figs you just need to a bit of work to protect them over winter. Common cultivars include Brown Turkey, Black Mission, and Kadota. Research local nurseries for the best options.
Choosing a Suitable Location: Figs thrive in areas with full sun exposure and well-draining soil. Ensure proper spacing to allow for healthy growth.
Planting and Care: Plant fig trees in the spring or fall. Provide regular water during the growing season, especially for young trees. Mulch around the base to retain moisture and suppress weeds. Provide protection over winter. See Youtube for ideas on this front.
Fig Tree Maintenance:
Pruning: Prune your fig trees in late winter to encourage new growth and maintain a desired shape. Remove dead or diseased branches to promote overall tree health.
Fertilization: Feed your fig trees with a balanced organic fertilizer in the spring and early summer to support healthy fruit development.
Pest and Disease Control: Keep an eye out for common pests like fig beetles and diseases like root rot (common). Use natural remedies or organic treatments to protect your trees.
Harvesting Figs: Figs are ready to be harvested when they change color and become slightly soft to the touch. Harvest them gently to avoid bruising. Figs do not ripen much after picking, so it's important to pick them at the right time.
Creative Uses of Figs:
Fresh Delights: Enjoy figs straight off the tree for a burst of natural sweetness.
Fig Preserves: Create flavorful fig preserves by simmering figs with sugar and lemon juice. These preserves can be spread on toast, added to yogurt, or used as a topping for desserts.
Fig Smoothies: Blend fresh or frozen figs into smoothies for a nutritious and delicious treat.
Salad Enhancement: Slice figs and add them to salads for a unique twist. They pair exceptionally well with greens, nuts, and cheese.
Fig Baking: Incorporate figs into baked goods like muffins, cakes, and bread for a delightful flavor and texture.
Fig Jam: Make homemade fig jam to enjoy on toast, crackers, or as a glaze for meats.
Fig Vinegar: Infuse vinegar with figs to create a flavorful base for dressings and marinades.
Dried Figs: Sun-dry or dehydrate figs for a concentrated snack rich in nutrients.
Fig Ice Cream: Prepare homemade fig ice cream using ripe figs to savor the flavor year-round.
Fig-Wrapped Proteins: Wrap figs around proteins like chicken or pork before roasting to infuse them with sweetness.
Growing and using figs on your homestead is a rewarding endeavor that brings both culinary delight and nutritional benefits. These versatile fruits can be enjoyed fresh, preserved, or incorporated into a variety of dishes, adding a touch of natural sweetness and a dose of vitamins and minerals. By following the tips outlined in this article, you can cultivate your own fig oasis and savor the fruits of your labor throughout the year.