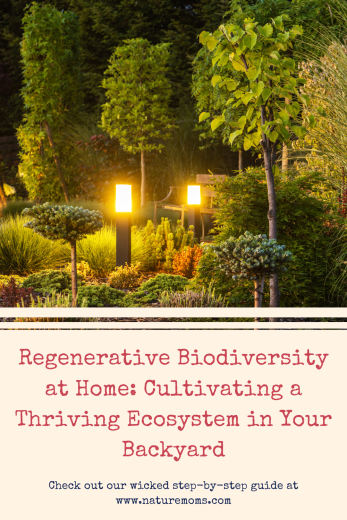 In today's rapidly urbanizing world, the importance of preserving biodiversity cannot be overstated. Biodiversity not only enhances the beauty of our planet but also plays a crucial role in maintaining the delicate balance of ecosystems. We can take a personal role in being the solution as well. While large-scale conservation efforts are essential, fostering regenerative biodiversity at home is a meaningful contribution that each of us can and must make. Transforming our backyards into vibrant havens of life not only benefits local flora and fauna but also provides us with a rewarding and educational experience.
Understanding Regenerative Biodiversity
Regenerative biodiversity refers to the practice of creating self-sustaining ecosystems that promote the growth of a diverse range of plant and animal species. Unlike traditional landscaping, which often prioritizes aesthetics over ecological health, regenerative biodiversity focuses on creating a harmonious environment where different species interact and support one another. This holistic approach mimics the natural patterns found in undisturbed ecosystems, allowing for healthier and more resilient landscapes.
Creating a Biodiverse Haven
Native Plants: Start by selecting native plant species for your garden. Native plants are adapted to the local climate and soil, making them more likely to thrive without excessive maintenance.
Layered Planting: Emulate the natural forest by incorporating different layers of vegetation, such as tall trees, smaller shrubs, and groundcover plants. This provides habitat and food sources for a variety of wildlife.
Wildlife-Friendly Features: Install bird feeders, bird baths, and small ponds to attract diverse bird species and beneficial insects like pollinators and pest controllers.
Composting: Set up a composting system to recycle kitchen and garden waste into nutrient-rich soil. Healthy soil supports plant growth and provides habitats for various soil organisms.
Avoid Chemicals: Minimize or eliminate the use of synthetic pesticides and fertilizers, as they can disrupt the delicate balance of your ecosystem.
Mulching: Apply organic mulch to retain moisture, suppress weeds, and provide habitat for insects and microorganisms.
Benefits of Regenerative Biodiversity
Enhanced Resilience: Diverse ecosystems are better equipped to withstand environmental changes, such as droughts or pest outbreaks.
Improved Soil Health: Biodiverse gardens improve soil structure and nutrient content, creating living soil, leading to healthier plants.
Pest Control: Beneficial insects attracted to your garden can help keep pest populations in check naturally.
Carbon Sequestration: Trees and plants store carbon dioxide, aiding in the fight against climate change.
Educational Opportunity: Regenerative gardens provide a hands-on learning experience for children and adults alike to understand the importance of biodiversity.
Challenges and Solutions
Creating a regenerative biodiverse garden isn't without its challenges. Invasive species, limited space, and lack of time can all pose obstacles. However, these challenges can be overcome:
Invasive Species: Regularly monitor your garden for invasive species and promptly remove them to prevent them from outcompeting native plants.
Limited Space: Even small spaces can host a variety of plants and insects. Vertical gardening, container gardening, and window boxes are great options for limited spaces.
Time Constraints: Start small and gradually expand your garden as you become more comfortable with the maintenance requirements.
Embark on Your Biodiversity Journey
By embracing regenerative biodiversity in your backyard, you're not only contributing to the conservation of local ecosystems but also reaping personal rewards. The soothing sounds of birdsong, the vibrant colors of blooming flowers, and the sense of accomplishment from creating a thriving ecosystem are priceless. Start small, educate yourself about native species, and involve your family in the journey to make your backyard a haven for biodiversity.
In a world where urbanization is advancing at an unprecedented pace, regenerative biodiversity offers a glimmer of hope for preserving the planet's natural beauty. By taking steps to create a diverse and self-sustaining ecosystem in your own backyard, you're part of a global movement to protect and restore the intricate web of life that sustains us all.