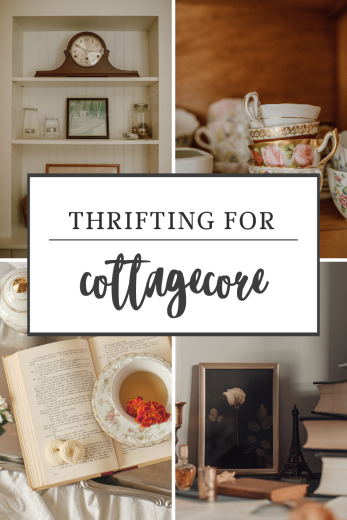 In an era marked by mass production and cookie-cutter designs (where everything is taupe or grey), there's a timeless charm in seeking out unique and vintage pieces for your home decor. If you're a fan of the cozy and nostalgic aesthetics of cottagecore, then thrifting and antique store shopping are your secret weapons to creating a warm and inviting living space that embodies the essence of the countryside. It will also give you a look that no one else has. In this blog post, we'll delve into the world of thrifting and antique store shopping, exploring how you can curate your own cottagecore-inspired haven.
1. The Joy of Thrifting Thrifting is like a treasure hunt for those who appreciate the beauty of the past. It's not just about saving money; it's about finding one-of-a-kind items that carry history and character. When you enter a thrift store, you never know what you might discover. Perhaps it's a vintage teacup set that once graced a quaint cottage kitchen or a weathered bookshelf that has held generations of cherished novels. Imagining the story behind each piece you curate is half the fun.
2. The Allure of Antique Stores Antique stores take thrifting to a whole new level. These establishments specialize in offering a curated selection of antique and vintage items, making it easier to find pieces that align with your vision. From rustic furniture to delicate porcelain figurines, antique stores are veritable wonderlands for those who seek out vintage.
3. Finding Cottagecore Inspiration Before you embark on your thrifting and antique store shopping adventure, it's essential to gather some cottagecore inspiration. Explore Instagram accounts, Pinterest boards, and blogs dedicated to cottagecore aesthetics to get a sense of the colors, textures, and themes you'd like to incorporate into your decor. Some cottagecore is more boho-hippie inspired and others like a Beatrix Potter or Jane Austen feel. One uses earthy browns, mustards, and olive greens, and one gravitates towards pastels and florals. You need to decide what look and feel you are going for.
4. Building a Cozy Palette Cottagecore decor is all about creating a warm and inviting atmosphere. Opt for a color palette that includes soft, earthy tones like sage green, buttery yellow, and antique white. These colors evoke a sense of tranquility and nostalgia, perfect for a cottagecore-inspired space.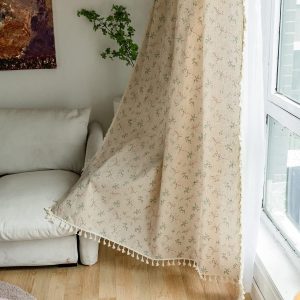 5. Embracing Vintage Fabrics When it comes to textiles, don't shy away from vintage patterns and fabrics. Floral prints, gingham, and lace add a touch of romance to your decor. Look for vintage tablecloths, curtains, and throw pillows to infuse your space with cottagecore charm.
6. Rustic Furniture Finds Antique stores are excellent places to source rustic furniture pieces that embody the cottagecore aesthetic. Seek out weathered wooden tables, vintage rocking chairs, and old-fashioned dressers. These pieces not only add character but also tell a story of days gone by.
7. Incorporating Nature Bringing the outdoors inside is a key element of cottagecore decor. Decorate your space with dried flowers, potted plants, and woven baskets. You can actually use a Microfleur to press and dehydrate flowers on your own fast. It's amazing. Antique stores often carry botanical prints, cool old frames, vintage gardening tools, and ceramic planters that can enhance the natural feel of your home.
8. Quaint Kitchenware The heart of any cottage is the kitchen, so pay special attention to vintage kitchenware. Look for old-fashioned teapots, floral-patterned dishes, and enamelware. These items not only serve a functional purpose but also add a touch of whimsy to your space.
9. Vintage Books and Decorative Objects Scour the shelves of thrift stores and antique shops for vintage books with weathered covers. Stack them on coffee tables or display them on bookshelves to create a cozy reading nook. Antique stores also offer an array of decorative objects like antique clocks, porcelain figurines, and ornate mirrors to add character to your space.
10. Personalize Your Space Cottagecore is all about personal touches and the sentimentality of your decor. As you collect thrifted and antique items, think about the stories they tell and the memories they evoke. Incorporate family heirlooms and personal mementos to make your cottagecore haven truly unique.
In conclusion, thrifting and antique store shopping are fantastic ways to bring the enchanting cottagecore aesthetic into your home. These shopping adventures allow you to uncover hidden gems that not only fill your space with warmth and character but also connect you to a simpler and more nostalgic way of life.
So, lace up your vintage boots and start your cottagecore decor journey today. With patience and a keen eye, you'll transform your living space into a charming haven that celebrates the beauty of the past.