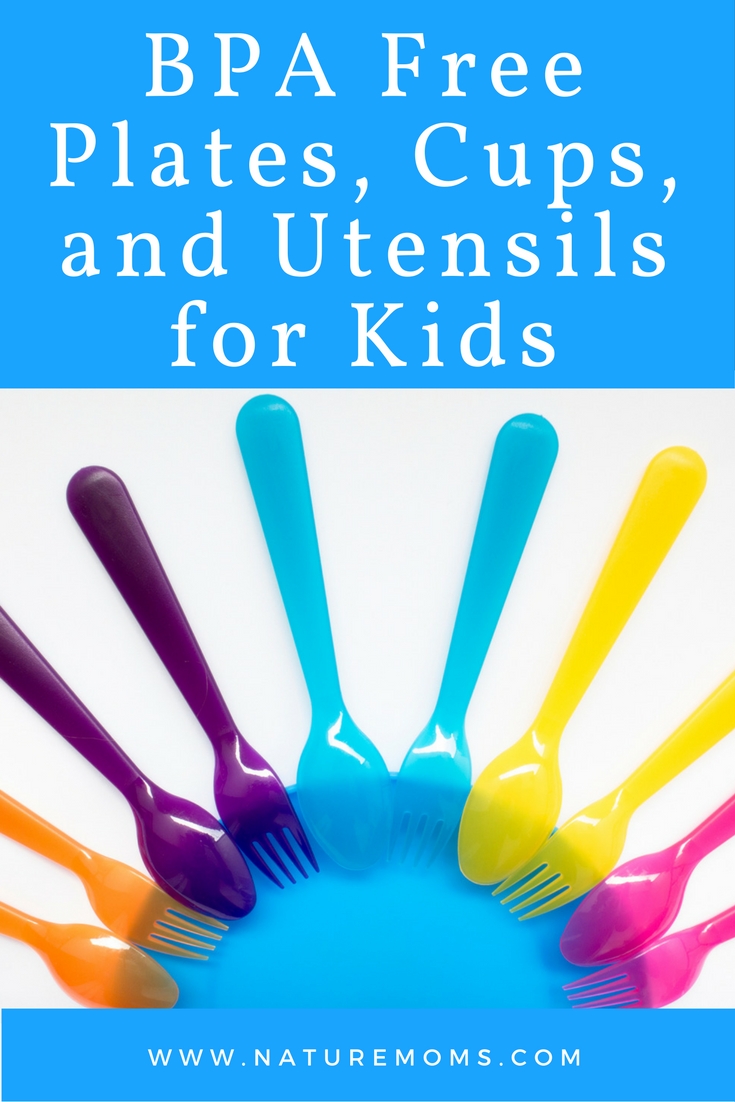 When I released my reports on BPA free sippy cups I had a large number of moms ask about regular cups (non sippy) as well as plates, bowls, and utensils. I can certainly understand why any parent would hesitate to give a toddler or young child a glass or ceramic cup and plate so of course it is important to highlight BPA free options for plates, cups, and utensils. Fortunately there are quite a few options! They are stylish and non-toxic. I have highlighted most of the ones I know of. If you have a lead on others…just let me know.
The ThinkBaby Feeding Set – This is a set of stainless steel feeding products covered in safe plastic. It contains a cup, two bowls, a bento box, lids, and utensils.  They are free of BPA, PVC, phthalates, lead, and melamine. It is a big hit in our home! Read our personal review of it here.
Klean Kanteen Stainless Steel Pint Cups – These are super simple stainless tumblers and they look great. I have several of these for my kids (ages 6-12). Love them!
Boon Products – This company offers several BPA free products that parents will love. If you recall we just reviewed their Fluid Sippy Cup in our second report on safe sippy cups. It is a pretty snazzy looking cup. They also have plates, utensils, and feeding cups that are all equally snazzy.
The Catchbowl – Boon just can't do anything ordinary it seems. This groovy shaped bowl works better than a bib and funnels runaway food back into the bowl rather than on the floor. A suction cup base keeps bowl securely in place. This is a good bowl for newbies to table food and the process of feeding themselves.
The Groovy – This is an interlocking plate and bowl set and a fun way to serve meals in a customizable configuration. This set includes a toddler-sized plate with two separate compartments plus two small bowls that attach to the edge of the plate in several different positions.
The Snackball– This is a sphere-shaped snack container. Sooo much better than a plastic baggy or a toxic plastic container. The rigid form protects snacks from being crushed, making the Snack Ball great for travel. The two halves unscrew for easy cleaning and the lid snaps in place to keep snacks inside. Dishwasher safe.
Modware – True to their orange and blue theme these utensils are pretty cool looking. These are for toddlers that have mastered the Benders (below) and are not ready to move on to adult tableware. They too are soft with no sharp edges and they have an ergonomic design. Dishwasher safe.
Benders – They help children transition to regular utensils and develop motor skills with their sharp angles and easy grip handles. They are dishwasher safe.
Camden Rose Wooden Bowl and Spoon – Woot! Our top pick! What could be more natural than wood. This set is solid Cherrywood hand-rubbed with a non-toxic Beeswax polish. It inherits the natural markings of the parent tree's grain pattern. They are handcrafted by an Amish Co-op and are perfectly functional and ready to serve. They should be hand washed.
Laptop Lunchboxes – I have mentioned this lunchbox system many times but never in reference to being being BPA free so there is yet another reason to buy this awesome lunchbox! Read my review of it here.
Mini-Me Bamboo Bowls from Bambu – Hand coiled bamboo bowls. The outsides of the bowls are painted in several lovely colors. They also have bamboo flatware and plates.
Silicone Bowls – Silicone is BPA free and kid friendly. These bowls are so squishable and compact you can take them anywhere too.
Ikea Rainbow Tumblers- These are some very pretty, simple, and affordable cups from Ikea. They are made of Polypropylene making them BPA free and they are stackable and dishwasher safe.
Baby Cie Tray Sets – Very cute! You can get a plain tray or one with cup, bowl, and utensils. There are many designs too like their Jungle set and their farm set. It has French words in the tray areas designed to keep food separate so baby can learn french while they eat, LOL. They are very durable and dishwasher safe.
Trebimbi Puppets Club 6-pc. Dining Set– This set includes knife, fork, spoon, egg cup/condiment holder, bowl and mug. It has a Stainless steel body with plastic handle for the best of both worlds. Set of 3 utensils snap together for easy storage; dishwasher safe. For ages 2–6 yrs. I have seen pink, blue, and orange. What is so fun about these is that they have little smiley faces like little puppet people….too adorable!
Sassy Baby – Sassy also has several BPA free options for tableware.
Sassy Stackable Feeding Plates – This set contains two divided plates, two standard plates and two snap-on lids in a rainbow of colors.
Sassy Insulated Feeding Pots with Spoon – This set has two insulated feeding pots that keep food cold or warm longer. Perfect for babies! They are dishwasher safe too.
Sassy Baby Less Mess Toddler Spoons – Cute spoons! The holes in spoon are to keep food on spoon longer and the soft grip handle allows child easier grip. They are dishwasher safe and come in multiple colors. See also the Toddler feeding spoons.
Sassy Baby Less Mess Toddler Bowl – Comes with a suction base and storage lid and a uniquely shaped bowl to make it easier to guide food onto spoon. Dishwasher safe and comes in multiple colors.
On the Go Feeding Set – This is a baby Bento! Ya'll know how much I love these. It is a 9 piece set with a large sectioned bowl with lid, three removable dishes with lids, and a toddler feeding spoon.
Baby Bjorn Plate & Spoon Set -These really are adorable. The shape of the plate kind of reminds me of Mickey Mouse and the utensils have little eyes. Very cute. They are designed to help children eat by themselves at an early stage and the three-leaf clover shape makes it easier for the child to scoop up food with his or her spoon and hold on to the plate. A rubber base prevents the plate from sliding
Stainless Steel Dish Sets – I often prefer stainless steel for drink cups so I was happy to find a complete stainless steel alternative to plastic. You cannot microwave these or put them in the dishwasher though so they aren't for everyone. Love this set from Untangled Living Anywhere…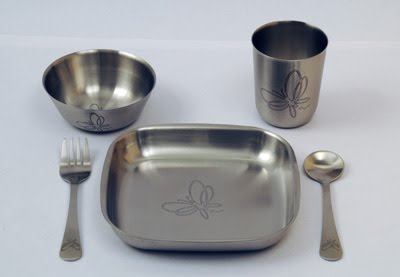 I hope you enjoy this information!