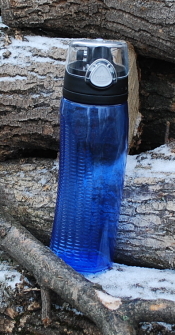 I have always had a favorite water bottle and his name is Mr. Klean Kanteen. But step aside Klean because you may have been replaced. Okay maybe not replaced, but you will now have to share your coveted position in my cupboard. Make room for the sleek and ingenious Intak by Thermos.
I wondered how I would like the Intak but I can now say I am a huge fan and while the Intak is a reusable (green) water bottle it does have a big strike against it…it is plastic. BPA free, safe plastic but plastic none the less. But am an ardent admirer now and I will tell you why.
The Intak is a great sports bottle…emphasis on sports, activity, hiking backpacking, camping, etc.  In that respect the Intak wipes the floor with heavier stainless steel bottles. I personally do not like to take Klean Kanteens on hikes or when camping because it is heavy and when backpacking or day hiking weight is extremely important. Backpackers know the full weight of their packs down to the ounce…just look at backpacking gear in a sporting goods store and look to see how they put the weight on everything. Sigg is not as heavy but it also has another problem that it shares with KK. They are cold. If I put a cold liquid in either of these bottles, the temp transfers to the outside and it can be very uncomfortable to hold onto such a cold bottle, especially in winter. An insulated bottle somewhat fixes this but it adds weight. This problem is not as pronounced with plastic.
Also, when backpacking or camping I sleep with my water bottle in cold weather to keep it from freezing. I know I don't want to sleep next to a cold metal bottle. ;)
Beyond that, the Intak has an ingenious design…the best I have seen. The bottle portion is long and sleek with ridges along one side to help with grip. It has an ounce measuring line on the other side so you can keep track of how much you are drinking. This leads to another reason why plastic as opposed to stainless steel makes a better sports bottle…you can see the water levels. Knowing how much water you have is important when backpacking or camping.
The Intak has a push button on the cap and with one push the top pops open so you can grab the bottle, pop the top, and drink all with one hand! To prevent you from accidentally opening it you can put a little metal flap over the button to keep it from engaging….perfect.
AND it also has a sturdy plastic loop on the back of it so you can attach it to a pack or belt if you want to. This is a great feature. It even rated a mention by The New York Times as a great bottle for sports enthusiasts.
It is made of plastic that is BPA free so you don't have to worry about toxic leaching into your water. You can also put in on the top rack of the dishwasher.
It comes in blue and purple, green, and pink. If you are a die hard stainless steel fan they even have a SS version!! I have the blue one as you can see above and below. If you are in the market for a reusable bottle this is a good one! The $11.00 price tab is great too.
Update: 7/31/2011 – Still using this bottle and it is the one that I reach for quite often! When we went hiking in the Hocking hills region of Ohio just today I grabbed this lightweight bottle without hesitation and it was cinch to carry all day long.