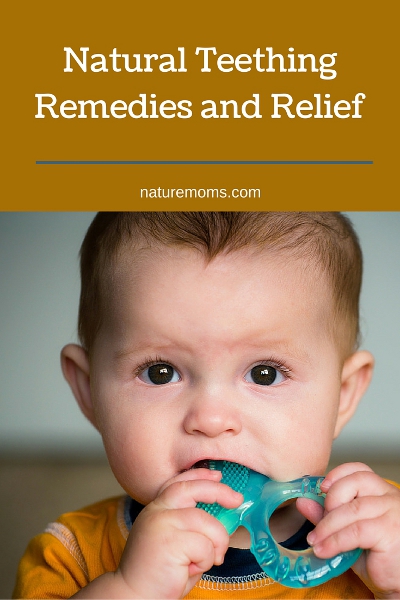 One of the struggles of trying to parent as naturally as possible is handling obvious pain and discomfort in our children without going the mainstream route and medicating them with potentially dangerous substances. Whether or not they like berry or bubblegum flavored medicated syrup is a non issue when you won't give them that stuff regardless. Teething may be one of the first times we go looking for a way to relieve their pain naturally and there are no shortage of safer, more natural teething relief options that we can look to before we open that bottle of baby Motrin. Here are some of your options:
Natural Teething Toys
Babies know instinctively how to chew to relieve their pain, that is why they will happily munch on your finger, your cars keys, sling padding… whatever they can get their little mouths on. Obviously though we want to make sure that whatever they are gnawing on is safe though. Your finger is most likely a-okay, your car keys… not so much. There are quite a few toys on the market designed to be safe and effective for chewing and teething.
The Spelt Cushion Cotti – This adorable soft lamb is filled with a removable, spelt grain pillow. It accompanies its little owner right from the first day and it is ready for snuggles. The spelt pillow is heatable and can make falling asleep easier. Outer material: high quality organically farmed cotton. Inner material: natural spelt grain seed.
Sophie the Giraffe Teether – This one is very popular among parents. Sophie the Giraffe is perfect for baby's small hands. She is very light and her long legs and neck are easy for baby to grip. She is very soft to touch, stimulating soothing physiological and emotional responses. Smell: The singular scent of natural rubber makes Sophie the Giraffe very special and easy for your child to identify. Sophie is Phthalates and BPA free.
Teething Necklaces For Mom
Smart Mom Teething Bling – LOVE this necklace set that moms can wear to give their babes something safe to chew on. Not only would I wear these anyway, just because they are pretty, I would be super happy to know my kidlets were chewing on something safe. Made from a food-safe, phthalate-free, federally-approved silicone, Teething Bling looks great on Moms, Grandmas, Aunts and Caregivers but is safe for curious babies to handle and chew. LOVE the colors!!
Wooden Teething Rings
Teething rings don't have to be plastic. There are plenty of wood options.
Waldorf Maple Teething Ring – The Camden Rose teether was designed to stimulate sight and touch with beautiful organic shapes and the comfort of hardwood. Easy to grasp for little fingers and soothing to rub on tender gums, the Maple Teether is best for the baby who, at about 3 months, starts to explore the object-mouth relationship. Each teether is fashioned from maple wood and finished with non-toxic beeswax.
Kringelring by Haba – Kringelring is a wonderful teething ring made of beech wood with maple elements threaded over a sturdy, cloth-covered red band. Two blue rings clatter merrily when this rattle is handled. Finished with completely non-toxic, child-friendly substances. This quality toy was designed and manufactured in Germany
Homeopathic Teething Aids
Boiron Homeopathic Camilia Teething Relief – Homeopathic single use medicine with no preservatives. Relieves gum soreness and pain brought on by teething.
Nuby All Natural Teething Gel – calms pain and irritability due to teething with 100% Natural ingredients like Chamomile. Free of artificial flavors and parabens.
Clove Oil – Mix a couple drops of clove bud oil with some edible vegetable oil and apply to the gums. This stuff is potent though so make sure not to give them too much or too often.
Teething Necklaces for Baby
Amber Teething Necklaces – Amber is a natural substance from trees. It is actually fossilised sap and it has been used for a long time in European countries for its natural pain relief and natural anti-inflammatory properties due to the slow release of its natural oils when warmed by your skin.
Teething Towels/Blankets
A washcloth from your linen closet makes a great teether! But if you prefer something a little nicer there are many of these on the market…
Dandelion Classic Organic Toy Bear Blanket – The Bear Teething Blanket from Dandelion Toys features knots, tags and ears for teething and touching. Velour with Dandelion's Swirly Stitches pattern. Made from organic fabric and machine washable
What is your favorite trick or gadget to handle teething pain?
Recommended: Natural Remedies for Diaper Rash and Natural Remedies for Baby Eczema.