In the book The Happiness Project (which I reviewed here) one of the steps the author takes in her own happiness project is to start a collection. She had always wanted to collect something ever since childhood but never did. She never had the elated feeling you get when you find something exquisite that will compliment your collection, or the joy of seeing your collection grow. After some deliberation she decided that it would make her happy to start a collection and she proceeded to collect bluebirds in many forms.
When I was reading it I could not help but remember what I used to collect as a child and into my early twenties… snow globes and shot glasses. I would collect them at truck stops, museums, flea markets, amusement parks, ect. Every year for Christmas we would go to Disneyland and my parents would buy me a special Disney themed one. But as I grew older I got tired of dusting them all the time and they just didn't appeal to me as much so I gave my favorites (like the Disney Villains one) to my kids and then sold the rest at a garage sale.
Reading this book made me want to collect something else but the minimalist in me recoiled at the thought. Then I looked upwards in contemplation and saw something shiny and beautiful. I remembered that I already collect something, I just never thought about it as a collection. I collect crystals! And I collect prisms too. Hurray, I have a collection! ;)
Here are some of my favorites.. and yes they do make me happy just looking at them.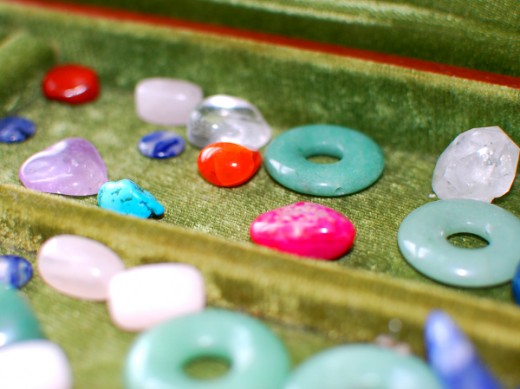 I have an old jewelry box on a bookshelf next to my computer desk and it houses most of my crystals… adventurine, quartz, citrine, lepidolite, moonstone, agate, amethyst, jasper, etc.
If you lift the tray they sit on you see a hidden section where I keep Chakra crystals, separated by each individual Chakra… or the seven power points in the human body that circulate energy or the life force also known as prana. These are some of my faves… blue lace agate, bloodstone, carnelian, lapis lazuli, snowflake obsidian, sodalite, leopard skin jasper, blue chalcedony…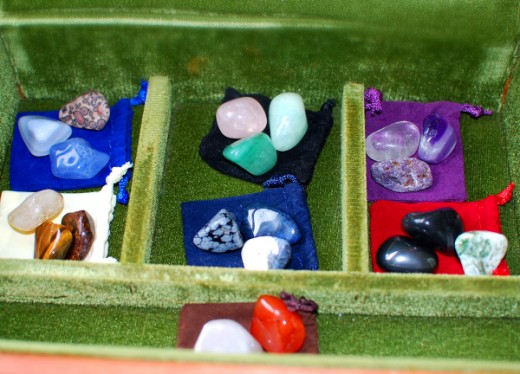 Those are tucked away quite often but I have many that are out and about. A prism is what I saw that reminded me of the collection. I have some hanging in windows and others just laying around on surfaces. How can you not be happy when they cast their rainbows all over the room?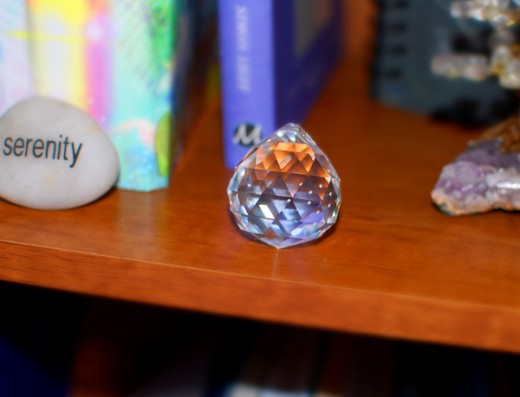 Also on my bookshelf I have a Feng Shui tree with tumbled clear quart crystals. I just love these little trees and would like to collect more of these specifically. I will be looking for them at yard sales and auctions this summer.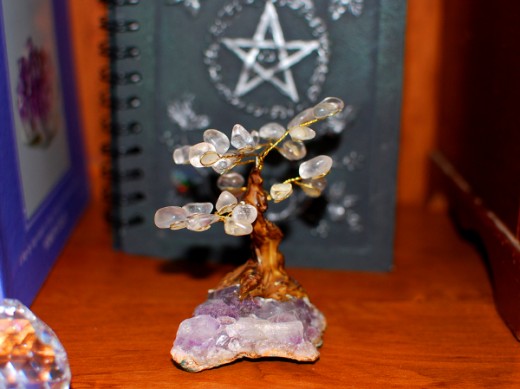 Closer to my work space is a flourite wand that is used for concentration and creative expression. I will often hold it when I am working on something important, writing, or I need creativity boost.
Here is a closer pic.. it is quite pretty. That is a rose quartz crystal next to it, which is good for emotional healing.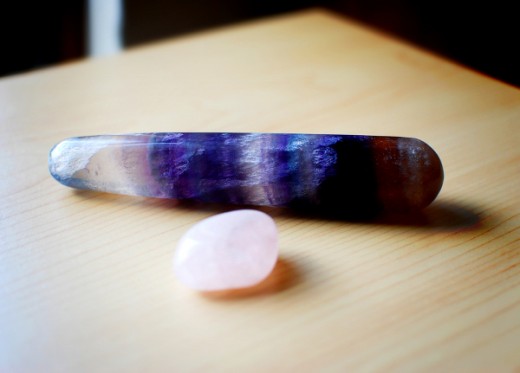 And on a decorative shelf to the side of my desk I have a little green adventurine crystal elephant hanging out. Elephants signify health and good luck and adventurine is for wealth and abundance. Each crystal has specific metaphysical properties so when I decided to add this little guy I knew immediately I wanted an elephant and that he needed to be carved out of adventurine. The rose quart above is just a tumbled stone but many have a heart shaped rose quart to signify that it helps with emotions and matters of the heart. In addition to selecting the ones I need or want carefully I also carry one in my pocket when I need a little something… be it confidence, healing, good concentration, or the ability to attract abundance.
I am going to psychic fair and metaphysical wellness seminar tomorrow. I wonder if I will find any new treasures to add to my collection…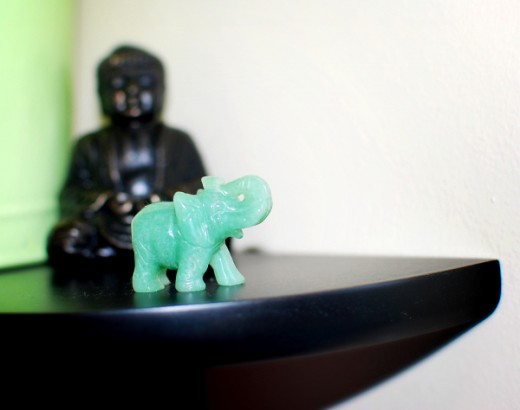 What do YOU collect?