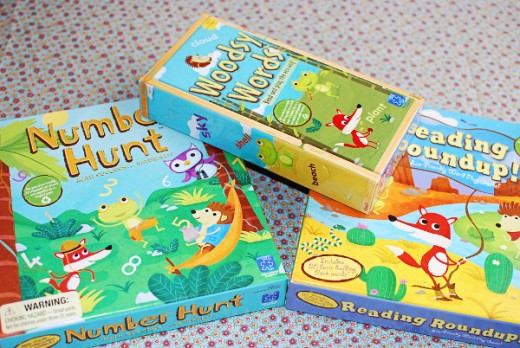 Looks like I have some new games to add to my mammoth post on green board games. Educational Insights was kind enough to send me a trio of their educational, green games for my children and I to play with for Earth Week and beyond. All 3 games are printed with vegetable ink on recycled paper. They have wood and paper pieces, no plastic and they are really rather sparse in gadgets and "stuff" overall. They are very much minimalist games. Another plus is that all three have a nature theme going on.
Number Hunt – The game board is a jungle. The object is move through the jungle using the wooden die to roll numbers. You add the number on the die to the number on your current space, do the math, and move along the path to the finish line. Some spaces have no number. Instead they have a collection of bugs that need to be counted so you can figure out the number value of that space. It is great for preschool age kids (like my little guy) who are working on counting and my 7 year old enjoyed it as well, even though the math was a little to young for her. My kids also like that this game and one of the others uses the same paper "pieces" so they could be the same character for both games. My youngest son was the fox and my daughter was the owl.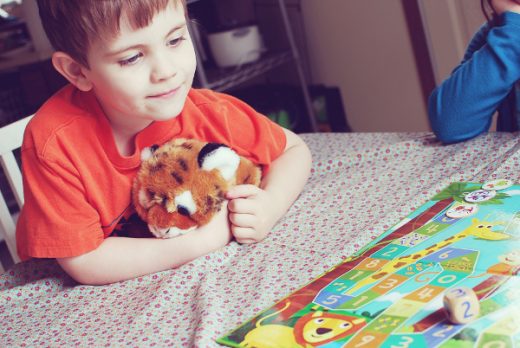 Reading Roundup – As the name would suggest this game encourages reading and word recognition. My ten year old son even played with us because the overall theme was fun for a more advanced reader too. Each player gets five cards that lay face up in front of them.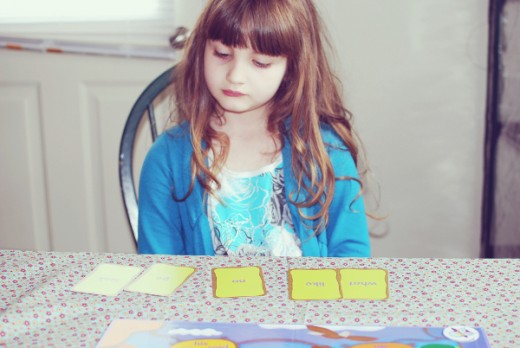 Each card has a word on it and you move through the game board trying to land on spaces that have the matching words. The spaces with words are attached by lassos but you have to move in one direction. It is strategic because you need to plan your moves ahead so that you can hit all your words and turn over the corresponding card. Once all your cards have been turned over you need to follow the lassos back to your home base, each player (up to 4) has their own. It is easy enough for younger kids but the strategy part might need to be learned. Taking your words out quickly, while moving on the board as little as possible, is really the key. Very enjoyable though! I even liked playing this one.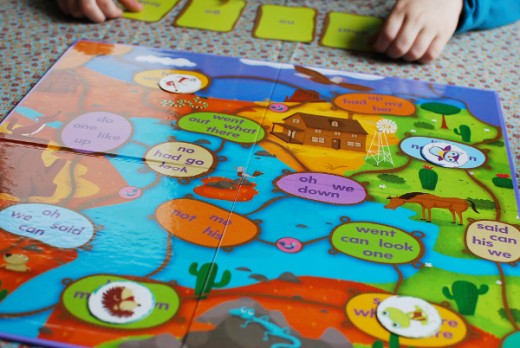 Woodzy Words – This game is much like Pick Up Sticks, everybody remember that classic? Well these sticks are bit more substantial and they have words on them but the principle is the same. When you successfully pick up one of the sticks you read the word aloud and when you are finished you need to make a sentence with all your words. Continue to play until you bump another stick or get stuck on a word. The player with the most sticks at the end of the game wins. The cool part is that the words are 30 Earth-friendly vocabulary words like habitat, ocean, soil, etc. We really enjoyed playing this one as well.
All 3 games rock but I would LOVE to see advanced versions of the first two… because I do think they are phenomenal for education and learning during play. They get an A+ here.