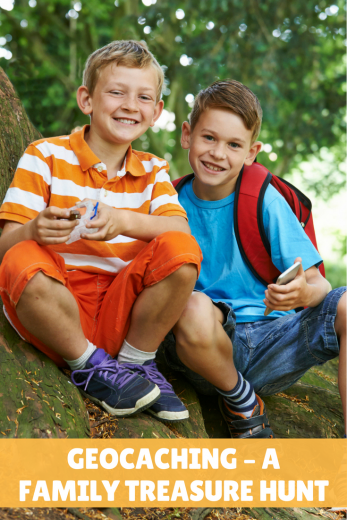 Are you interested in a real-time global treasure hunt? Then you may want to consider Geocaching.
What is Geocaching?
You may recall that my family tried geocaching for the first time last week. We had a blast and are now pretty much addicted. And can being addicted to family time, frugal fun, and adventure be a bad thing? I think not. Geocaching is a real-world outdoor treasure hunting game that gets you off the computer and out into the great unknown where you locate hidden containers (called geocaches) using nothing more than a GPS-enabled device and a lot of enthusiasm. Once you find the geocache, the objects in it are yours to keep (if you want) but you are expected to replace the items you take with other items of equal or greater worth for the next seeker and then record your experiences in the online geocaching journal so that others can take part and learn from your experience.
How does Geocaching Work?
The concept behind geocaching is actually quite simple. Someone places some objects in a container and then hides the container in a place that (usually) has some sort of meaning for the one who chose to hide the object there. The objects hidden are known as a "geocache." They then note the precise location of the geocache (using their GPS device) and record the location on the website so that those interested can go looking for it themselves. The only prerequisites to play are a working GPS device (a big fave is the Garmin eTrex Venture HC GPS Receiver), and a membership to the official geocaching website, geocaching.com. For a small annual fee you have access to their system as a premium member and many apps for smart phones require this membership for the best experience. It is well worth the fee IMO!
Up until a few months ago I had one of those "dumb phones" that didn't do anything but allow me to do anything but talk. I was actually anti-smart phone after a crackberry experience. BUT I knew I wanted to take up geocaching and would need a GPS device, plus I wanted a GPS navigation system for the car. I ended up deciding that select smart phones could do both of these things and got a mid range Android phone that I researched first for its geocaching abilities. I am super happy with its abilities. Not only can I see geocaches in real time as I drive by them the accuracy takes me to within 2-3 feet of the cache. The free c:geo app for Androids rocks!
What Kinds of Things are Hidden in a Geostash?
There are actually several different cache types you may find in your adventures and they are clearly labeled so you know what you are going after. A traditional cache usually just has a log for you to sign and claim your find. This type of cache was what we first found. A multi-cache is a system of clues that eventually lead you to the physical cache. The first spot will give you a clue that leads you to the second spot, which leads you to the third, etc. An earth cache is a cache with educational notes that teaches you about the geology or geography of the area you are searching. Perfect for homeschoolers!!! A virtual cache has no physical item to find but you need to find the location in order to answer a question, perform a task, or take a photo. There are also event caches like the Planet of the Apes (A.P.E) ones out there now to celebrate the movie release or Trash Out events where geocachers are asked to pick up garbage while they searching (perfect for treehuggers). There is something for everyone.
Some caches require climbing and other dare devil feats but this can be determined by reading the comments of previous seekers. If you see comments talking about how steep a climb it was or that they ripped their pants… use caution or skip that cache. This is what I had to do when I found a cache location next to the James Cancer Center in Columbus that required scaling up a steep overpass bridge. No way I was going to go climbing in flip-flops. And remember that geocaching is supposed to be kept secret from "muggles". This is what geocachers call non geocachers. They don't want their stashes to be abducted so they need to fly under the radar and some caches are labeled as requiring "stealth".
There really are no limitations placed on what should or should not be placed in a geocache. Keep in mind, however, that local laws will apply to a geocache in any particular area. In addition, keep in mind that people of all ages take part in hiding and seeking geocaches so, as a general rule of thumb, explosives, ammunition, knives, drugs or alcohol should not be placed in a cache. Also, one other thing to remember is that food or highly scented items can attract animals, and some geocaches have been dug up and torn open by animals that didn't need a GPS to locate them, so think about what you are placing in the container.
Other than the cautions above, you are limited to what you put into a geocache only by your imagination. Creativity is key. Some caches have proven to have items of significant value placed in them, while some contain trinkets, toys and "joke" objects, and still others have proven to have culturally significant items or journals, letters and the like. It is up to the player as to what they will put into the cache for another player to find. A cache next to our home was filled with little alien toys for instance.
How Did Geocaching Start?
The story of Geocaching's origins is actually quite an interesting one. On May 3, 2000, a gentleman by the name of Dave Ulmer (a computer consultant and GPS enthusiast) decided to test the accuracy of the government's claim that the newly upgraded GPS system would be able to "precisely pinpoint their location (of an object) or the location of items left behind for later recovery." In order to test this he decided to hide a navigational target in the woods. He then posted the items coordinates in an internet GPS users' group and see if someone else could find it. He called it the "Great American GPS Stash Hunt" and that quickly an entire sub-culture was born.
As you can see, geocaching can be great fun; an opportunity to get off the couch and out into the great unknown. It is also a fantastic chance to meet others through a shared activity and some very good friendships have developed between fellow geochachers. So don't hesitate, take a chance and see what geocaching has to offer you.
Recommended Reading: The Geocaching Handbook (Falcon Guide) or The Complete Idiot's Guide to Geocaching