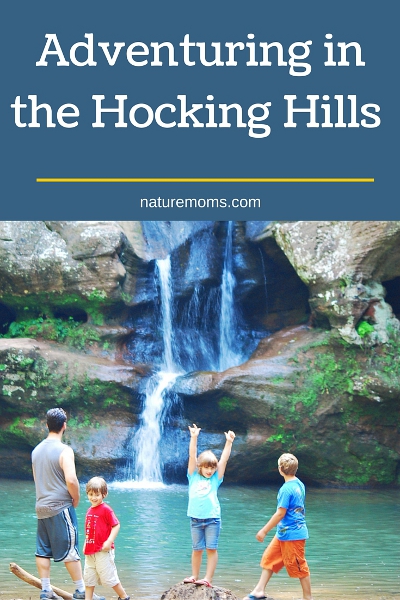 My family and I recently went and explored an area we have been wanting to go to since we moved to Central Ohio five years ago… the Hocking Hills area. This includes Hocking Hills State Park, Hocking Hill State Forest, and specific highlights like Old Man's Cave and Cedar Falls. The Hocking Hills is a deeply dissected area of the Allegheny Plateau that features cliffs, gorges, rock shelters, and waterfalls. It is quite lovely there and it has been on my to-do list for awhile. It is very near to where the Buckeye Trail, The North Country Trail, and the American Discovery Trail pass through… three long distance hikes I would be over the moon to do someday!!
Family vacation and adventures is a specialty of Austin-Lehman Family Adventures and they had a hand in our adventure. Rated # 1 tour operator in the world by Travel & Leisure Magazine, ALA specializes in small-group adult and family multi-sport, hiking, biking and culture tours around the world. You choose the location… Pacific Coast, Rocky Mountains, Southwest, Europe, etc and find an adventure tour for the family. The trips are organized like a cruise itinerary… Day 1 rafting, day 2 hiking, Day 3 kayaking, and so on. They are perfect for families who want to have real live adventures or active vacations. What I like about this option is that instead of just deciding you want to vacation in Alaska and hoping you can piece meal different activities and get them all in you can book an ALA tour and have them do all that logistical work for you.
Austin Lehman Adventure Travel reached out to us this month invited us to take the Austin-Lehman Active Family Challenge. The challenge is to find multi-sport, active and unique adventures to do around your own city and explore with your family. For our adventure we decided to hike and geocache.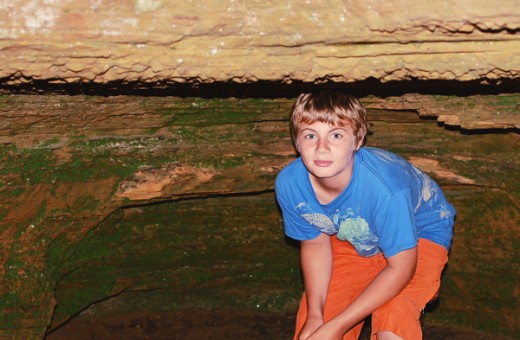 And what a fun hike it was! There were lots of caves to duck into and explore. My oldest son had a blast going inside them and wondering what it would be like to live in these like Indians possibly did. He is a history buff who leans toward outdoor history… caves, caverns, battlefields, etc.
The walls of the cliffs and caves were covered in luscious green moss which is so unlike our area of Ohio but according to books about the area the temperature and moisture in this area makes it hospital to rare trees and plants like Canadian yew and bigleaf magnolia.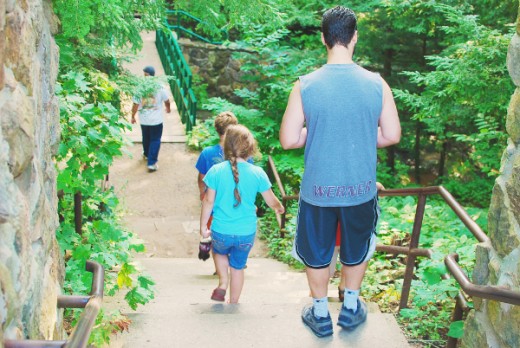 The hike to see Old Man's Cave was relatively easy. Lots of hiking but also lots of big boulders and caves to stop in/on and rest. We had two kids in flip-flops so it can't be all that bad. I was barefoot hiking in my Vibram Five Fingers!
Still there were a few places were the rocks were wet and muddy so we had to tread carefully and hold on to the cliff walls to make sure we didn't slip and fall. There are also MANY areas where unsupervised kids or drunk weekenders could go falling off a deep cliff or gorge. It is definitely not a place to let your kids run wild so perhaps that is why we didn't actually see to many kids. One particular place bugged me out… a high step bridge we had to cross that had no railing of any kind.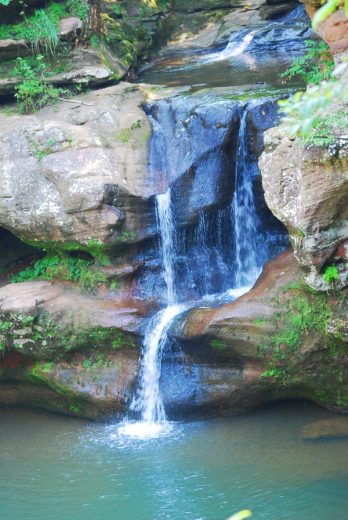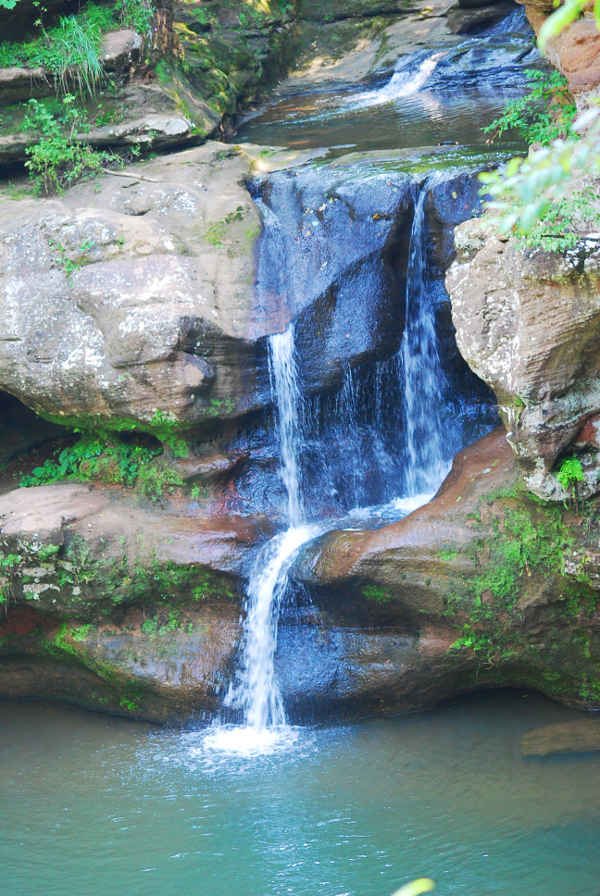 After seeing Old Man's Cave and my cell service faded out so we could not find the geocache in the area… we were rewarded after a short hike to the Upper Falls. We stayed here a bit and played in the water.
Then we hiked back out and went to the next spot on the trail… Cedar Falls. It was quite a hike getting in and out of here but wow was it gorgeous!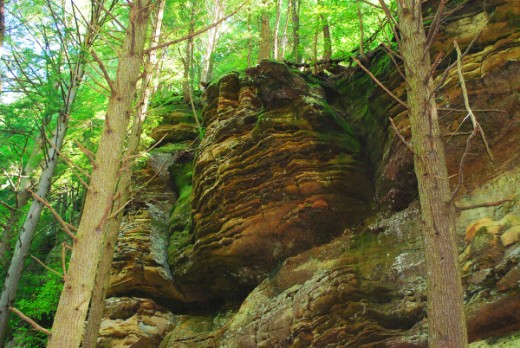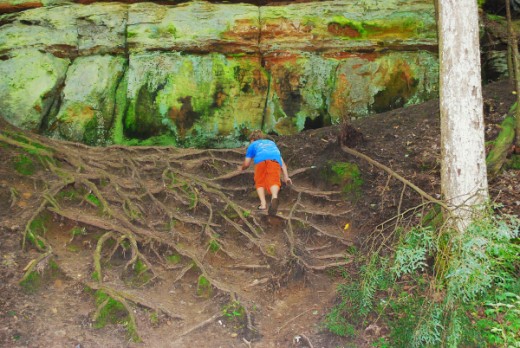 And no you don't have to scale these gorges to get in or out.. there are steps for hikers… lots and lots of steps. At the bottom you come to Cedar Falls. I would love to see this in early spring when the water would be much higher and the falls would be much larger.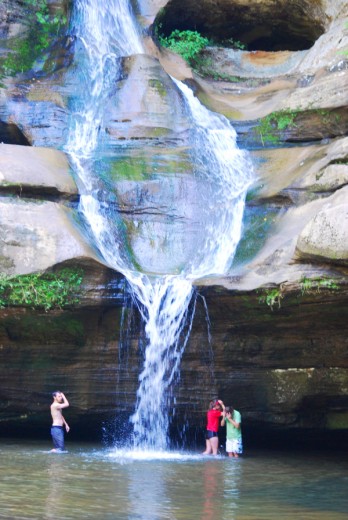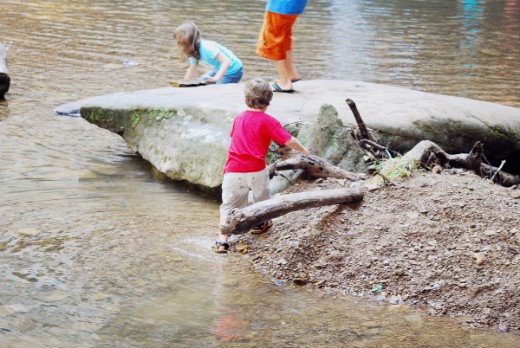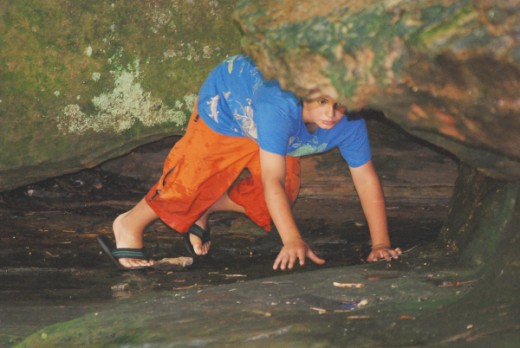 After we hiked out and cell service returned we went looking for our first geocache.. and didn't find it. I was using my Android phone and the free c:geo app. It took us to a light pole and there was no cache there. Boo! I was also kinda grumpy because I was drenched in sweat from our hike. So we tried another one a few miles away and this time we found it!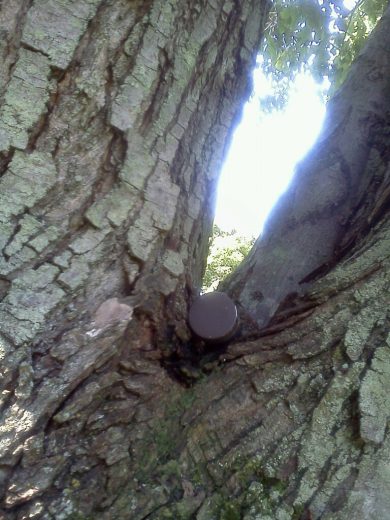 It was hidden better than this but I pulled it out to grab a cell phone pic. It is a film roll with a paper log inside for me to date and sign.
We are learning that there are many types of caches to be found. This one just had a log to sign and no little token to remove and replace with your own as you can with some.. which is what my daughter was hoping for. Still we had great fun and we felt like treasure hunters when we found our cache. It was soooooo thrilling! Silly to think about getting so excited finding a film roll in a tree but I can't explain it, you just have to try it. We recently became premium members at geocaching.com so we were equally thrilled to log our first geocaching find in our account. I think this adventure may have just spawned some hard core cachers. Can't wait to find our next cache!
Many thanks to Austin-Lehman Adventures and their wonderful adventure vacations who sent us a Visa gift card to help cover the cost of our adventure. A great time was had by all!