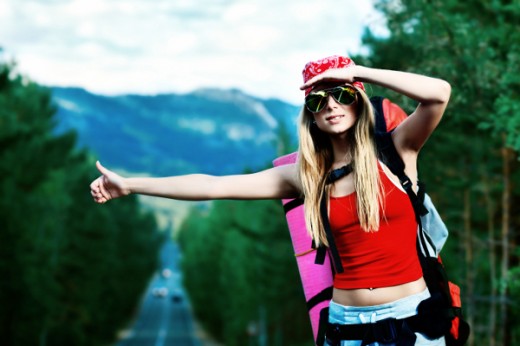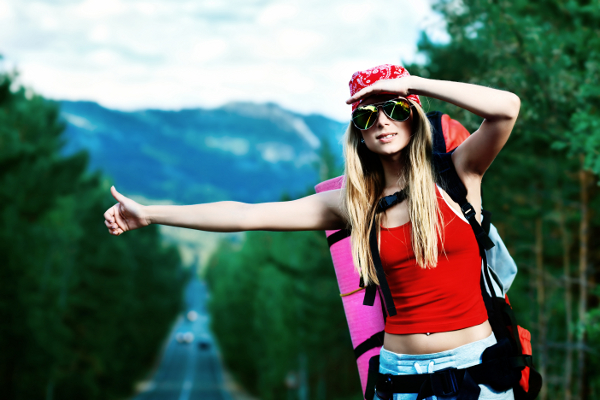 Hiking is an easy and fun way to get in shape and work on your fitness goals. It is also a great way to reconnect with nature, get much need outdoors time in the fresh air and sunlight, and get away from the stresses of fast paced city living. Hiking has been one of my all time favorite ways to exercise for many years now. I cannot recommend it highly enough.
But like many sports and fitness activities it seems that synthetic clothing and gear is predominantly what you find in sporting goods stores. I happen to find much of it uncomfortable and prone to getting smelly if you wear it long enough. This clothing is often made of some sort of poly blend which is actually plastic. Unless it is recycled plastic, then it may not be the greenest gear for you to wear. Since hiking is supposed to help us connect with mother nature and identify with the need to protect our outdoor spaces, wearing clothing that harms the planet is a form of hypocrisy. Fortunately outdoor retailers are catching on to this and slowly we are seeing more green options for the hiking enthusiast. An example of affordable and effective green options are the north face products.
After checking local thrift stores and consignment shops you may end up with a few good hiking pieces but then again you may not. Serious hikers can go through gear pretty fast. You may find some hiking poles, an external frame pack, or wool socks though… it always worth a look right?
If you can't second hand source this stuff I have put together a quick list of some of my fave eco hiking recommendations below, to give you some ideas of what is out there. Enjoy!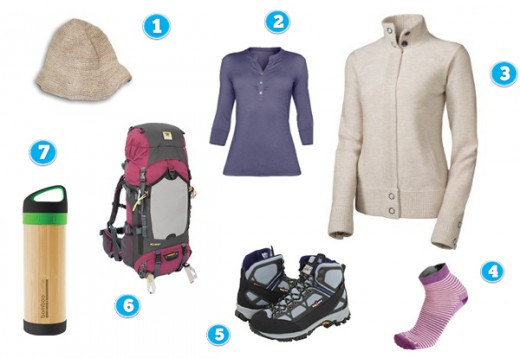 1. You may hate slathering yourself with toxic sunscreen but your head and face can get burned pretty quickly if you don't cover up. This Earth Divas  Hemp Floppy Hat is just what you need. If will help keep those harmful rays off your skin and it is made with natural, breathable hemp.
Wool is a great choice for hiking gear since it is a natural fiber with lots of great qualities. It is breathable, eco friendly, and it helps regulate body temperature, which makes it a good choice no matter what the weather looks like. Wool is also known for its ability to repel moisture and wick it away from the skin. Perfect! The next 3 items are made from wool…
2. Icebreaker Women's Henley Lite Shirt – made with silky smooth and lightweight merino wool which gives great protection against the sun and wicking properties to keep you looking great and feeling cool.
3. SmartWool Foothills Full-Zip Sweater – Gorgeous! The color and style of this sweater is amazing. For chilly morning or evening hikes it will help you warm and toasty without making you overheat. Made with 100% Merino wool for excellent insulating power and breathability. Make sure to take this sweater on ski trips too! And if you need a jacket, SmartWool makes them too.
4. Socks are an important part of hiking, just like some good boots. No one likes cold and/or wet toes… that will ruin a hike right quick! Darn Tough Merino Wool Socks are made of itch free antimicrobial merino wool.
5. Finding eco friendly shoes is tough already, finding hiking boots is even more so. These are not the perfect choice but they are definitely a step in the right direction. The idea is to absorb moisture and keep it away from your feet and these boots – the Kayland Zephyr W – use a new technology that utilizes activated carbon derived from coconut shells.. which is a recycled, sustainable material.
6. MountainSmith backpacks are often made of recycled materials which makes them a green option. Hemp and canvas are also wonderful options but may be harder to find in something larger than a daypack.
7. This bottle is really unique and I intend to write a more elaborate post on it soon but it is bamboo on the outside and glass on the inside. It can also be attached to a backpack with ease. It is sleek, fun, and eco friendly.
Get outside and go for a hike this weekend okay? If you need some inspiration check out an amazing book I just read about a woman who has hiked the Appalachian trail 3 times… Becoming Odyssa: Epic Adventures on the Appalachian Trail.