TGIF! Have a great weekend and Mother's Day all! I am hoping to kickstart my weekend this morning with a viewing of Dark Shadows at the theater and then watching the Central East Regional CrossFit games on ESPN3 since some of the guys/gals from my gym are competing. Go team CFNA! It would be lovely to go in person since they are in Columbus, OH but I think my kids would be bored out of their minds. The rest of the weekend is pretty up in the air. We have been invited to a picnic and there is an herb festival the next town over. Lots of possibilities.
Stuff I am Reviewing…
Nature Box – This is another one of those monthly box deals and it is all about healthy snacks. We enjoyed our box and would have enjoyed it much more prior to going paleo since a couple of snacks were grain based. The dried cherries were phenomenal though, yum! My husband also really liked the dried veggie crisps and my kids did enjoy some non paleo snacking for a time. My kiddos never had a fig newton before trying the ones in this box, LOL. That kind of blew me away.
This concept is really awesome if you have a hard time sticking to your guns when it comes to healthy snacks. I don't think they are organic but they are pretty natural and without artificial sweeteners, HFCS, food dyes, and other nasty stuff. The promo code HEALTHY may be used for 25% off your first month of subscription, if you care to give them a try.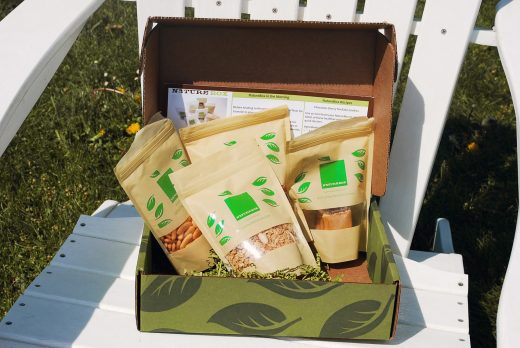 Full Circle Fresh Air Kitchen Compost Collector – We got this shortly before Earth Day and I gave it a try. I didn't realize at the time that it relies on bio plastic baggies to collect the kitchen scraps and I am not a fan of that but it it is still a good kitchen option for those who are not composting. It sits on your counter and you just drop the scraps in as you collect them. Every 3 to 4 days you are supposed to remove them but we typically went longer than that. There was no smell, which is a bonus, but it did attract fruit flies. I will be donating or freecycling mine as I just don't like having to use plastic bags.
A Hadaki Cosmopolitan Tote bag – They consider it an eco-friendly option because their products are AZO free, contain no Phthalates / DEHP or DBP. I think we differ somewhat in our definition of eco friendly but I do not mind plastic based tote bags so much because they are durable and reusable. This particular bag is quite awesome in size and I can see myself taking it to the farmer's market, the local pool, and to BlogHer12 in New York City (only 3 months away!) to carry all my goodies.
Astroglide Natural – Got some of this last week. I am not going to go into how I personally like it since that's none of your business. :) I do however like that so many of the companies that make these personal lubricants are removing the toxic ingredients! Astroglide has no glycerin, fragrance, parabens, or alcohol. I also ran the ingredients list through the Skin Deep database and all scored a 1 or 2. Pretty good.
Books I am Reading…
The Other Baby Book: A Natural Approach to Baby's First Year was one of my recent reads. I am not expecting nor will I ever be again, or that's the plan at least, but I still enjoyed reading this book. I think it would have been much more beneficial to read a book like this when I was newly pregnant instead of the standard What to Expect books. It challenges many of the conventional ideas on birthing and baby care and it is so refreshing! It really takes a look all aspects of bringing a life into this world and caring it, and re-frames normal. I liked that it strongly advocates for attachment parenting and using your intuition as a guide, keeping birth interventions to a minimum, breastfeeding on demand, co-sleeping, and elimination communication among many other things. The tone was also very upbeat and encouraging, not scary. A+
168 Hours: You Have More Time Than You Think – Just finishing this book. It basically addresses the fact that we all have 168 hours a week to work with and that most of are not actually crunched for time we are just not using that 168 hours wisely and in ways that make sense for our dreams and goals. If we make sure to fill those hours only with things that deserve to be there, we build the lives we want. I really enjoyed this book.
Fifty Shades of Grey – Had to read it after all the media buzz and I was kind of surprised to find that I was not the least bit shocked by this book. I adored it actually and ordered the next two pronto. The author has been quoted as saying it is like the grown up version of Twilight (but with BDSM instead of vampires?) and I agree.
Other Link Worthy Stuff…
Love this Kickstarter Project for an iPad Sustainability story.
Hoping to make and eat soon… these Raw Lemon Pie Bars and these grain free Cake Batter Balls.
This Climate Change Carnival at Big Green Purse has many awesome links including one of my own articles. Check it out when you get the chance.
BlogHer Green also featured my stinky towels post.
Enjoy your weekend!!