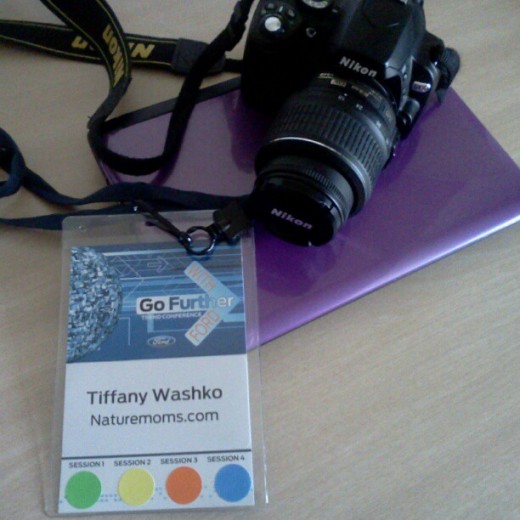 A few weeks back I went to Detroit for Ford's #GoFurther press event. I have been seriously remiss in not posting about it before now because it was seriously fun and provided me with some moments that were most likely once in a lifetime. I am extremely grateful to Ford for the generous invite.
The event was designed to give bloggers and other media the opportunity to see what Ford has been able to accomplish recently and what they have yet to come. There were four areas of interest that we covered…Design, Tech, Urbanization, and Eco-Psychology. The latter was my favorite and it is easy to understand why but I also quite enjoyed hearing about Ford's accomplishments and plans in regards to tech and urbanization. For instance, I was wowed by their business decision to work closely with ZipCar and provide cars for college campuses. ZipCar is an amazing, useful, and green service and Ford is ahead of the 8-ball by creating a relationship with an organization who caters to folks who either don't want or don't need to own cars. Over and over again I kept thinking that this or that decision or project was just so clever. Ford really does have a pulse on the future.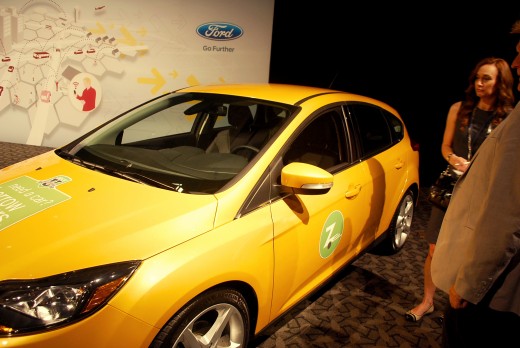 But back to the beginning… I was in Detroit for this event from June 26-28. It kicked off on a Tuesday and as soon as I landed the fun began when I saw this smiling face at the airport, waiting for me.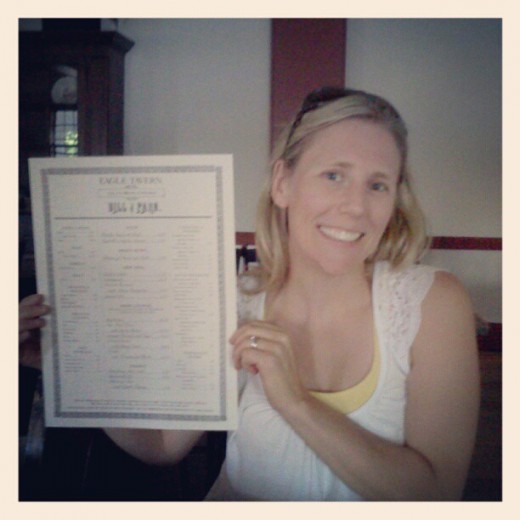 This is my online and IRL friend Stephanie of Good Girl Gone Green. I just cannot tell you how much I adore his lovely lady. Seeing her again, and the other lovely green gals who went, was the highlight of the trip.
Stephanie and I dropped off our stuff at the Hyatt Regency Dearborn and then immediately jumped a bus to visit Greenfield Village, which is right next to the Henry Ford Museum. The village is comprised of one hundred historical buildings that were moved to the property from their original locations and arranged in a "village" setting. It shows how Americans lived and worked since the founding of the country. We ate at a restaurant called Eagle Tavern, built in Clinton, Michigan, in 1831 as a stagecoach stop for weary travelers. They only serve food there that you could have ordered in that era and all the waitstaff are costumed. I got a supremely delicious chicken salad. It was actually a side dish on the menu, as were the dressed tomatoes with lemon vinaigrette that Stephanie ordered, but I found it to be quite filling. Yum!
All around the village cars like this were driving this way and that…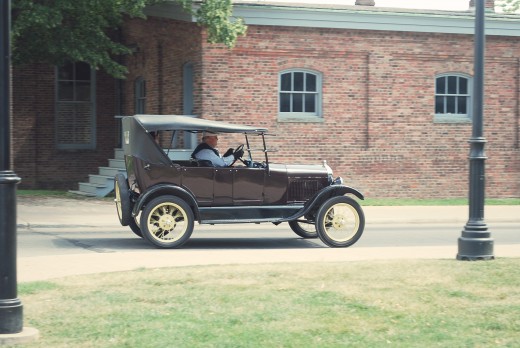 And it wasn't just cars. There were horse drawn carriages and wagons and a huge train that practically blew your eardrums out when it whistled. We also saw these folks playing croquet…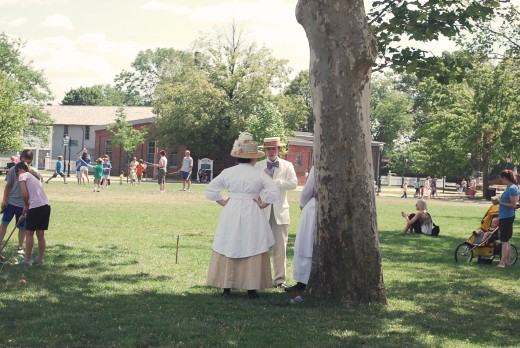 Afterwards we hoofed it to a party/press event at Ford Field (where the Detroit Lions play). We got to walk around the place and even go down on the field.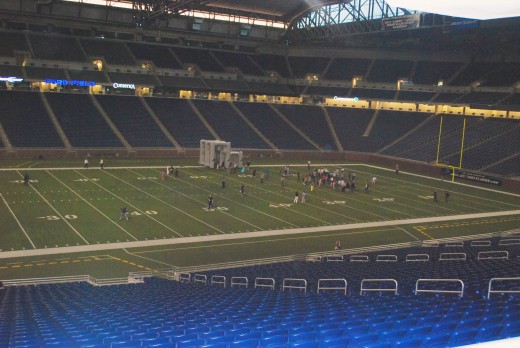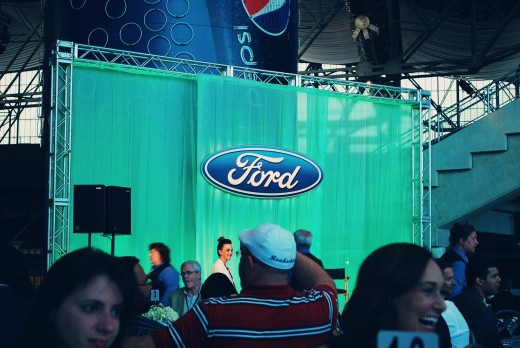 Oh and look who we just bumped into and spoke with…Bill Ford. That is Diane of Big Green Purse and Shane of Environmental Booty chatting him up in the photo. Two more gals I am lucky to claim as friends.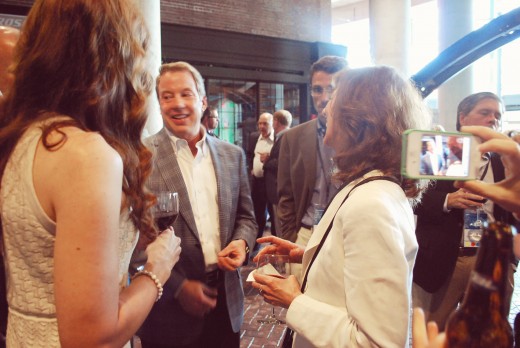 The next day was when we went to all the various sessions/tracks to get more in depth information about Ford initiatives.
In the Design session we sat in on a panel with several folks including Christina Siriano who won Project Runway and Adam Kalkin who had the genius idea to repurpose shipping containers as homes!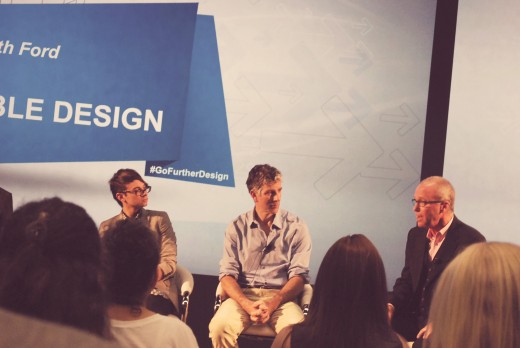 In the Eco-Psychology session, which was my fave, I sat just a few feet away from someone I greatly admire for his work in the green-o-sphere….Adrian Grenier of Entourage  and SHFT.com fame. I have been a fan since he was in the teen movie Drive Me Crazy in which he played a greenie, hippie type.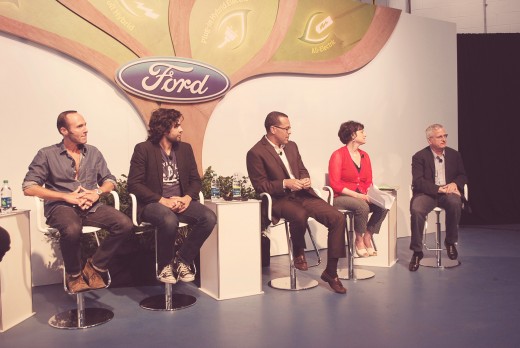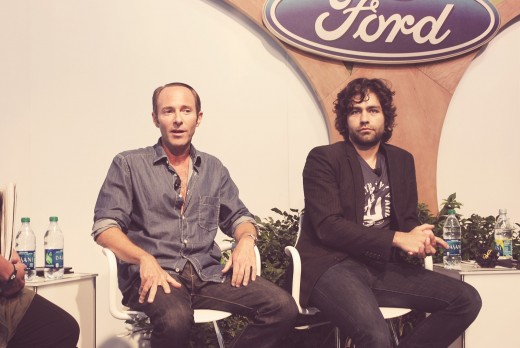 In the evening we had a dinner party at Tech Shop Detroit and I fell in love with the business concept. They have every industrial machine/tool that you could ever possibly hope to need or use and a monthly membership fee ($100 a month) gives you access to all of it. It has industrial sewing machines, woodworking machines, welders, paint rooms, kilns…everything. The idea is that innovators can come up with ideas and then try to create them using the tools and machines that they would otherwise not have access too. Not having the skill or the equipment is not an excuse…if you have a grand idea for an invention that will change the world or just be really, really awesome now you have the means to bring it to fruition. My husband has ideas for stuff all the time which he then tells me he cannot do unless he has this or that piece of equipment. A facility like this (there are 5 in the US right now) is his dream and he really, really wants a TechShop to come to Columbus right about now.
This shop was built in partnership w/Ford. Just another aspect of them being ahead of the curve in every aspect.
Bits and pieces form Days 1 and 2:
Bill Ford never wants any of his employees or friends to feel like they need to apologize for working at Ford in regards to corporate responsibility.
He actually aspired to go out on his own and create an environmental foundation but his wife convinced him to stay and change Ford instead.
Ford's ideas on sustainability stem from cradle to cradle concepts like turning paint fumes into fuel and waste water into drinking water.
They want to make clean vehicles and recycle them entirely. Currently 85% of their vehicles are recyclable.
They have cut energy usage and CO2 emissions 50%.
Ford will have Zipcars on 230 college campuses.
Much of Ford Field is recycled from various parts of the city and an entire brick paved, historical street (Adams St) actually runs through the stadium.
By far my fave day of the event was day three. We spent it at Ford's test track and we got to drive cars!! It was so beyond fun and truly was a once in a lifetime opportunity.
Highlights include:
Driving in a Ford Mustang with a Ford driver. We raced, and I do mean raced, through the track and even drifted on the turns. It was terrifying and exhilarating at the same time.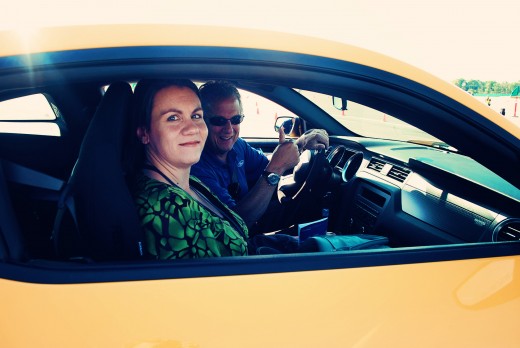 Here is Stephanie and Anna (of Green Talk) in their Mustangs: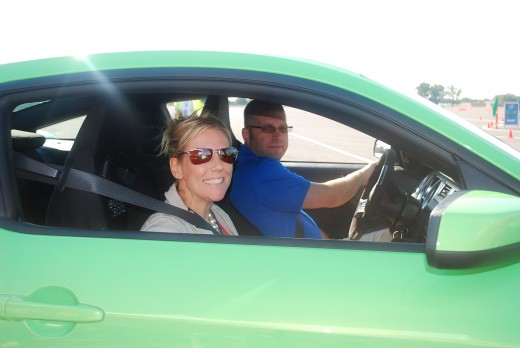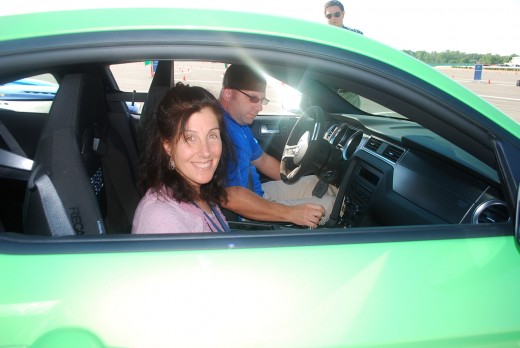 Next up was the Ford Police Interceptor Utility, which I got to drive.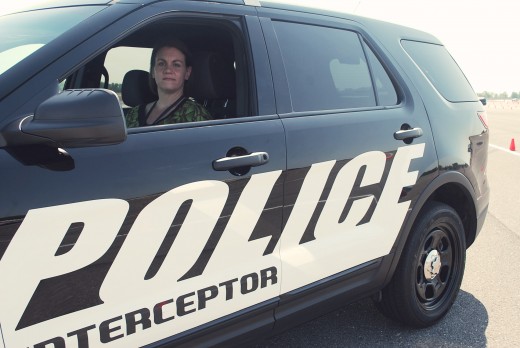 Then a Ford Focus electric! Woot! I have always wanted to drive an electric vehicle and it drove like a dream.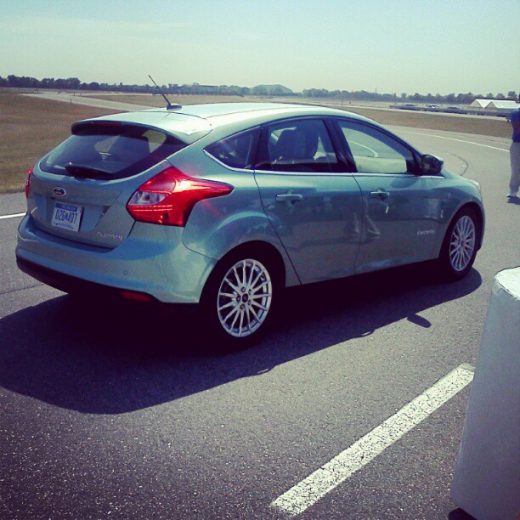 Lastly, I got to go off-road in a Raptor on a dirt track w/a Ford Driver and Anna. Fun! At one point I swear we were completely vertical going down a hill. We could not even see ground beneath us. Our butts barely touched the seats the whole time and I hung on for dear life! There may or may not have been some screaming. ;)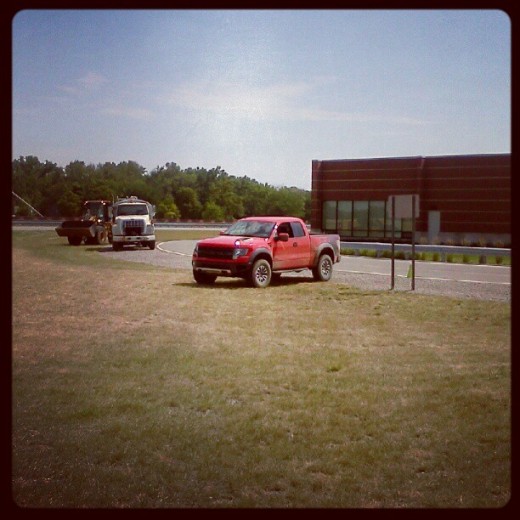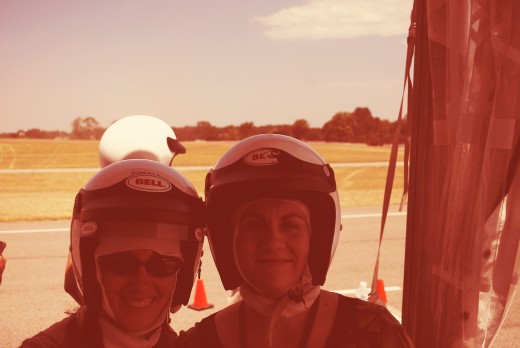 After all that excitement we had lunch and Ford and various sponsors gave away a bunch of prizes like Windows phones and Xboxes. I won an HD tabletop radio! Then I hopped on a plane and said goodbye to the Motor City.
Many thanks to Ford for the trip. They paid for all travel, activities, food, and accommodations. I was not obligated to write about the trip but heck, who wouldn't????!
I leave you with a photo of us green gals who attended. The photo is courtesy of Shane at Environmental Booty. From left to right: Diane, Stephanie, me, Shane, and Anna.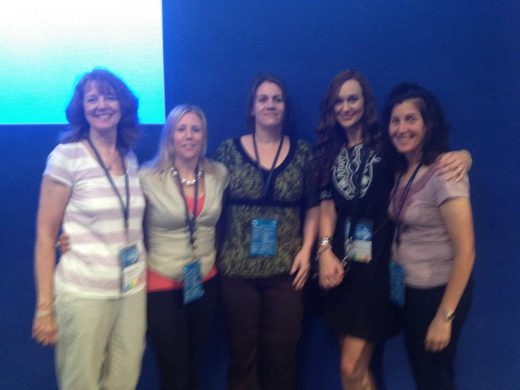 See more of my trip photos on Flickr.